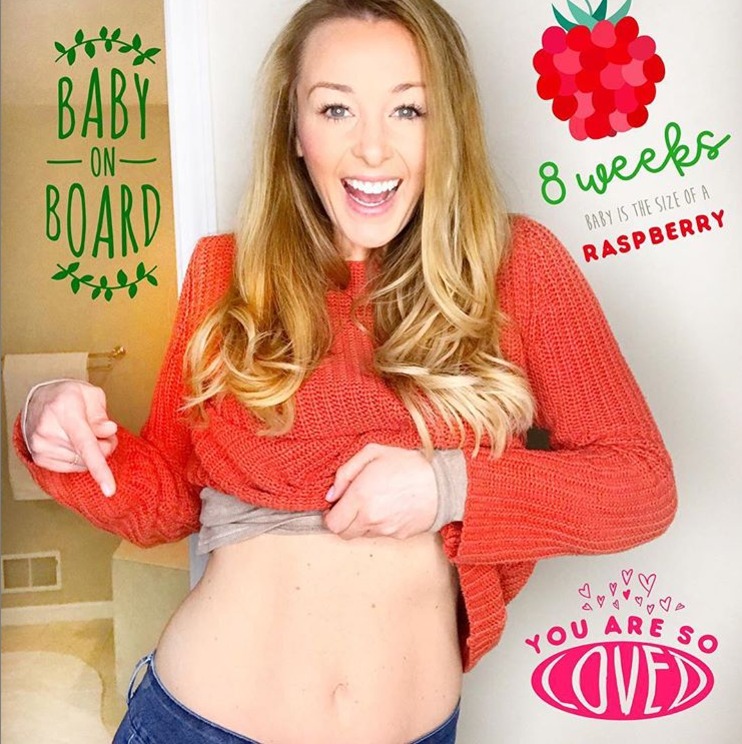 Instagram
Baby on board!
Married at First Sight's Jamie Otis shared her first picture of her growing baby bump. Jamie and her husband Doug Hehner announced on Christmas Day during an episode of their new podcast Hot Marriage. Cool Parents. that they were expecting another child.
The 32-year-old mom posted a photo of herself on Instagram lifting up her shirt a bit to show off her stomach. "First baby bump pic," she captioned it with a bunch of emojis. "8 weeks yesterday!! We are so excited to be growing our family!!"
According to her hashtags, the baby is "#sizeofraspberry." 
Doug revealed on the podcast, "We are expanding the family! Jamie and I are now pregnant and we're going to be parents of two. Something we've been trying for a little while now has finally come to fruition and I can't wait to meet our little baby boy."
The parents, however, have not revealed the sex of their baby just yet. Doug just happens to have an inkling that it's a baby boy.
Jamie wants to have a girl because she wants their daughter Henley Grace Hehner to "have a sister."
The parents have had many ups and downs while starting their family together. Their daughter Henley is about 16-months-old (and was the first Married at First Sight baby), but before having her, Jamie suffered a miscarriage in July 2016. On Dec. 20, Jamie wrote about losing their baby Johnathan and how it would have been his second birthday. But there was a glimmer of light on that day because it was "the day I found out I was pregnant with Gracie."
"I remember delivering him and just staring at his tiny, fragile little body. He was so perfect. All ten fingers and ten toes," Jamie shared on Instagram. "I never got the chance to rock him to sleep or bounce him til he laughed. My heart aches I couldn't protect and nurture him still. I'd have given anything to keep him safe so he could grow healthy, happy & strong."
In September, the former Bachelor contestant also revealed she had a chemical pregnancy days after posting a picture of a pregnancy test. She said in the caption on Sept. 2 that she hoped "Gracie was going to become a big sis in 9 months, but the night before last I began having terrible contraction-like pains & spotting. Then over the night full blown everything."
Jamie added that she is "on a mission to make Gracie a big sis now." 
It looks like Gracie better get prepared for her big sister duties soon. Congratulations again, Doug and Jamie!