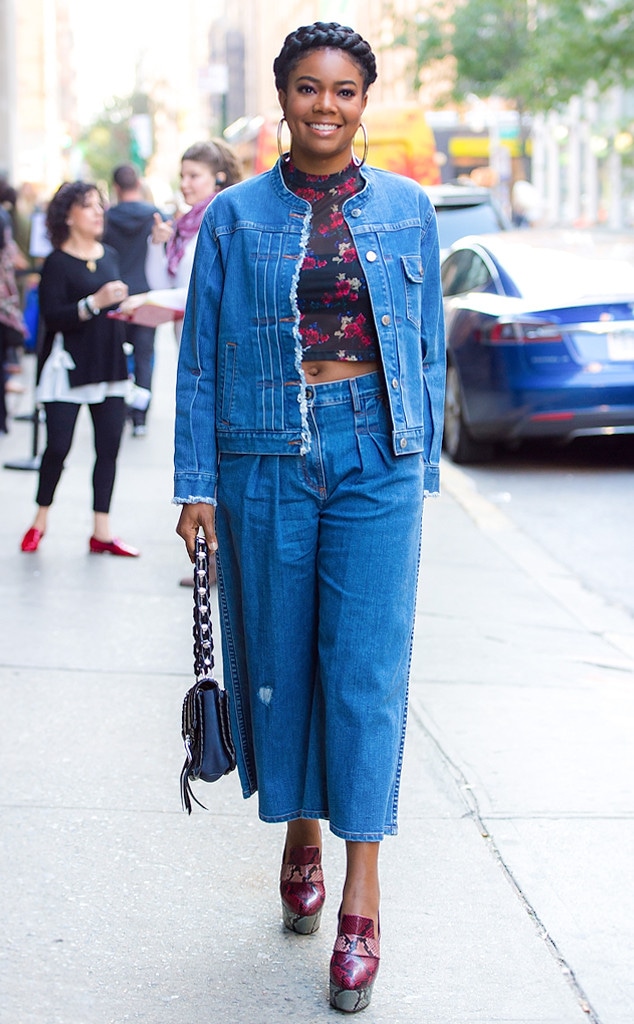 Gotham/GC Images
Gabrielle Union's latest clap-back is going down in fashion history.
The new mom gave fans a preview of her outfit of the day on Instagram on Friday and her ensemble seemed to be a problem for one Instagram user. The troll asked Gabrielle, "Can you dress your age please?" 
In response, Union told the hater, "Oh I'd looooove to hear what you think is age appropriate."
"Please give me allllll the age appropriate fashion advise [sic] I didnt know I needed in my life," she then sarcastically added.
Funnily enough, the actress is actually a legit fashion designer for the store New York & Company, and she was showing off one of her new designs for the brand. The 46-year-old revealed that the black ensemble is part of her "eat/pray/love/travel/chill collection", which becomes available next week.
The star launched her partnership with the brand earlier this year and is excited to continue her working relationship with the brand in the new year.
Her fashion line isn't the only big accomplishment Gabrielle has achieved this year. Gab and husband Dwyane Wade welcomed a baby via surrogate in November after years of trying to conceive on their own. Their daughter, Kaavia, received a warm welcome when she came into the world and has been showered with love by her parents and older brothers. 
And, of course, the new parents had to throw a fun-filled bash to celebrate the arrival of their baby girl. So, they threw a tail gate-themed party for all their friends to join them at, and it's safe to say things got a bit rowdy. There were tons of photos taken of the activities and of the new mom getting crazy at the beer pong table.
However, when Union isn't winning a game of beer pong, she seems to spend nearly all her time doting on Kaavia.