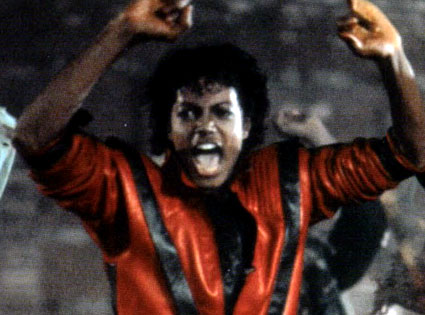 HIStory, indeed.
Michael Jackson's Thriller, the 1982 album that turned the Gloved One into a pop superstar and went on to become the biggest-selling record of all time, is among 25 musical works selected today by the Library of Congress to be preserved in perpetuity.
Thriller and the two dozen other recordings added the National Recording Registry were deemed "culturally, historically, or aesthetically significant" to America's aural history.
Thriller spent a year in the Top 10 of the Billboard album charts, spawned seven Top 10 singles and sold upwards of 100 million copies worldwide. A 25th anniversary edition was released last year.
Other notable inductees: the 1956 original cast recording of My Fair Lady; Roy Orbison's 1964 signature hit, "Oh, Pretty Woman"; Smokey Robinson & the Miracles' 1965 gem "Tracks of My Tears"; Joni Mitchell's 1972 album For the Roses; and Herbie Hancock's 1973 jazz fusion smash, Headhunters.
The latest batch brings to 250 the number of recordings contained in the registry. The full list of new additions after the jump.
The first trans-Atlantic broadcast (March 14, 1925)
"Allons a Lafayette," Joseph Falcon (1928)
"Casta Diva," from Bellini's "Norma"; Rosa Ponselle, accompanied by the Metropolitan Opera Orchestra and Chorus, conducted by Giulio Setti. (recorded Dec. 31, 1928, and Jan. 30, 1929)
"If I Could Hear My Mother Pray Again," Thomas A. Dorsey (1934)
"Sweet Lorraine," Art Tatum (Feb. 22, 1940)
"Fibber's Closet Opens for the First Time," Fibber McGee and Molly radio program (March 4, 1940)
Wings Over Jordan, Wings Over Jordan (1941)
Fiorello LaGuardia reading the comics (1945)
"Call It Stormy Monday, but Tuesday Is Just As Bad," T-Bone Walker (1947)
Harry S. Truman speech at the 1948 Democratic National Convention (July 15, 1948)
The Jazz Scene, various artists (1949)
"It Wasn't God Who Made Honky-Tonk Angels," Kitty Wells (May 30, 1952)
My Fair Lady, original cast recording (1956)
Navajo Shootingway Ceremony Field Recordings, recorded by David McAllester (1957-1958)
Freight Train and Other North Carolina Folk Songs and Tunes, Elizabeth Cotten (1959)
Marine Band Concert Album to Help Benefit the National Cultural Center (1963)
"Oh, Pretty Woman," Roy Orbison (1964)
"Tracks of My Tears," Smokey Robinson and the Miracles (1965)
"You'll Sing a Song, and I'll Sing a Song," Ella Jenkins (1966)
Music from the Morning of the World, various artists; recorded by David Lewiston (1966)
For the Roses, Joni Mitchell (1972)
Headhunters, Herbie Hancock (1973)
Ronald Reagan Radio Broadcasts (1976-1979)
"The Sounds of Earth," disc prepared for the Voyager spacecraft (1977)
Thriller, Michael Jackson (1982)