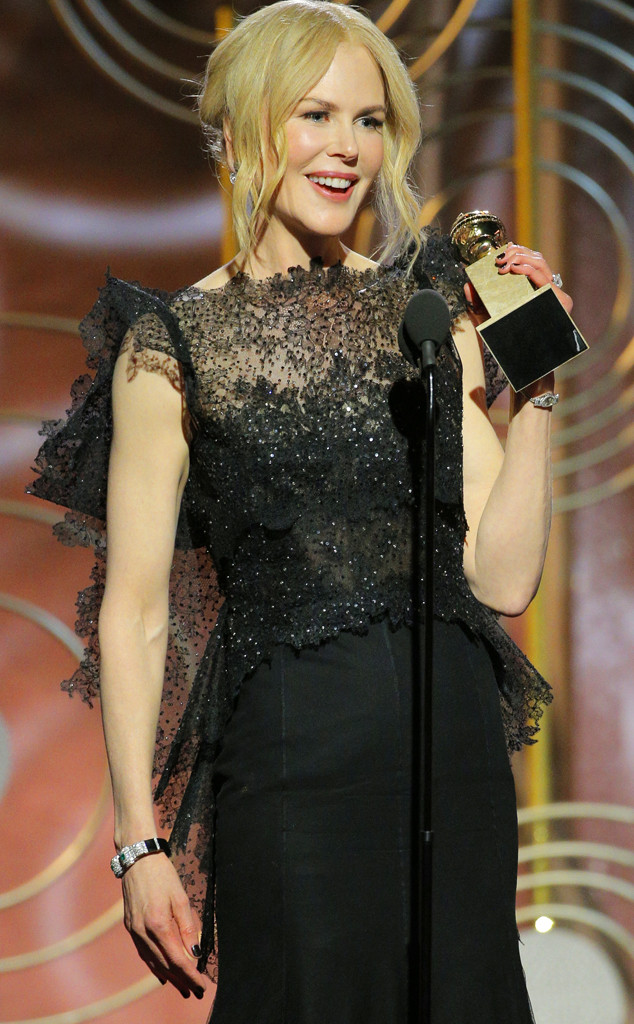 Paul Drinkwater/NBCUniversal via Getty Images
La ceremonia de esta noche se llevará a cabo en el Beverly Hilton Hotel localizado en la glamorosa localidad de Beverly Hills y Seth Meyers será el host del evento.
Debido a las actuaciones sin igual que vimos este año en el cine y en la televisión, y a las celebridades que se unieron al movimiento Time's Up en Hollywood, el evento de hoy promete llegar a todos los titulares.
ALFOMBRA ROJA > Las estrellas explican por qué visten de negro en los Globos de Oro 2018.
En la premiación repleta de estrellas votaron 100 miembros pertenecientes de la Asociación Extranjera de Prensa de Hollywood y los medios de más de 210 países.
Las estrellas de I, Tonya, The Greateste Showman y Call Me By Your Name ya se miden codo a codo en la alfombra roja junto a los miembros del elenco de The Crown, Stranger Things y This Is Us, pero quién se ira a casa con un Globo de Oro?
Mira la lista de ganadores a continuación:
Mejor Actriz en una Serie Limitada o Película de TV: Nicole Kidman – Big Little Lies
Mejor Actor de Reparto en una Película: Sam Rockwell – Three Billboards Outside Ebbing, Missouri
Mejor Actriz en una Serie de TV, Musical o Comedia: Rachel Brosnahan – The Marveleous Mrs. Maisel
Mejor Actriz en una Serie de Drama: Elisabeth Moss – Tha Hadmaid's Tale
Mejor Actor en una Serie de TV – Drama: Sterling K. Brown - This Is Us
Mejor Serie de TV – Drama: The Handmaid's Tail
Mejor Actor de Reparto en una Serie Limitada o Película de TV: Alexander Skarsgard – Big Little Lies
Mejor Música Original – Película: Alexandre Desplat - The Shape of Water
Mejor Canción Original – Película: This Is Me - The Greatest Showman
Mejor Actor en una Película de Comedia o Musical: James Franco – The Disaster Artist
Mejor Actriz de reparto en una Serie, Serie Limitada o Película de TV: Laura Dern – Big Little Lies
Mejor Película Animada: Coco
Mejor Actriz de Reparto en una Película: Allison Janney - I, Tonya
Mejor Guión de una Película: Martin McDonagh - Three Billboards Outside Ebbing, Missouri
Mejor Película Extranjera: In the Fade (Alemania)
Mejor Actor en una Serie Limitada o Película de TV: Ewan McGregor – Fargo
Mejor Serie de TV Musical o Comedia: The Marveleous Mrs. Maisel
Mejor Actor en una Serie de Comedia o Musical: Aziz Ansari – Master of None
Mejor Director: Guillermo del Toro – The Shape of Water
Mejor Serie o Película para TV: Big Little Lies
Mejor Actriz en una Película Musical o Comedia: Saoirse Ronan – Lady Bird 

Mejor Película Musical o Comedia: Lady Bird                 

Mejor Actor en una Película de Drama: Garry Oldman - Darkest Hour
Mejor Actriz en una Película de Drama: Frances McDormand- Three Billboards Outside Ebbing, Missouri
Mejor Película de Drama: Three Billboards Outside Ebbing, Missouri