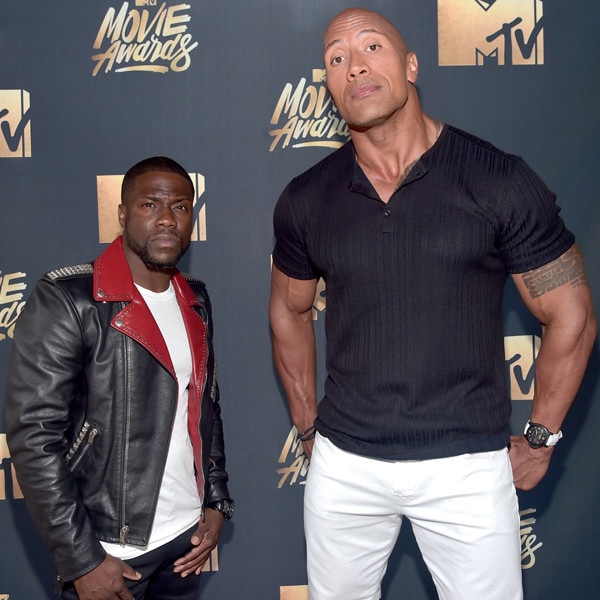 Alberto Rodriguez/MTV1415/Getty Images for MTV
¿Quién se fue casa con sus palomitas doradas?
Kevin Hart y Dwayne "La Roca" Johnson fueron los encargados de presentar los MTV Movie Awards 2016, realizados este sábado en el Warner Bros. Studios en Burbank, California. Pero este año rompieron la tradición y el show no se transmitió en vivo. En su lugar, todos podrán verlo este domingo en MTV. "Es un honor presentar los MTV Movie Awards con este chico que no solo es el más gracioso del planeta, sino quien también suele ser confundido como mi gemelo, Kevin Hart", dijo Johnson en un comunicado oficial. "Nosotros vivimos por nuestros fans y prometemos que haremos que esta noche sea épica, histórica e inolvidable para ellos". Hart agregó, "Amo conducir, esto es lo mío. Dwayne y yo somos el equipo perfecto para el aniversario 25 del show".
"Dwayne Johnson y Kevin Hart definen lo que significa ser una estrella de cine moderna", dijo el productor ejecutivo Casey Patterson a E! News en un comunicado a principios de este año. "Ellos tienen una relación directa y personal con sus fans, quienes los aman por ello y los han hecho las estrellas más grandes del mundo del entretenimiento. Ellos traen la acción y la comedia al aniversario 25 de los MTV Movie Awards, lo que me emociona y francamente me pone un poco temeroso. ¡Problemas al doble!"
Jessica Chastain, Cara Delevingne, Zac Efron, Chris Evans, Gigi Hadid, Chris Hemsworth, Kendrick Lamar, Jared Leto, Olivia Munn, Eddie Redmayne, Margot Robbie, Seth Rogen, Will Smith y Charlize Theron fueron algunos de los presentadores, mientras que Ariana Grande y Halsey tuvieron presentaciones estelares. Durante el show que se transmitirá este domingo podrán ver adelantos exclusivos de películas tan anticipadas como Capitán América: Guerra Civil, Fantastic Beasts and Where to Find Them y Suicede Squad. Star Wars: The Force Awakens lideró las nominaciones con once a su favor, seguida de Deadpool (8), Avengers: Age of Ultron (6), Mad Max: Fury Road (4), Pitch Perfect (4), The Revenant (4) y Trainwreck (4).
A continuación échale un vistazo a los ganadores de este año:
Película del Año: Star Wars: The Force Awakens
Premio MTV Generation: Will Smith
Premio al Genio de la Comedia: Melissa McCarthy
Mejor Actuación Masculina: Leonardo DiCaprio, The Revenant
Mejor Actuación Femenina: Charlize Theron, Mad Max: Fury Road
Mejor Actuación Revelación: Daisy Ridley, Star Wars: The Force Awakens
Historia Verdadera: Straight Outta Compton
Documental: Amy
Mejor Actuación de Comedia: Ryan Reynolds, Deadpool
Mejor Pelea: Deadpool (Ryan Reynolds) vs. Ajax (Ed Skrein), Deadpool
Mejor Beso: Rebel Wilson & Adam DeVine, Pitch Perfect 2
Mejor Villano: Adam Driver, Star Wars: The Force Awakens
Mejor Actuación: Chris Pratt, Jurassic World
Mejor Actuación Virtual: Amy Poehler, Inside Out
Mejor Elenco: Pitch Perfect 2
Mejor Héroe: Jennifer Lawrence, The Hunger Games: Mockingjay—Part 2