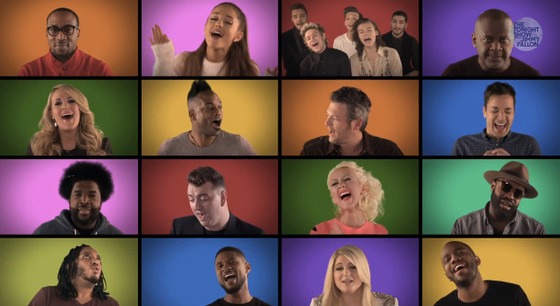 YouTube
El conductor de TV orquestó una genial versión de We Are the Champions.
Jimmy Fallon y The Roots reunieron a las grandes estrellas de la industria musical para dar vida a una versión a capela de We Are the Champions, éxito de 1977 de la legendaria agrupación británica, Queen.
El video, que seguramente se convertirá en un boom viral, se estrenó anoche en el episodio post Super Bowl de The Tonight Show, e incluye las increíbles participaciones de Christina Aguilera, Ariana Grande, One Direction, Blake Shelton, Sam Smith, Meghan Trainor, Cerrie Underwood y Usher.
E! NEWS > Chris Hemsworth bailó con su camisa mojada para Jimmy Fallon (+Video)
En un punto, Shelton saluda a Fallon en el cuadro vecino. El host, viéndose sorprendido, le devuelve el saludo. Mientras que Aguilera y Grande, hacen alarde de sus grandiosas voces cerca del final de la pieza.
Suponemos que, además de celebrar el triunfo de Los Patriots, esta fue una forma bastante particular que encontró Fallon para animarse así mismo luego de haber descubierto que, años atrás, arruinó por completo su oportunidad de salir con Nicole Kidman.
E! NEWS > ¡Jimmy Fallon arruinó su oportunidad de salir con Nicole Kidman! (+Video)
Sí, hoy pudiésemos disfrutar de una pareja Kidman-Fallon, pero este último no nos dio la oportunidad de hacerlo… Muy mal, Jimmy. ¡Muy mal!