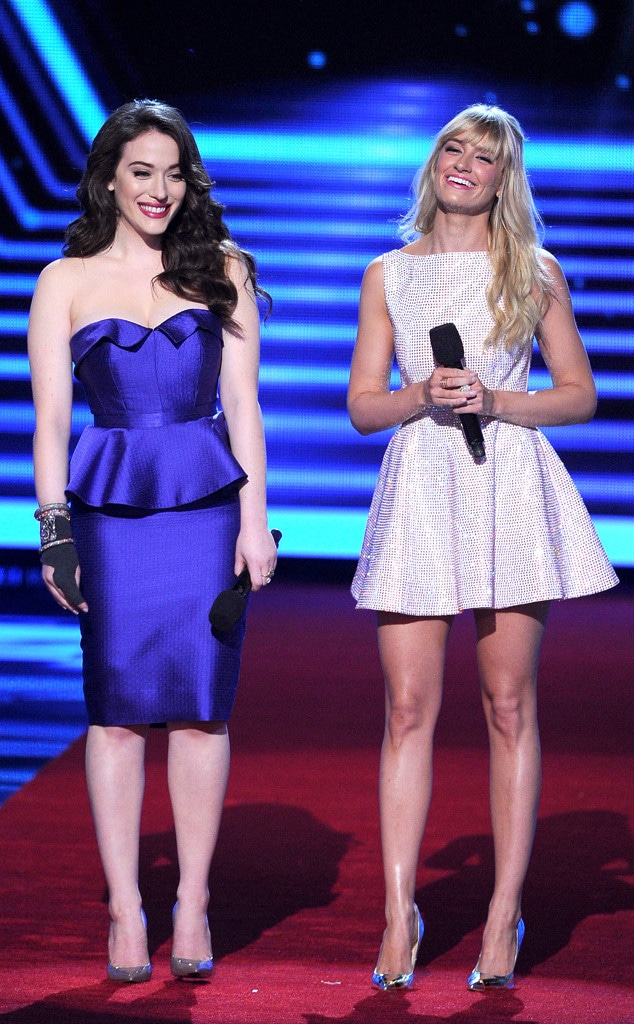 Kevin Winter/Getty Images
Los premios elegidos por la gente ya tienen dueños.
Desde 1975 hay una tradición durante la época de premiaciones: la gente vota a sus favoritos del cine, la música, la televisión (y ahora internet) y los ganadores reciben los People's Choice Awards.
La 40 edición de los premios en el Nokia Theatre de Los Ángeles dejó en claro cuáles son los preferidos por el público.
Lista completa de ganadores:
Actriz favorita de cine
Sandra Bullock
Álbum favorito
​​The 20/20 Experience (Justin Timberlake)
Conductor de programa de revista favorito
Ellen DeGeneres
Conductor favorito de nuevo talk show
Queen Latifah
Programa de competencia favorito
The Voice
Actor favorito de comedia
Adam Sandler
Drama favorito de televisión
The Good Wife
Película favorita de comedia
The Heat
Miniserie favorita para televisión
American Horror Story
Mejor química en pantalla
Damon & Elena (The Vampire Diaries)
Artista pop favorito
Britney Spears
Artista revelación favorito
Ariana Grande
Actriz favorita de comedia en televisión
Kaley Cuoco
Artista femenina favorita
Demi Lovato
Actor favorito de comedia en televisión
Chris Colfer
Artista country favorito
Taylor Swift
Estrella favorita de acción en cine
Robert Downey Jr.
Actriz favorita en nueva serie de televisión
Sarah Michelle Gellar
Serie favorita de comedia en televisión
The Big Bang Theory
Mejor actor de TV en drama 
Josh Charles.
Mejor drama de TV en cable
The Walking Dead.
Mejor actriz de comedia en cine
Sandra Bullock.
Mejor actor en una serie nueva
Joseph Morgan.
Mejor conductor de un late night show
Stephen Colbert.
Mejor actor de televisión en fantasía/ciencia ficción:
Ian Somerhalder.
Ícono country favorito
Tim McGraw
Mejor actriz de televisión por cable
Lucy Hale.
Mejor serie vía streaming
Orange Is the New Black.
Película favorita
Iron Man 3
Actor favorito en cine
Johnny Depp
Artista R&B favorito
Justin Timberlake
Banda favorita
One Direction
Dúo favorito en cine
Sandra Bullock & George Clooney (Gravity)
Película de acción favorita
Iron Man 3
Actriz favorita de drama en cine
Sandra Bullock
Banda alternativa favorita
Fall Out Boy
Película familiar favorita
Despicable Me 2
Thriller favorito en cine
Now You See Me
Programa policiaco favorito
Castle
Programa premium de televisión por cable
Homeland
'Bromance' favorito en televisión
Sam, Dean & Castiel (Supernatural)
Mejores amigas en televisión
Rachel & Santana (Glee)
Programa favorito de ciencia ficción
Beauty and the Beast
Actriz favorita de programa de televisión ciencia ficción
Kristin Kruek
Serie favorita que más extrañaremos
Breaking Bad
Programa favorito nuevo de comedia
Super Fun Night
Programa favorito nuevo de drama
Reign
Mejor artista masculino
Justin Timberlake
Video musical favorito
Roar (Katy Perry)
Grupo de fans favorito
Lovatics (Demi Lovato)