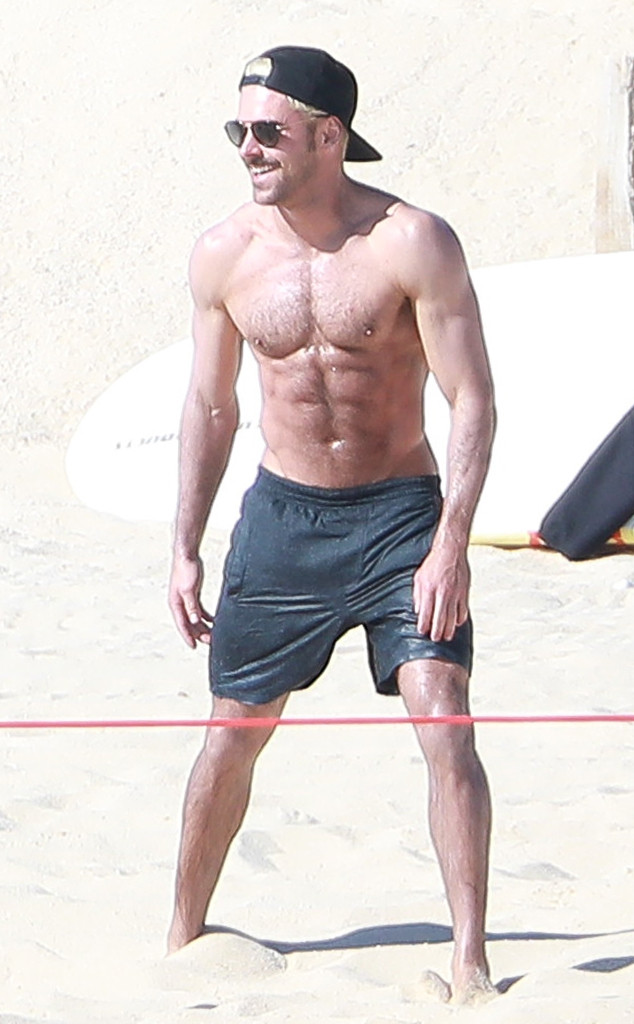 HEM / BACKGRID
¿Encontramos al verdadero culpable del calentamiento global?
Zac Efron subió la temperatura durante sus vacaciones en Cabo San Lucas, México, este fin de semana.
La estrella de High School Musical fue vista enseñando sus abdominales en la playa junto a su hermano menor, Dylan Efron, y otros amigos. El actor se deshizo de su camisa y prefirió usar solo un par de shorts negros y una gorra de beisbol, que cubrió su nuevo cabello rubio platino.
La celebridad de 31 años pareció disfrutar de mucha diversión bajo el sol, se subió a un jet ski e incluso a una cuerda tensa. Los chicos disfrutaron de muchas actividades al aire libre en sus vacaciones. Dylan también compartió un video haciendo paddleboard y nadando con mantarrayas. Además, Zac publicó un video jugando golf sin camisa, que para los fans fue sin duda un flashback de su videoclip Bet On It.
"FOORREE!!", escribió junto al clip.
Por supuesto, Zac merece un poco de descanso y relajación. Después de todo, el actor de The Greatest Showman recientemente acaba de terminar las grabaciones de Extremely Wicked, Shockingly Evil and Vile, donde interpretó a Ted Bundy. También protagonizará junto a Matthew McConaughey, Isla Fisher, Snoop Dogg, Jonah Hill y Martin Lawrence en la cinta The Beach Bum.
¡Cuánto hubiésemos querido estar ahí!
Videos relacionados:
Zac Efron muestra su transformación de Ted Bundy para 'Extremely Wicked, Shockingly Evil and Vile'