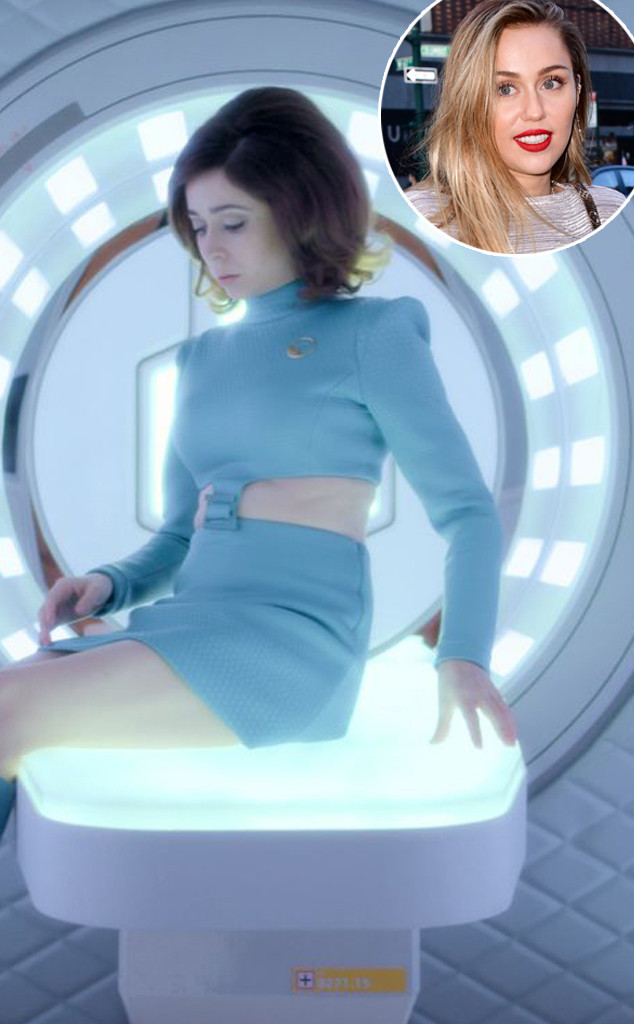 James Devaney/GC Images
¿Cómo Black Mirror superará la entrega U.S.S. Callister, ganadora del premio Emmy?
¡Con una aparición de Miley Cyrus!
Cyrus, quien está promocionando música nueva y se presentará en vivo próximamente en Saturday Night Live próximamente, visitó recientemente The Howard Stern Show y dio una especie de confirmación (no formal) sobre su participación en la serie de Netflix, de la que ya se había rumorado en el podcast de su hermana Brandi: Your Favorite Thing Podcast with Wells & Brandi.
"Estoy realmente emocionada de que todos vean el proyecto al que dijimos que sí", dijo Cyrus al anfitrión Howard Stern después de un juego de adivinanzas de Black Mirror. "En el momento en que digo que nunca quiero volver a hacer algo, de repente, ahí estoy".
Esta sería la aparición televisiva de Cyrus desde Crisis in Six Scenes, la serie de Amazon de Woody Allen que también protagonizaba el director junto a Elaine May y Rachel Brosnahan. Antes de eso, apareció en la película de 2012 So Undercover, Two and a Half Men, LOL y, por supuesto, en Disney Channel cuando saltó a la fama como Hannah Montana de 2006 a 2011.
"Odio todo, pero fue la primera vez que me fui de un lugar sintiéndome realmente orgullosa de mi trabajo... Pero sabes que si me gusta eso podría significar que es horrible", dijo. El papel es uno "con mucha dinámica", agregó Miley Cyrus.
Cada temporada de Black Mirror presenta episodios independientes y nuevos actores. Las estrellas de las cuatro temporadas incluyen a Jon Hamm, Bryce Dallas Howard, Hayley Atwell, Michael Kelly, Michaela Coel, Gugu Mbatha-Raw, Rosemarie DeWitt, Jesse Plemons, Cristin Milioti, Letitia Wright, Cherry Jones, Jimmi Simpson y Billy Magnussen.
Netflix no quiso hacer comentarios. Tampoco se ha anunciado una fecha de estreno para la temporada cinco de Black Mirror.
Videos relacionados:
¿Friends y Black Mirror están conectados?