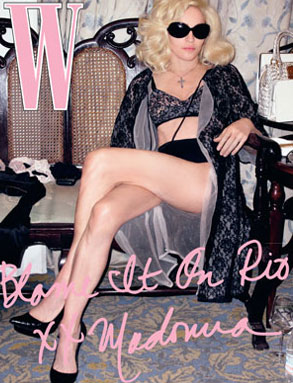 W
It's been a rough week for A-Rod.
First the Yankee slugger had to 'fess up to steroid use, and now his supposed ladyfriend Madonna has been getting it on all over the (magazine) world with a younger man!
The "Vogue" singer, 50, covers the March 2009 issue of W and then uncovers, well, a lot, including über-hot 22-year-old boy toy (and rumored fling) Jesus Luz. Even though Madge dons black lingerie and allows her Brazilian model costar to do a majority of the stripping down, the 46-page "One Night in Rio" photo spread by famed snapper Steven Klein certainly gets a bit more sticky (and steamy!) than sweet.
Fergie and Josh Duhamel in Elle may have set the recent bar for possibly taking a photo shoot too far—has Madonna joined them?