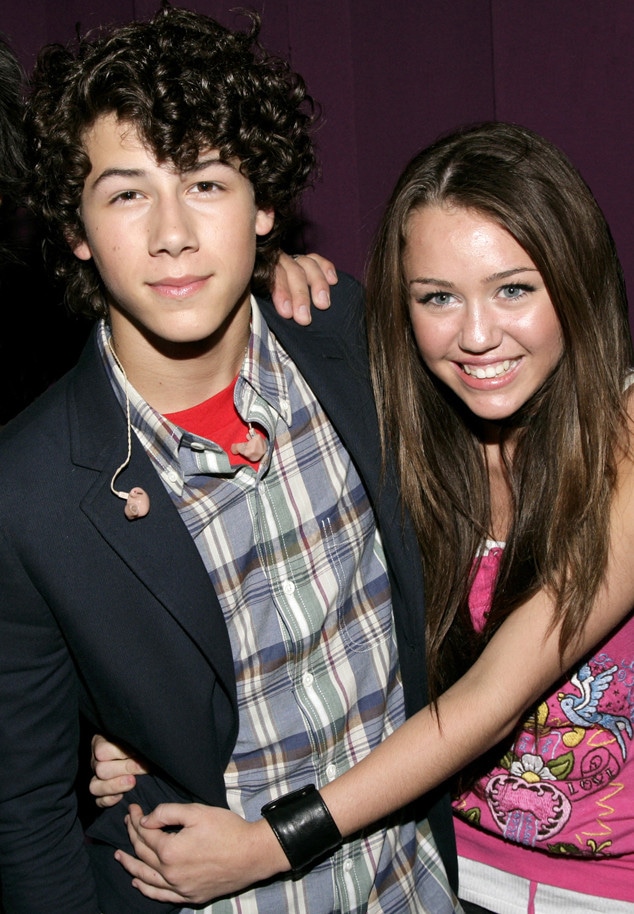 Mathew Imaging/FilmMagic
Years before Liam Hemsworth came into Miley Cyrus' life, Nick Jonas got her in chains for his love.
The two 26-year-old singers dated for more than two years when they were teenagers, until December 2007. Cyrus and Hemsworth made their public debut as a couple more than two years later and got married just before this Christmas holiday. Jonas wed actress Priyanka Chopra, 36, early this month.
"We became boyfriend and girlfriend the day we met," Cyrus had told Seventeen about Jonas in comments posted in the magazine's September 2008 issue. "He was on a quest to meet me, and he was like, 'I think you're beautiful and I really like you.' And I was like, 'Oh, my gosh, I like you so much.'"
At the time, she did not rule out getting back together with Jonas.
"Maybe he'll be my best friend for the rest of my life or maybe I'll end up marrying Nick Jonas!" she said.
In a 2016 interview with BBC Radio One, Jonas revealed that Cyrus was his first kiss.
"The first person I kissed was Miley Cyrus and I kissed her outside of California Pizza Kitchen in Hollywood—very romantic," he said. "I'd just had a pizza that had onions all over it. I'm sure that my breath smelled terrible."
At the time of their breakup, Cyrus and Jonas were 16 and on her Best of Both Worlds tour, which featured the Jonas Brothers as her opening act. She took the split hard.
"Nick and I loved each other," Cyrus said in her 2008 interview with Seventeen. "We still do, but we were in love with each other. For two years he was basically my 24/7. But it was really hard to keep it from people. We were arguing a lot, and it really wasn't fun."
"[After the breakup] I bawled for a month straight," she said. "I was so sad. I just went into this weird funk. And I dyed my hair black. When we were dating, Nick wanted me to get highlights—and so I did that, and I got myself looking great. And then, on the day we broke up, I was like, I want to make my hair black now—I don't want to look pretty; I want to look hard-core. I was rebelling against everything Nick wanted me to be. And then I was like, I've got to be by myself for now, and just figure out who I really am."
In 2008, Cyrus released the song "7 Things," which fans immediately speculated was about Jonas. Sample lyrics include "The 7 things I hate about you (oh you) / You're vain, your games, you're insecure / You love me, you like her / You make me laugh, you make me cry / I don't know which side to buy." In the music video, Cyrus wears a dog tag Jonas gave her as a gift when they were 14.
"I was actually kind of flattered to be honest because it's there forever and I know it's about me," Jonas said on BBC Radio One almost a year ago. 
The two would go on to reunite more than a year after their breakup, as friends.