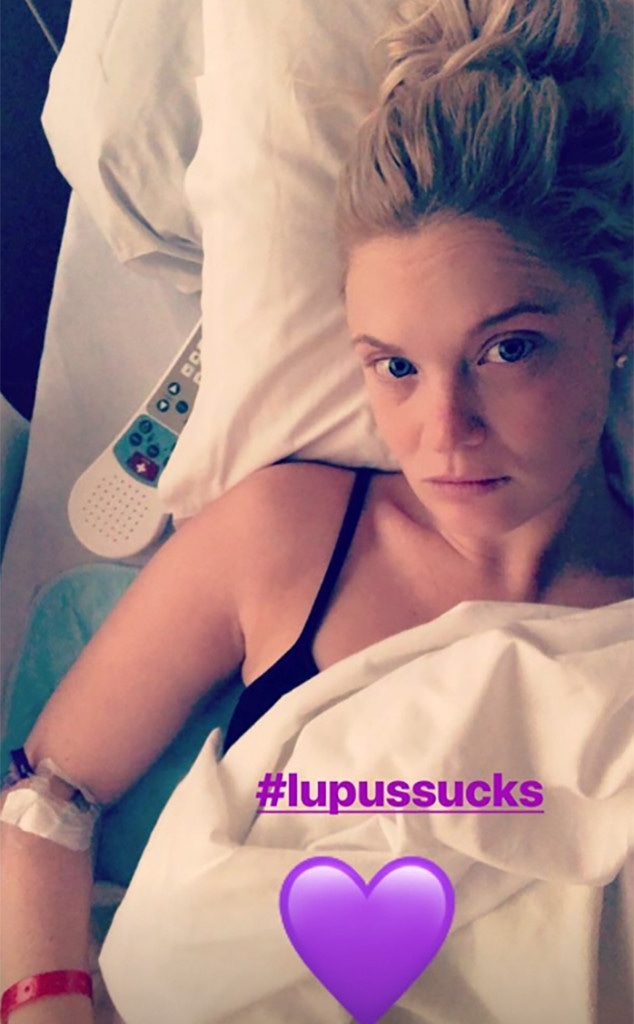 Instagram / Ashley Martson
90 Day Fiancé cast member Ashley Martson spent Christmas in the hospital.
The 32-year-old reality star had revealed in late November on her Instagram page that she suffers from lupus, or systemic lupus erythematosus (SLE). It appears she suffered a flare of the autoimmune disease, as on Tuesday, Christmas Day, she posted on her Instagram Story videos taken from a hospital bed. Her husband Jay Smith also posted on Christmas Day a photo of himself beside a hospital bed. The two had recently sparked split rumors after they deleted their photos together from Instagram.
Martson was put on a liquid diet for a few days.
"I want food not broth," Martson wrote on Tuesday. "Can someone sneak me some wings and cheese fries?"
"On Wednesday morning, she wrote, "Still here but starting to feel a bit better."
She also shared a selfie of herself lying on the hospital bed, hooked up to an I.V.
"#lupussucks," she wrote.
Instagram / Ashley Martson
"If I could ask Santa for one gift it would be Good health," Martson wrote earlier. "Being admitted on Christmas Eve and missing Christmas morning with my children is the worst. My strength is beginning to run out but I know God's strength will pull me through
Lupus is incurable and does not warrant hospitalization on its own; it is severe flares of and possible complications from the disease that patients might suffer that would cause them to be hospitalized. Martson did not detail her symptoms.
Instagram / Ashley Martson
A person with an autoimmune disease can remain symptom-free for months, years, even decades. When it's active in the body, they suffer flares. Such diseases can cause a person's antibodies to mistakenly and gradually attack and cause inflammation in organs, tissues and blood vessels. Lupus flares, rare in some patients but prevalent in others, can cause infection, fever and other symptoms such as anxiety, depression, pain in the joints and rashes, which Marston had displayed when she revealed her diagnosis, saying it was a bad reaction to her medication.
Instagram / Ashley Martson
Selena Gomez made headlines in 2015 when she revealed that she has lupus. She underwent a kidney transplant last year. A few months ago, she entered a treatment center for the second time this year to help address ongoing issues related to anxiety and depression, weeks after she was hospitalized for conditions related to her lupus.