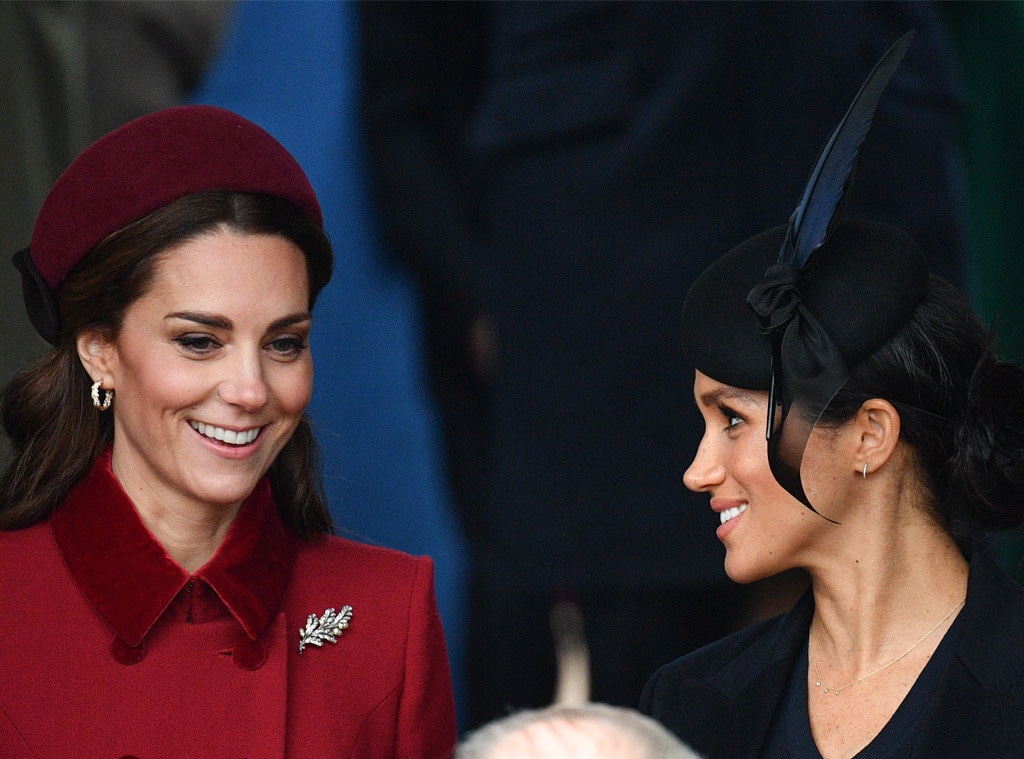 Tim Rooke/Shutterstock
What feud?
Meghan Markle and Kate Middleton shared a smile and laughs as the royals made their way to St. Mary Magdalene Church in Sandringham. The British royals are all celebrating Christmas here, despite unfounded rumors that Kate and Meghan have some feud between them.
Meghan walked arm-in-arm with her husband Prince Harry while Kate strolled alongside Prince William. The prince's father, Prince Charles, was about a step ahead of the four members of "The Firm" as they are sometimes called. Camilla, Duchess of Cornwall, did not come along for the walk to church because she's recovering from a bad cold. The 97-year-old Prince Philip, Duke of Edinburgh was absent and will reportedly "spend the day relaxing with his family."
Hundreds and hundreds of fans lined up along the path leading from Queen Elizabeth's estate to the church and got festive as many people wore Santa hats and brought bouquets of flowers.
Meghan was dressed in head-to-toe Victoria Beckham as she carried a $1,063 Powder Box purse, wore a $3,085 navy coat and $1,715 black heeled boots. The Duchess of Sussex also wore an Awon Golding hat.
The Duchess of Cambridge was believed to be wearing a stunning red Catherine Walker coat, a Jane Taylor "halo headband" and $595 Jimmy Choo pumps.
Newlyweds Princess Eugenie and Jack Brooksbank were in attendance as well.
This marks the first time Meghan is celebrating Christmas with the royals as a married woman and mom-to-be. The former Suits star joined the family last year, which broke protocol given that the Duke and Duchess of Sussex had not tied the knot yet. It would be another 5 months until they did so.
Take a look at the photos below to see how the royals celebrated Christmas in Sandringham.
Queen Elizabeth gave her annual Christmas Day speech and spoke at great lengths about her family, especially how it's expanding. The 92-year-old queen said she has been "well occupied" in 2018 thanks to two royal weddings (Meghan and Prince Harry, Eugenie and Brooksbank) and some new additions to the family, including Prince Louis and the upcoming royal baby.
She said in her speech, "Even with the most deeply held differences, treating the other person with respect and as a fellow human being is always a good first step towards greater understanding."
The Queen also mentioned that goodwill "can be heeded by everyone; it's needed as much as ever."
Merry Christmas!