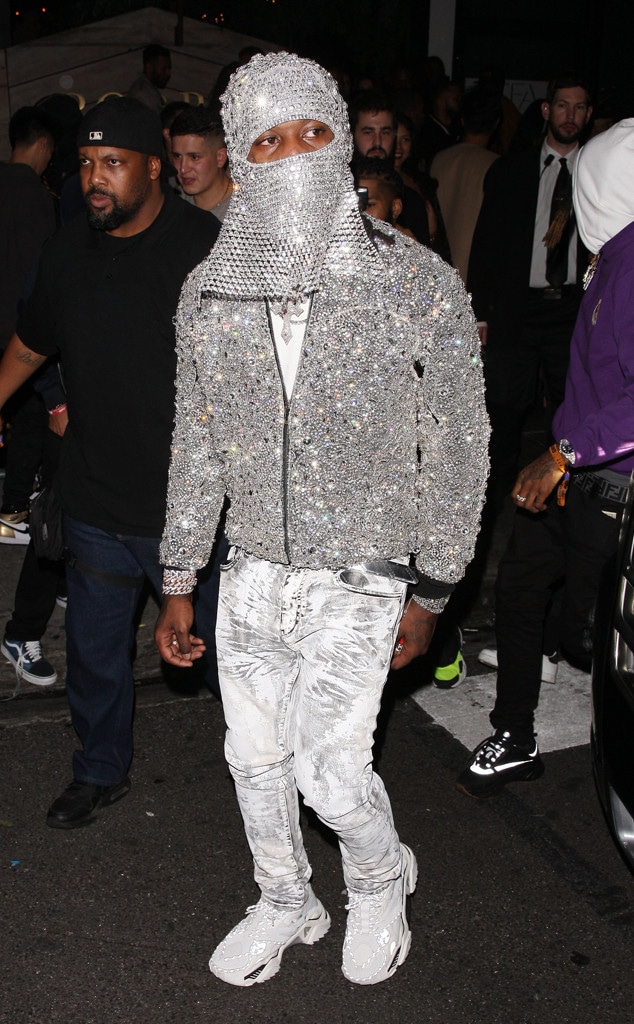 MEGA
Offset is gonna make a change, for once in his life.
In an Instagram post published on Friday, the day he and the 27-year-old rapper was photographed vacationing in Puerto Rico with estranged wife Cardi B, he paraphrased lyrics from the late Michael Jackson's hit "Man in the Mirror."
"I M S E A R C H I N G F O R T H E M A N I N T H E M I R R O R / I M T E L L I N G H I M T O C H A N G E H I S W A Y S," Offset wrote, alongside a photo of himself in a $11,000, custom-made Laurel Dewitt Swarovski crystal ski mask and matching jacket, an outfit he debuted on his 27th birthday last weekend.
Earlier this month, Cardi announced that she and Offset had split after one year of marriage. He has since made a few elaborate, public gestures to try and win her back. On Friday, the two rappers were photographed together on a jet ski in Puerto Rico. A source had recently told E! News that the on-again, off-again pair planned on spending Christmas together for the sake of their 5-month-old daughter, Kulture.
Later on Friday, Cardi performed at the Electric Holiday festival in San Juan and Offset was spotted cheering her on.
On Saturday, Cardi posted on her Instagram Story, "Goodbye Puerto Rico...what an amazing island with very f--king good food!"
It is unclear if Offset will continue traveling with Cardi.
A source had told E! News that rumors about the couple's marriage had made Cardi question Offset's loyalty. Last week, he posted on Instagram a video plea to his estranged wife, apologizing for breaking her heart and "entertaining" a girl and "partaking in activity that I shouldn't have been partaking in." 
Frazer Harrison/Getty Images
Another source recently told E! News that Cardi is "very torn" about getting back together with Offset. Last weekend, she took to Instagram to urge people to stop "bashing" him, adding, "Unfortunately, we're going through things and you know, it's not private, it became public and I just want things to die down, I just need time so we can see eye to eye. I can't predict the future."
Earlier this week, Cardi insinuated on Instagram Live, rather explicitly, that she misses having sex with Offset.