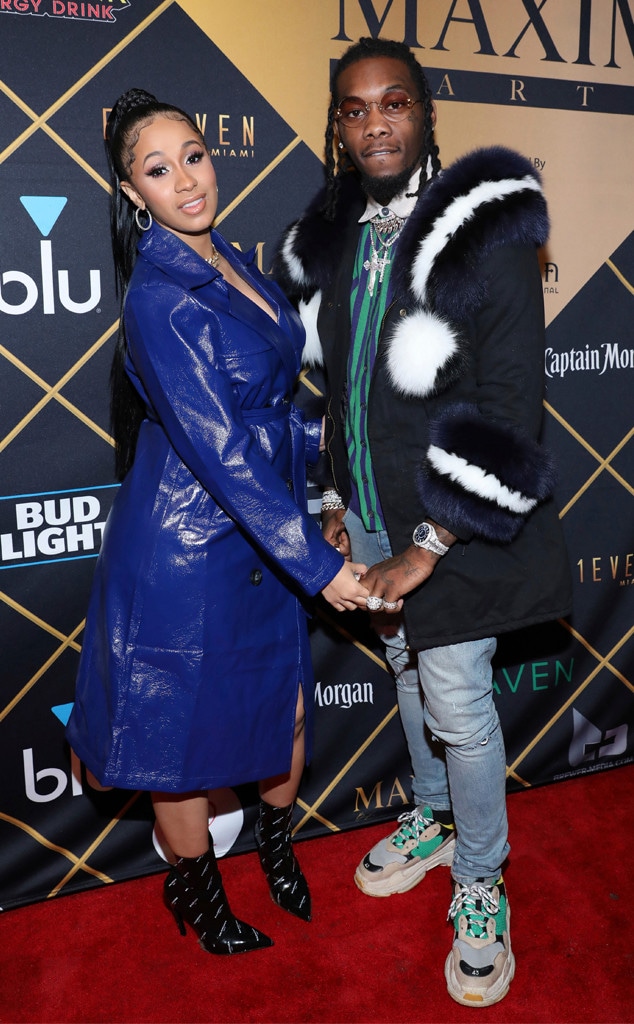 Omar Vega/Invision/AP/Shutterstock
Offset may be saying "All I want for Christmas is you" to Cardi B this year, but she isn't echoing the same words just yet.
On Dec. 4, the "Bodak Yellow" rapper revealed to her millions of Instagram followers that she and Offset were splitting up after one year of marriage. In the days following, the Migos rapper has since expressed his regret and sorrow about the end of their relationship and has even gone to great lengths to win Cardi back. He recorded an emotional video and begged her to take him back, deeming it his one "birthday wish."
A source told E! News right after their split that Cardi and Offset's relationship was "up and down." The source added, "Cardi will always love Offset, but ultimately lost trust in their relationship."
What's important for her, however, is co-parenting their daughter Kulture Kiari Cephus. Cardi has praised Offset's parenting and the insider referred to him as "an amazing dad."
An insider told E! News on Monday that, although they are not together right now, they will be spending the holidays together as a family.
"Cardi B wants Offset to be a part of Kulture's life and wants him to spend Christmas with his daughter," the source said. "It's Kulture's first Christmas and it means a lot to Cardi to have the family together."
The "I Like It" rapper will be spending some time in the Dominican Republic with her family and "plans to spend time and celebrate the holiday" there.
Scott Dudelson/Getty Images
On Saturday, Offset appeared onstage at Cardi's concert in Los Angeles and presented her with a massive floral display worth $15,000 that said "Take Me Back Cardi." He pleaded with her in front of a screaming crowd, "I just wanna tell you I'm sorry, bro, in person, in front of the world. I love you. Whatever I gotta do to show you that, I'm there."
She then had the flowers and cake removed from the stage and continued with her concert. The source said the rapper was "not pleased by Offset crashing her stage over the weekend."
The insider added, "She understands where he is coming from and appreciates that he is trying, but she is still very hurt."
There were apparently "rumors" about Offset's loyalty and infidelity, which is what "really pushed Cardi over the edge," the first source said. Offset acknowledged his betrayal in his long apology video. He said, "I was partaking in activity that I shouldn't have been partaking in, and I apologize. You know what I'm saying? For breaking your heart, for breaking our promise, for breaking God's promise and being a selfish, messed up husband."
He said later, "I want to be able to spend the rest of my life with you. I apologize. I am sorry for what I have done to you. I didn't f--k that girl, but I was entertaining her, you know what I'm saying? I apologize, and I love you, and I hope you forgive me."
Although they will be spending Christmas together, there's still a lot of uncertainty about their future together. The second source said, "She isn't ready to take him back. Cardi is trying to keep focused and keep her head clear until she figures out what she wants to do."