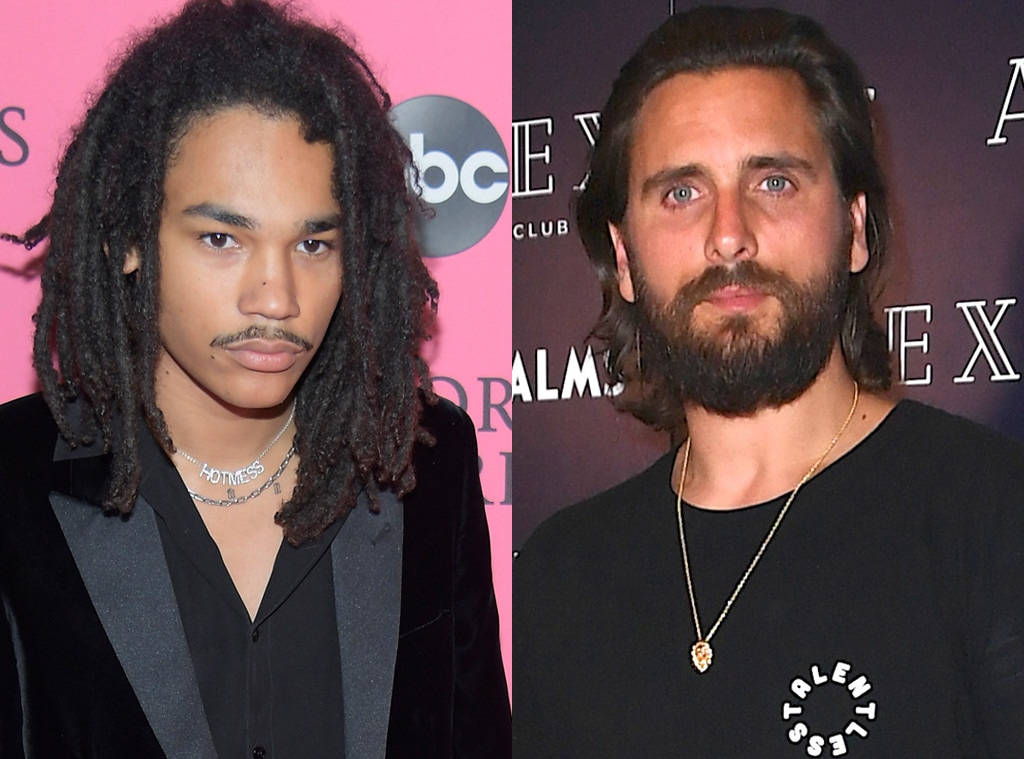 Roy Rochlin/2018 Getty Images; Mindy Small/FilmMagic
Mason Disick rang in his 9th birthday surrounded by family, friends and epic decorations at his Fortnite-themed party on Saturday night. Per Kardashian tradition, his mom Kourtney Kardashian had over-the-top decorations—including large screens where kids could play the beloved video game—as well as food buffets filled with seemingly endless sweet and savory goodies.
One attendee who looked like he was having a blast with the birthday boy was Luka Sabbat, the 21-year-old Grown-ish actor who Kourtney has been casually seeing over the past few months. A video taken on Kourtney's Instagram Story showed Luka and Mason hitting giant pinatas that just started spilling out some candy and other confetti.
Luka turned 21 a few weeks ago and Kourtney was there to help him celebrate the big day. A source told E! News earlier that she "doesn't see it becoming an exclusive committed long term relationship" and that she's "not overthinking it."
While Mason's party was underway, the birthday boy's dad, Scott Disick, and his girlfriend Sofia Richie were halfway around the world in Saudi Arabia. But don't think for a moment that Mason and his brother Reign Disick's birthdays were forgotten. 
On Friday, Scott posted a beautiful photo of the two brothers on a boat and wrote, "Happy birthday my loves!"
Both Scott and Sofia shared a number of photos from their brief time in the Middle East. They apparently rode ATVs with Miguel, his wife Nazanin Mandi and others. Unsurprisingly, they all looked like royalty and extremely fashionable while doing it. According to Sofia's Instagram Story, the two of them are now in London.
A source recently told E! News what the dynamics are like between Kourtney, Scott and Sofia. "Kourtney has accepted the dynamic of Sofia being Scott's serious girlfriend, but isn't interested in having a close relationship with her. Kourtney is only interested in co-parenting with Scott and their dynamic with the kids," the insider explained. "Kourtney likes to do activities with the kids with Scott only and doesn't usually love to have Sofia around. She is fine now with Sofia being with the kids when she is with Scott, but doesn't feel they need to all do group things together."
The insider added that the parents "have a great relationship right now," which was evident in their family-oriented Thanksgiving celebration.
Take a look at the photos below for some moments from Mason's birthday party.
Happy belated, Mason and Reign!