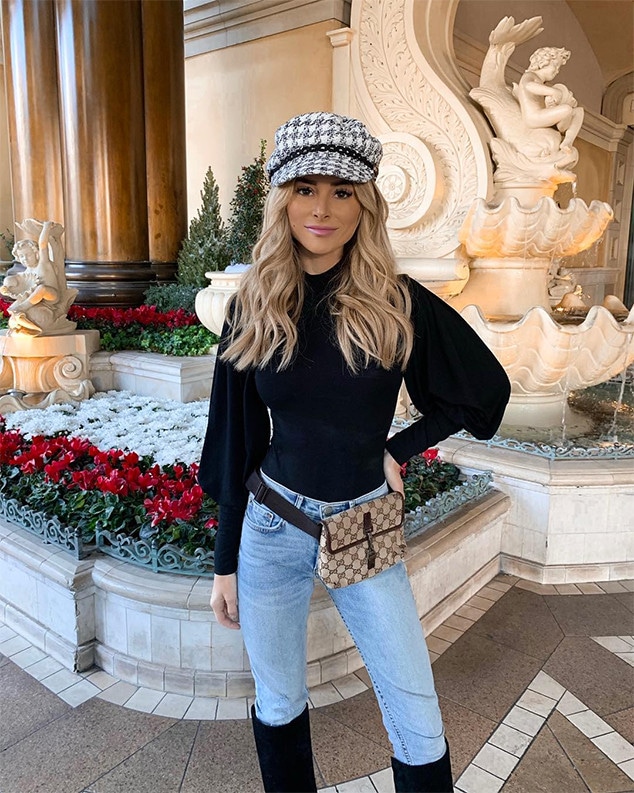 Instagram / Amanda Stanton
Amanda Stanton is not going to sit down and be body shamed.
On Thursday, the 28-year-old former Bachelor star fired back at her people who criticized her slim frame.
"Received so many kind messages about my before and after work out post but also so many nasty ones," she wrote on her Instagram Story. "I do not have an eating disorder and I am naturally skinny. I've gotten skinnier throughout the years since having kids. That happens sometimes as people age. Everyone has different body types and everyone is beautiful exactly the way they are. Our differences and flaws are what make us unique. If you see someone making an effort to be healthy and take care of themselves, why hate on that?"
"And for anyone that comments about how I looked 'healthier' and better on the Bachelor," she continued. "It may have LOOKED the way. But I am 100x healthier now that I was then. I was drinking wine and mimosas every day and not working out whatsoever. I am healthy and happy and whatever number it says on the scale isn't an indicator of that. I encourage everyone to love themselves just the way they are and to be proud of yourself if you're making an effort to be healthy and stronger…regardless of what that looks like for you on the outside."
Stanton also wrote, "This is the last time I'm going to address body shamers (at least for a while) because I know no matter what I say I'm not ever going to 'solve' the issue and it's going to continue to happen not just to me but to plenty of others. One thing I can't stand is people telling me I'm not setting a good example or sending a good message to girls because I am skinny??"
The mother of two continued, "GETTING OFF TOPIC BC I'M RANTING BUT: I strive to be a good role model for my girls and for all of you guys. I am not a perfect person and make mistakes, both privately and publicly… but if there's one message I try to get across on Instagram it's exactly that. I am human and am learning as I go just like we all are. Mistakes and hard times are how we learn and grow as a person."
"One thing I've learned the last few months especially is that your mistakes DON'T DEFINE YOU," she said. "We're allowed to mess up sometimes. And you can also mess up and still be a great person and role model for others. Sometimes an even better one. Being skinny or just appearance in general should have nothing to do with that obviously. But just a reminder that there needs to be less judging in general. Let's use social media to support and cheer each other on through life. The good bad and the ugly."