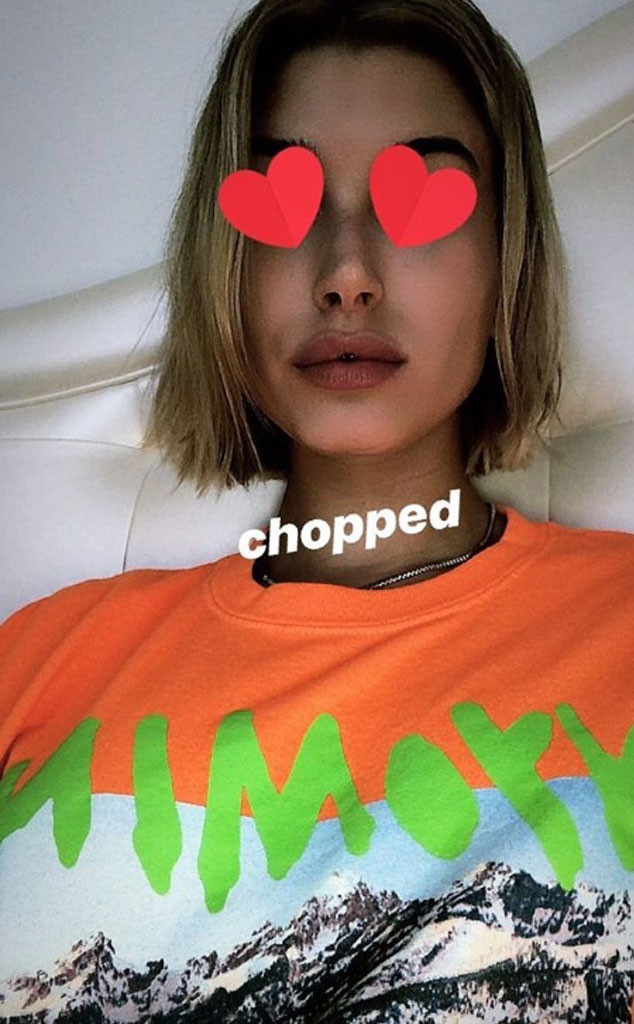 Instagram
It seems like Hailey Baldwin is taking after her husband, Justin Bieber.
On Oct. 30, Bieber cut off his signature blonde locks and went for a shaved head look, and now it appears as if the 22-year-old is following suit...sort of. On Wednesday, Baldwin posted a picture of herself on her Instagram Story showing off her new look, which features shorter hair. Don't worry, it's not shaved.
Her hair used to be past her shoulders and the perfect length for a classic half up-half down ponytail look. It's now just about chin-length. She will still undoubtedly be able to pull off that same half up-do style.
Perhaps she's prepping for 2019 early with that new year, new hair mentality.
Baldwin debuted the new look just a few days after speaking candidly about social media reactions to her relationship with Bieber and why she loves taking a break from the platform. She wrote in her Instagram Story on Saturday, "Being off Instagram is the best thing ever. Whenever I take breaks from it I feel so much better so much happy [sic] as a person.. the second I come back on I get immediate anxiety, I get sad and I get worked up."
She wrote in another note, "The negativity screams so loud."
One particularly large subject she gets "negativity" about is her marriage to the "Sorry" singer. She continued, "It's hard to focus on your well being and mental health when each time you open Instagram someone is tearing apart your job, or your relationship or essentially any of the things in your life that are positive."
"I just don't believe we're called to live a life where we're so easily caught up in strangers opinions on something they have NOTHING to do with," she typed in another slide. "We need to take a step back and realize we need to express more love and encouragement to one another instead of consistently tearing people down and judging."
For now, Baldwin has a new haircut, a new last name as seen on social media and on some clothing items. Oh, and she's a Carpool Karakoke star. What's next?