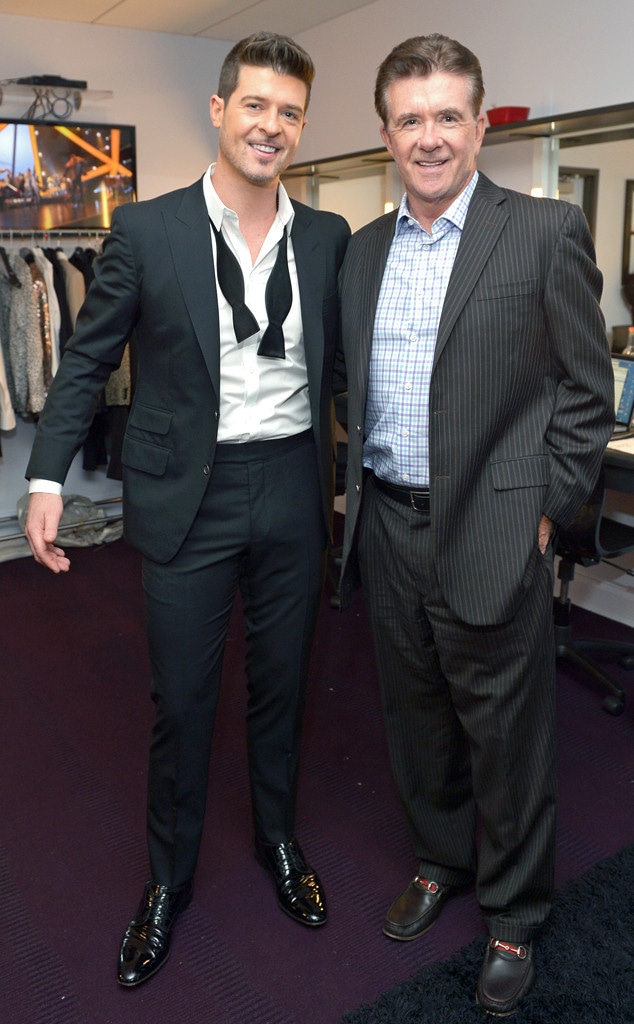 Charley Gallay/WireImage
When it comes to losing a parent, every individual grieves differently.
Robin Thicke likely knows that all too well after he experienced the death of his father Alan Thicke back in December of 2016.
But in a new interview, the "Blurred Lines" singer is opening up about his new music that was influenced by his dad's passing.
"My father passed away a couple of years ago and I thought I had an album and I had these songs that I wanted to put out, and then when that happened, it was something I wasn't expecting and it just kind of rattled my soul," Robin explained to Zane Lowe on the Apple Music's Beats 1 radio show. "So, I took some time to re-think the album and then these songs started pouring out that had more meaning and more weight to them."
Today, Robin is proud of his new single titled "Testify" that explores the emotions he faced following his father's death.
The 41-year-old admitted that it's "cathartic" to have your feelings live in a song and through lyrics even if it's not the happiest memories.
"Once you put it into song form, then it can live forever. And so the message in the song is really about the hope and the light at the end of that tunnel when you feel that you lost or you feel that you don't know what to do next," Robin explained. "You know, that reconnection to God or spirituality or something deeper than the surface is what brings you back home to who you really are and who you want to be."
While it's been more than four years since Robin released a brand-new album, he is confident that the finished product is coming sooner rather than later.
"You always hope when you're at the end and you feel like you're close that one or two more great songs will show you," he teased to Zane. So, we're waiting on those last couple."