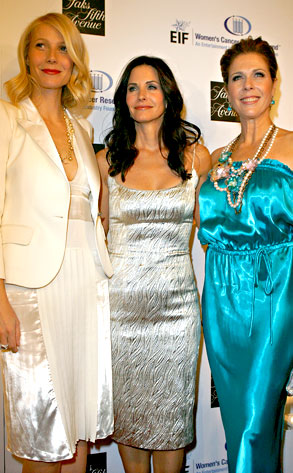 Jeff Vespa/Getty Images
While Gwyneth Paltrow thought walking the red carpet with her Coldplay frontman husband Chris Martin was "cheesy," she's fine with gushing over his big Grammy night to reporters.
"I was screaming backstage," she told E! News at Saks Fifth Avenue's Unforgettable Evening Tuesday. "I was over the moon because those guys work so hard. They're so, so dedicated, and they bleed, sweat and cry to get it all perfect."
Gwyneth, along with Courteney Cox, was being honored for her contribution to EIF's Women's Cancer Research Fund at the Beverly Wilshire hotel.
And just in case you're not a subscriber to GOOP (Gwyn's newsletter that gives her tips for good living), here's how this Coldplay fan claims to stay healthy...