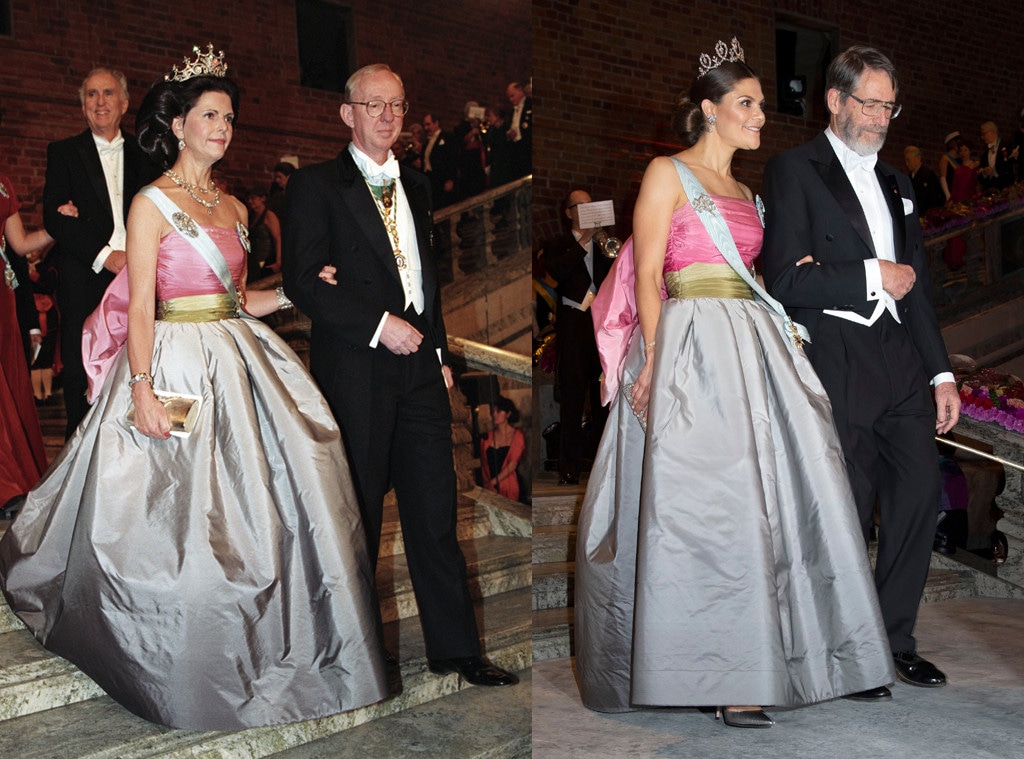 IBL/REX/Shutterstock
Talk about a royal time warp!
While some of the royals love a good recycled outfit, Princess Victoria brought the concept to an epic new level on Monday when the 41-year-old Swedish royal stepped out at the 2018 Nobel Prize banquet in Stockholm donning a familiar design. 
Victoria was dressed in a color-blocked pink, gold and silver strapless ball gown by Nina Ricci, an entirely fitting choice considering her famous mother, Queen Silvia, sported the exact dress to the same event 23 years ago in 1995. The nearly identical images will almost make you believe in time travel. 
However, the mother and daughter did take a page out of their own crown handbooks for the separate occasions. Years ago, Queen Silvia had the Queen Sofia's Tiara on her head while her daughter opted for the Connaught Tiara on Monday.  
The Connaught Tiara is a special piece for Queen Silvia as she wore it for her first royal public appearance at her pre-wedding gala in 1976. 
Meanwhile, Silvia brought the Queen Sofia's Tiara back out for her own Monday ensemble—an emerald green lace, off-the-shoulder design. 
The women were joined by their husbands, King Carl XVI Gustaf and Prince Daniel, both looking equally dapper in black tie. 
Stunning, ladies!