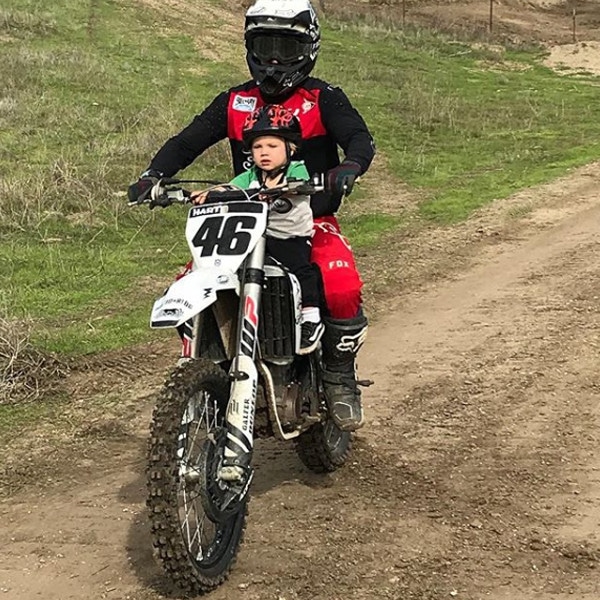 Instagram
Carey Hart knows what he's doing on and off the dirt bike.
Over the weekend, the former pro racer enjoyed family day with Pink and their kids Jameson Moon and seven-year-old daughter Willow Sage.
"Awesome day riding motorcycles w/ the family @castillo_ranch," Carey shared on Instagram with a collection of photos. "Jamo is dirt bike crazy, and got to take him on some fun rides. Willow and mama @pink were charging the track. Love days like this!!!!"
One picture, however, quickly raised a few eyebrows among followers. Carey decided to post a picture of 23-month-old Jameson sitting in front of dad as he rode a dirt bike.
"Jamo has his race face on," Carey explained. "Don't worry parent police, I'm a professional. #BeADadNotAFad."
Ultimately, it didn't stop some followers from sharing their concerns about the image.
"Nice eye protection for the kid," one critic wrote in the comments section. Carey simply replied , "Move along."
But through the negative commenters, there were also plenty of fans who were supportive and understanding. "Better that he is taught by someone that knows what they're doing," one follower shared. Another added, "You guys are making some awesome childhood memories for those kids!"
Regardless of the comments, all signs point to a family who loved their adventure at Castillo Ranch located near the central coast of California.
"Rippin' with my girlie," Pink shared on Instagram after documenting her memories with Willow.
And before you think these parents only do adventures, shall we remind you that the duo recently took their kids to the Disneyland Resort where they enjoyed cool and calm rides like Toy Story Mania and Autopia.