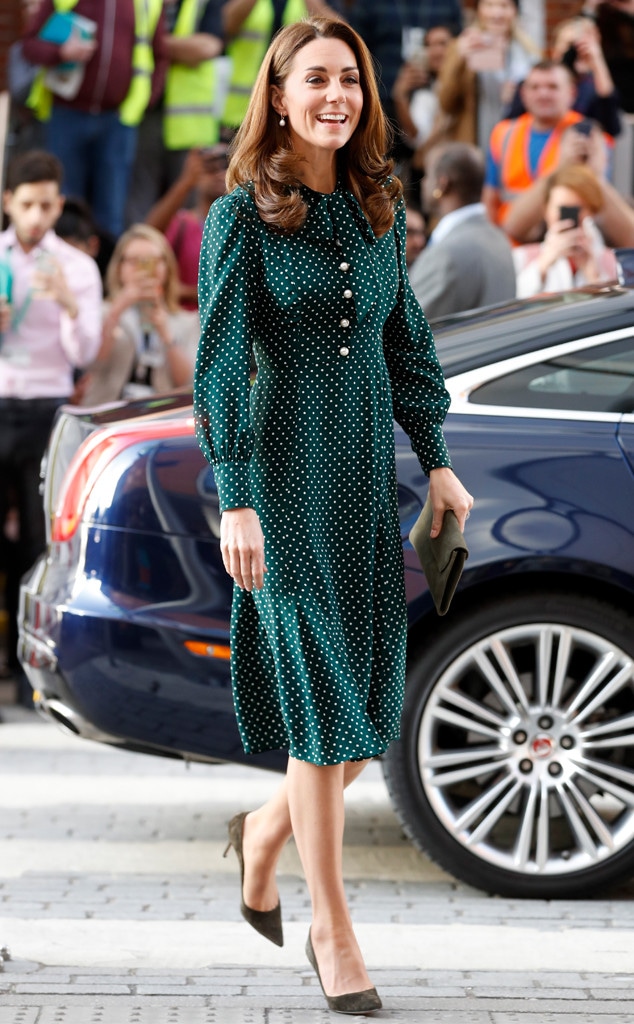 Chris Jackson/Getty Images
The Duchess of Cambridge has yet another title up her polka-dotted sleeve. 
Kate Middleton has been named the new patron of Evelina London Children's Hospital. As the hospital's figurehead, the mother of three will have the opportunity to support and highlight medical professionals leading children's healthcare. With three little ones, the royal seems like the perfect fit for the role, one that was officially announced on Tuesday ahead of her visit to the hospital. 
"We are absolutely delighted and deeply honored the Duchess of Cambridge has chosen to become our patron," Marian Ridley, director of Evelina London, said in a statement. "The duchess shares our passion for giving children and young people the very best start in life and her royal highness's support will help champion the life-saving care our staff are providing to our patients."
Donning a green silk, long-sleeved L.K. Bennett dress adorned with polka dots, the Duchess of Cambridge stepped out in London for the hospital visit with a big smile on her face, joined by her famous husband, Prince William. 
Chris Jackson/Getty Image
Chris Jackson/Getty Images
There, the new patron received a warm welcome from 6-year-old Tiana Hayles, who gifted the duchess a bunch of posies. Inside, the royal couple helped celebrate the event by completing a piece of commissioned artwork and unveiling it with some of the children.
During the visit, the couple greeted staff, parents and children and met with families who use the hospital's services. The two also took part in Christmas crafting while the hospital's choir sang carols.
"Thank you to everyone here," Middleton told attendees during her brief remarks. "You do such an amazing job supporting children and their families both here and out in the community."