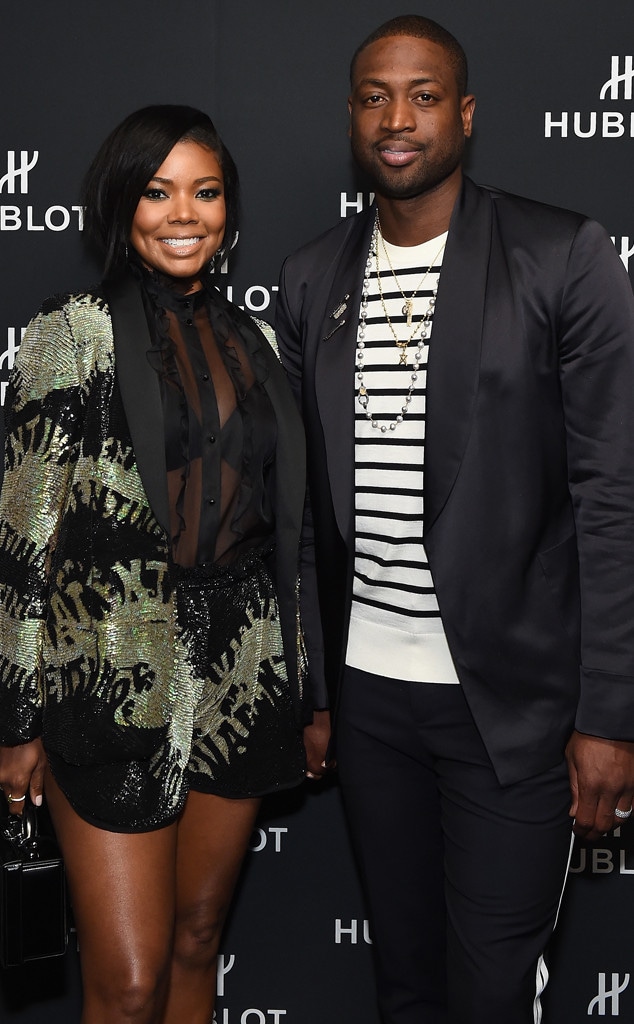 Ilya S. Savenok/Getty Images for Hublot
Gabrielle Union and Dwyane Wade are sharing the emotional journey of their daughter's birth.
The two of them welcomed their first child together, Kaavia James Union Wade, into the world on Nov. 7. She was born via surrogate and dubbed their "miracle baby" in a heartfelt Instagram post one day later. Union explained that the proper way to say Kaavia's name is "Kah-Vee-Uh James."
On Monday, the Being Mary Jane star shared a video on Instagram that gave a behind-the-scenes glimpse at the months leading up to Kaavia's birth and why she and Wade went the surrogate route. Throughout her marriage to the Miami Heat basketball star, Union has been vocal about fertility struggles she faced over the years—including having "eight or nine" miscarriages. "It just feels like a  lot of shame," she said of her miscarriages. "Just years of shame and humiliation and betrayal of your body. It's so many emotions."
She explained in the caption that the road to Kaavia's birth wasn't exactly easy. "Every family is unique. How each family is created and comes together is special," she wrote. "Kaavia James Union Wade's journey into our arms was long and at times brutal. There were heartbreaks that nearly broke us and streams of tears that turned into raging rivers."
Their baby was the light at the end of the tunnel. She added, "But then came Kaavia James. This is our birth journey. Thank you for all the love, support and understanding and all the people who held us up when we lost hope."
Union revealed in the clip she has adenomyosis, which is essentially endometriosis in muscle.
She explained in the video that although she had the possibility of receiving a shot for her adenomyosis, the chances of getting pregnant were still slim. "We just decided as a family that the best and safest and probably our most successful route was a gestational carrier," she shared.
Because she wasn't carrying Kaavia herself, the Bring It On actress worried she would lack a special "bond" with her baby. "It's a little odd, I guess. A little different for us but what isn't going to a be little different for us?" she commented in the video. "That scares me."
Union went on to explain what it means to her to not only raise a daughter, but a black woman. "I know what raising a little black women is for me and what she will face. Knowing that how she moves through the world as a proud black women being guided by a dad that just loves her, that loved her when she was an idea," she said in the video. "And her very being, her very essence has been loved and supported as a thought. That is freakin powerful."
The couple is also fully aware that "everyone's route to motherhood and parenthood looks different and there is no one right way."
Photo by Chelsea Lauren/Variety/REX/Shutterstock
Wade, too, chimed in on the surrogacy process and their perspective. "You know people kind of get this perception that, especially someone who is an actress or a celebrity or whatever the case may be, uses a surrogate because they are lazy. Because they didn't want to carry it, mess their bodies up," he said. "But for us when it got to the point where it was dangerous."
The Heat player told his wife, "Hold on. I married you, I chose you first. There is no us without you."
Wade told Oprah Winfrey in a new special called Oprah at Home with Gabrielle Union, Dwyane Wade & Their New Baby that he has one main priority for his growing family. "As a whole, just obviously health. That's No. 1. I want us all to be as together as we can be," he said in a clip exclusively obtained by E! News last week. "I want us to all support each other. I want us to all appreciate each other's abilities in life and support each other no matter what."
Since her birth a little over a month ago, Kaavia has been the recipient of a complete and total outpouring of love. For starters, she already has her own Instagram page with more followers than the average Joe. 
On Sunday, Wade and Union threw quite possibly the biggest tailgate-themed baby shower that included marching bands, cheerleaders, beer pong and more. Union, who is a Nebraska native, wore a University of Nebraska jersey with her name on the back. She also relived her 18-year-old glory days and proceeded to do a keg stand at one point in the night.
The NBA player hit a big milestone of his own over the weekend: he played in his 1,000th pro basketball game.
Wade, who is already the father to three other kids, shared some other thoughts with Oprah about lessons he hopes to impart on Kaavia and the rest of his family. He stated, "I just want us to love each other. For us, I want to be able to see my kids' kids have kids and be around. Experience them grow and see who they're going to become in life. Hopefully they become people in this world that we're trying to raise them to become."