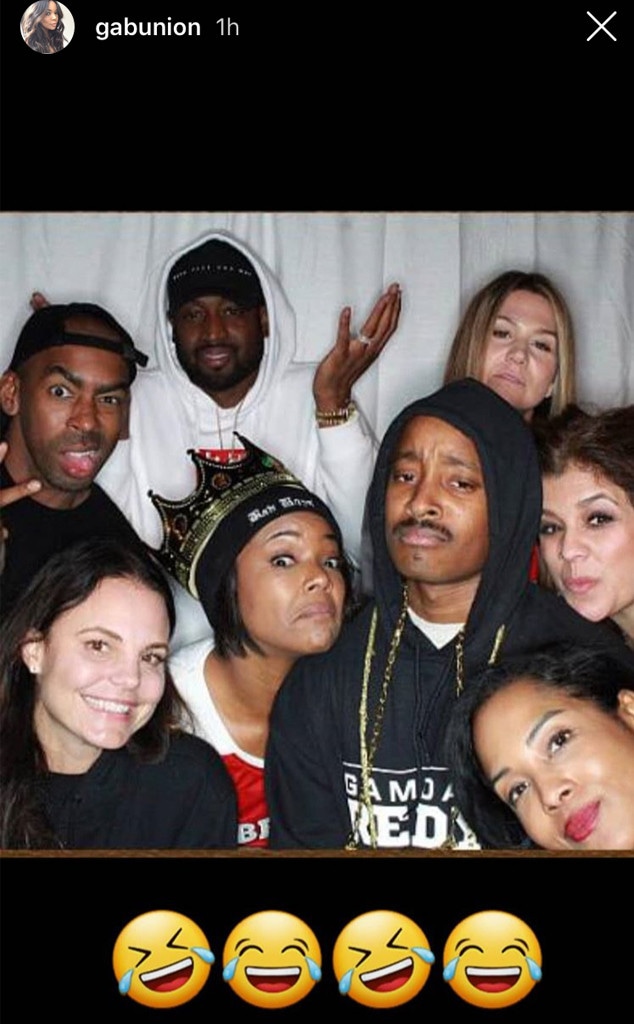 Instagram
Nobody throws a party like Gabrielle Union and Dwyane Wade.
Nearly a month after announcing the arrival of their baby girl via surrogate, the Hollywood couple threw a tailgate-themed baby shower that has us reminiscing about our good ole' college days.  
In several pictures and videos seen on Instagram Stories, guests were treated to a photo booth, a puppy pit filled with golden retrievers, make your own sweatshirt station and a full on marching band.
"Yes, yes we did have #LASFINEST," Gabrielle shared on Instagram. "@CentennialHighApacheband & @Dorseycheerleadingteam Help Welcome @KaaviaJames to the party."
And it wouldn't be a tailgate without some delicious drinks.
Gabrielle and her friends enjoyed a game of beer pong. And yes, there's video of the Hollywood actress trying to do a keg stand.
"Lil party to welcome @KaaviaJames to the party of our lives," Gabrielle shared on social media while sporting a customized Nebraska Cornhuskers jersey from Adidas. "Love these kids. Friends who become family."
She added, "The fact that our party hours were 3-7 and we're all at work this morning is the real joy."
Shortly before Halloween, Dwayne planned a special '90's themed "Smells Like Teen Spirit Birthday" bash for his wife at Miami hotspot Byblos.
And just a few short days later, the couple announced the arrival of their healthy baby girl. "We are sleepless and delirious but so excited to share that our miracle baby arrived last night via surrogate and 11/7 will forever be etched in our hearts as the most loveliest of all the lovely days," Gabrielle wrote to her fans. "Welcome to the party sweet girl!"
Since their daughter's arrival, the couple has been generous enough to share a few family photos on social media.
And most recently, the pair sat down with Oprah Winfrey for a primetime special about their new family unit. During Saturday's special titled Oprah at Home with Gabrielle Union, Dwyane Wade & Their New Baby, Dwyane revealed his hopes for baby Kaavia.
"I want us to always be able to come together, sit around a table and be able to talk about our issues, our feelings, our wants, our needs. I just want us to love each other," he shared. "For us, I want to be able to see my kids' kids have kids and be around. Experience them grow and see who they're going to become in life. Hopefully they become people in this world that we're trying to raise them to become."
Congratulations again to the happy couple!