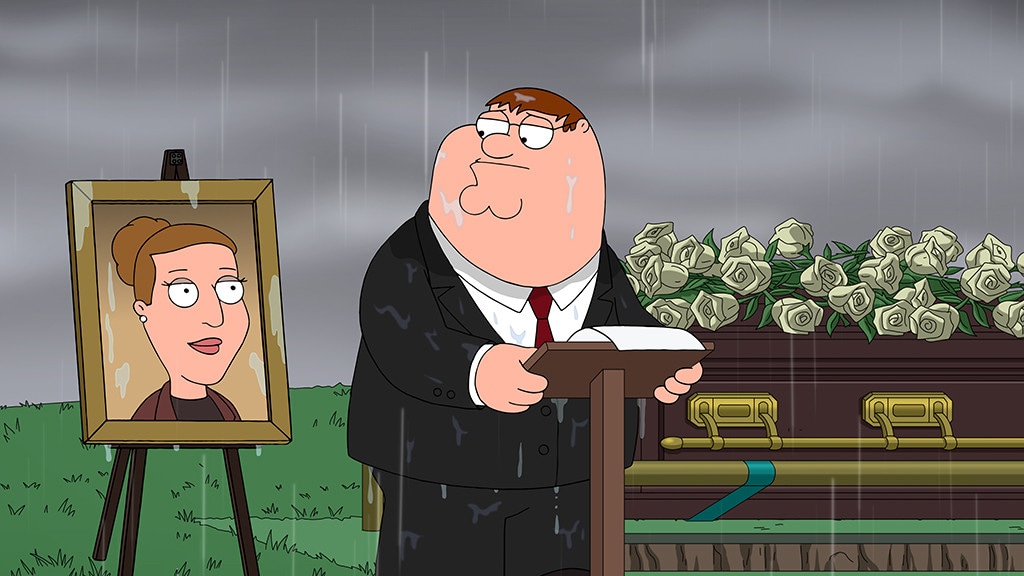 Fox
Nearly two years after her death, Family Guy said goodbye—and paid tribute to—Carrie Fisher.
In the Sunday, Dec. 9 episode, Fisher's character, Angela, was laid to rest by her employee, Peter Griffin (Seth MacFarlane). While it wasn't your typical eulogy, it was one fitting to Family Guy, with Peter quoting the Mary Tyler Moore Show theme song, the Friends theme song, the Cheers theme song, and more. Angela passed away, according to Peter, swimming less than 20 minutes after eating.
But the eulogy took a somber tone, where it seemed like Peter was speaking directly about Fisher.
"That was Angela — fearless, spontaneous, honest about herself just as much as she was about the world around her," he said. "She had grace, courage and an unmated zest for life. She may be gone, but her voice will live on in DVD and Hulu Plus and tiny droid-projected messages. I may have lost a boss, but heaven has gained a princess."
And because Family Guy is a comedy, the funeral took a turn. Watch the clip below.
Fisher passed away on December 27, 2016 after sudden cardiac arrest. She was 60. She voiced Angela, Peter's boss at the brewery, in 25 episodes since 2005. The animated series was one of her final projects, with episodes featuring her voice airing in 2017. She'll be seen, via previously unused footage, in the next Star Wars movie.
Family Guy previously paid tribute to Fisher in January 2017 with an opening title card dedicated to the acclaimed actress and writer.
Family Guy airs Sundays on Fox.