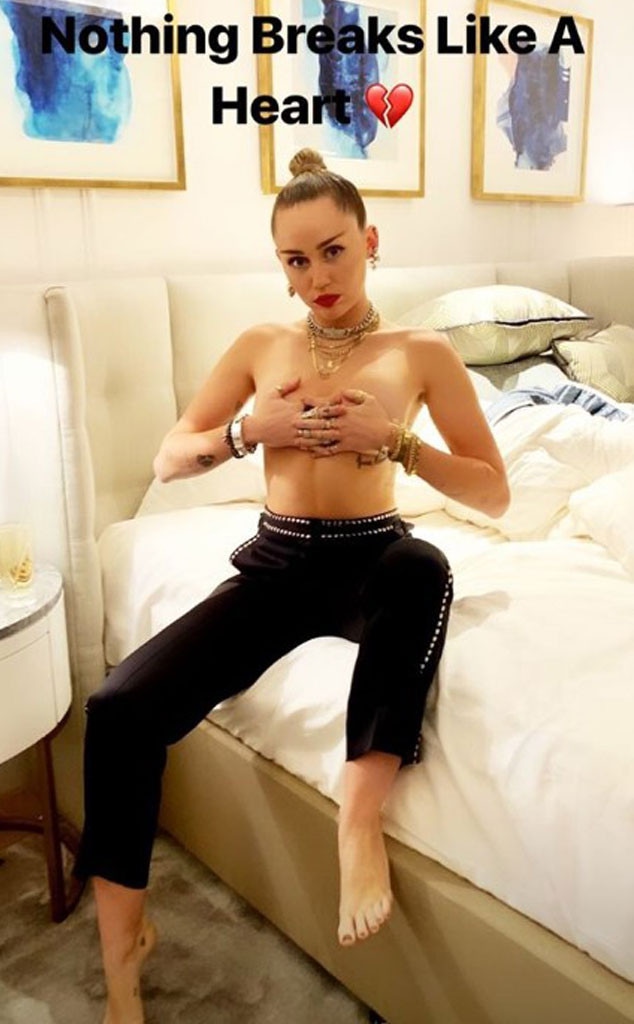 Instagram
Miley Cyrus is baring it all.
The musician posed topless in a new picture added to her Instagram story on Saturday that promoted her new single with Mark Ronson called "Nothing Breaks Like a Heart."
The name of song was the caption of the photo of Cyrus in black studded pants, hair in a high bun and sitting on a bed.
Cyrus and Ronson released the tune on Nov. 29 with a music video that tackles a number of controversial subjects, including religion, children with guns, kneeling for the National Anthem and more.
The "Wrecking Ball" singer and Grammy Award-winning producer gave a surprise performance in London on Friday night and sang an acoustic and "impromptu" rendition of "Nothing Breaks Like a Heart."
Ronson strummed his guitar onstage while Cyrus sang vocals in front of a very enthusiastic crowd.
On Tuesday, the "Party in the U.S.A. singer" discussed a "strange premonition" she had while writing the song. In the first verse of "Nothing Breaks," she sings, "This burning house / There's nothing left / It's smoking and we both know it."
She told Ryan Seacrest during On Air With Ryan Seacrest that she was currently in a place of "post-traumatic growth" rather than "post-traumatic stress."
Cyrus and her boyfriend Liam Hemsworth revealed that their home burned down in the Woolsey fire that torched Malibu and other parts of Southern California. "I am one of the lucky ones. My animals and LOVE OF MY LIFE made it out safely and that's all that matters right now," she tweeted at the time. "My house no longer stands but the memories shared with family and friends stand strong. I am grateful for all I have left."