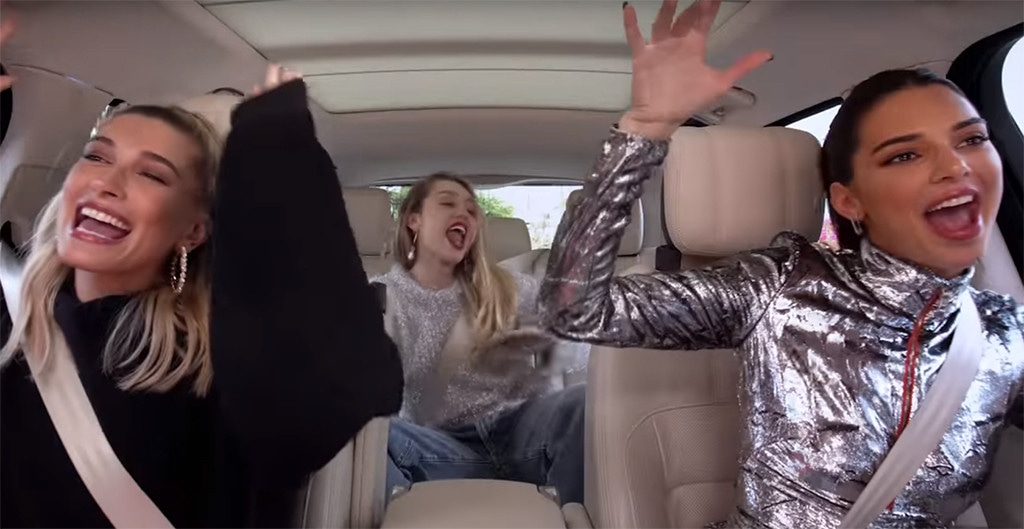 CBS Television Studios / Apple TV
Surprise!
Miley Cyrus crashes Kendall Jenner and Hailey Baldwin's Carpool Karaoke episode, which was released on Apple TV on Thursday.
A first teaser dropped in October and showed the latter two belting out tunes such as Panic! At the Disco's "I Write Sins Not Tragedies" and taking part in a lie detector test while on the road. Well, Cyrus makes a surprise appearance in the episode as well, sitting in the back seat of the car while joining Jenner and Baldwin to sing her 2009 hit "Party in the USA."
Apple TV's Carpool Karaoke series debuted in 2017 and is based on a popular recurring segment on The Late Late Show With James Corden.
Cyrus had appeared with James Corden on one of the latter installments and on the series with her family in 2017.
Past celebrity pairings have included Joe Jonas and Camila Cabello, Game of Thrones' Sophie Turner and Maisie Williams, Westworld's Evan Rachel Wood and James Marsden, Jamie Foxx and daughter Corinne Foxx, couple Megan Mullally and Nick Offerman, Tyra Banks and Lil Yachty and Ariana Grande and Seth Macfarlane, who performed Broadway show tunes.