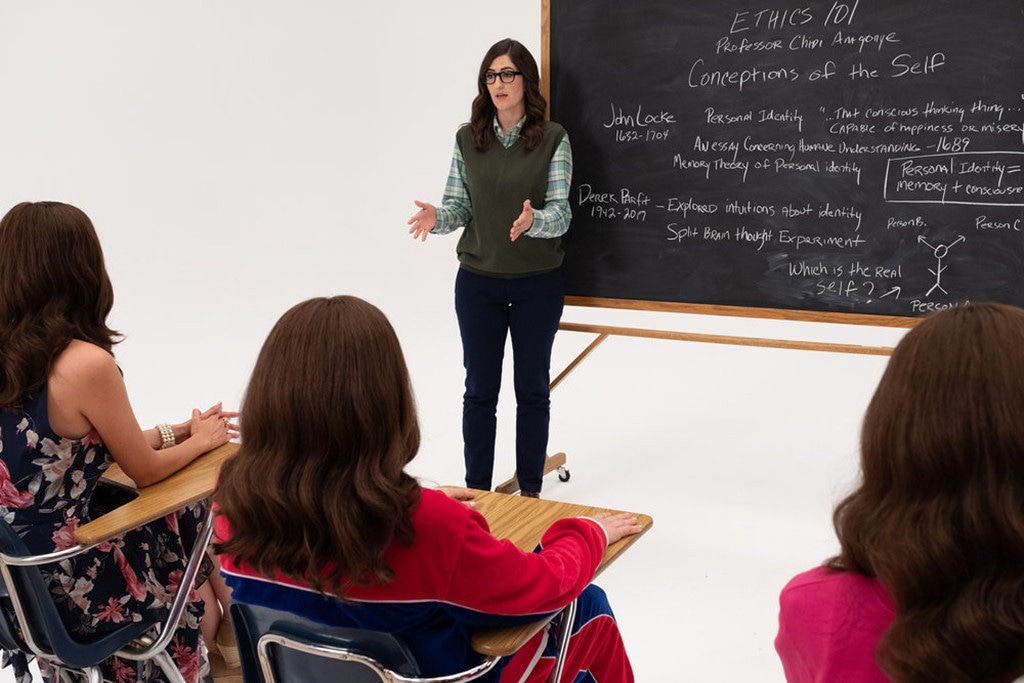 NBC
The Good Place is still somehow managing to flip everything on its head with every single episode, and it's just nuts.
Tonight, Janet (D'Arcy Carden) saved everybody's lives by bringing them into her void, meaning everyone but Michael (Ted Danson) turned into a Janet. That meant that D'Arcy Carden had to play Kristen Bell, William Jackson Harper, Manny Jacinto, Jameela Jamil, and regular Janet all in the same scenes together. She argued with herself. She got horny for herself. She made out with herself. 
It was honestly very distracting (in the best possible way) so it took us a while to grasp what the episode ended up concluding: no one has gotten into the Good Place in over 500 years, meaning all of these attempts to figure out how to get in legitimately have been utterly pointless. But then, as the episode ended, the whole gang had finally actually arrived in the real Good Place to get some answers. 
We'll have to wait until 2019 for those answers (and for more of Eleanor and Chidi kissing, as themselves, which we're here for), and we're honestly not going to be able to think of much else until then. 
To help pass the time, we made some gifs of the best and trippiest Janet moments of the night 
This is when Jason discovered he was a white not-a-lady, so he decided to say white people things like "Billy Joel" and "there was nowhere to park" and this. 
And this is when Eleanor Janet conjured a puppy for Chidi Janet and Janet Janet got mad because it might destroy the void! 
And here we have Eleanor Janet unsuccessfully poofing the puppy away, and instead creating a whole void full of puppies. 
Get ready for this: this is Eleanor Janet pretending to be Jason Janet while talking to Chidi Janet. 
And this is Eleanor Janet dressed as Jason Janet annoyed at actual Jason Janet! 
This is Eleanor Chidi kissing Eleanor Janet as they transform into regular Chidi and Eleanor and nope it's not weird that you're gonna file this away in an important folder for later. 
Somebody had better have bought D'Arcy Carden some drinks after this! 
The Good Place will return to NBC in January.
E! and NBC are both part of the NBC Universal family.