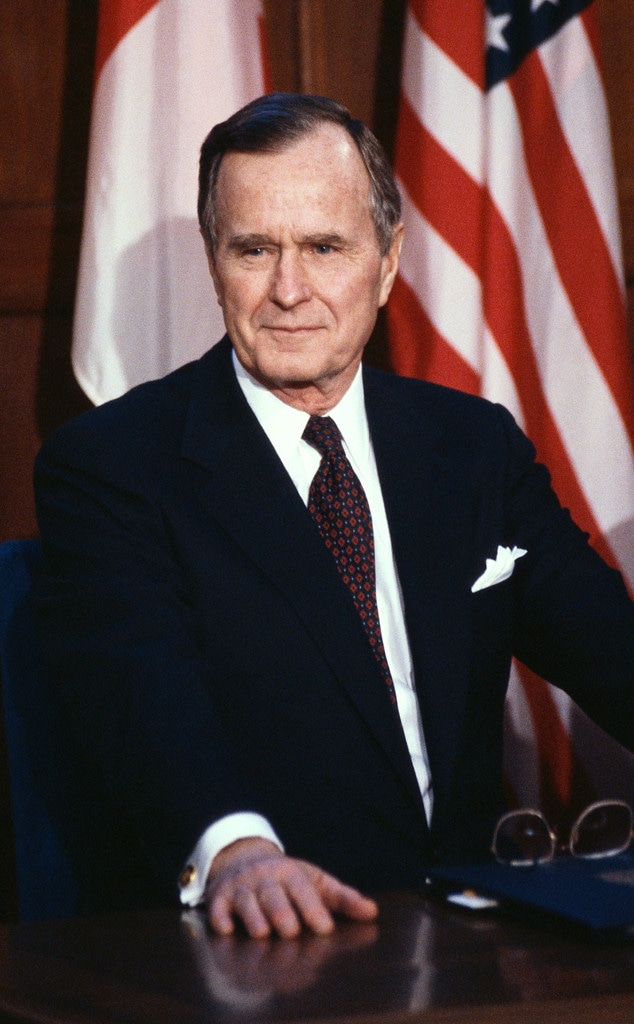 Christopher J. Morris/CORBIS/Corbis via Getty Images
President George H.W. Bush was buried on Thursday next to his wife of 73 years, Barbara Bush, at the George H.W. Bush Presidential Library in College Station, Texas. The elder President Bush died on Friday night at the age of 94 due to Parkinson's disease. 
He occupied the White House from 1989-1993, only to have his son George W. Bush move in a few years later in 2001 as the 43rd president.
Bush's body arrived back in Texas Wednesday night after landing in Washington, D.C. on Monday. His casket lain in state at the U.S. Capitol Rotunda starting on Tuesday where many people paid their respects to the 41st president, including his former service dog, Sully. The golden Labrador pulled at the nation's heartstrings when he was photographed in front of Bush's casket in Texas and at the Rotunda.
On Wednesday, five U.S. Presidents and a number of vice presidents attended the funeral service at the National Cathedral in D.C., including President Donald Trump. George W. Bush, Bush's oldest son, gave a moving eulogy that brought him to tears at the end. 
Barack Obama, Michelle Obama, Joe Biden, Jill Biden, Bill Clinton and Hillary Clinton were among those in the audience. 94-year-old Jimmy Carter and his wife Rosalyn Carter sat next to the Clintons.
Chip Somodevilla/Getty Images
Bush 43 praised his father in his speech and called him "the brightest of 1,000 points of light."
The younger Bush also spoke about the lessons his father imparted on him during his presidency. "He showed me what it means to be a president who serves with integrity, leads with courage, and acts with love in his heart for the citizens of our country," he shared. 
At the end of his eulogy, Bush broke down in tears when remembering his father and the lasting impact he had on their family. Bush said, "And we're going to miss you. Your decency, sincerity, and kind soul will stay with us forever. So, through our tears, let us see the blessings of knowing and loving you — a great and noble man, and the best father a son or daughter could have. And in our grief, let us smile knowing that Dad is hugging Robin and holding Mom's hand again."
Greg Smith/CORBIS/Corbis via Getty Images
After the funeral service in Houston, his body was transported by train beginning in Spring, Texas to College Station. The journey was expected to take approximately two hours and 25 minutes.
A second funeral was held Thursday morning at the St. Martin's Episcopal Church in Houston. James Baker, a close friend who served as Bush's secretary of state and chief of staff, delivered the first eulogy followed by grandson George P. Bush.
Thursday's funeral was mainly for close friends to the former president and his family. Country music icon Reba McEntire performed "The Lord's Prayer" while The Oak Ridge Boys performed "Amazing Grace." 
Bush's death comes just under eight months after his wife passed away on April 17 at the age of 92. Bush will be buried next to her and their daughter, Robin Bush, who died when she was 3 due to leukemia. 
His granddaughter (and George's daughter) Jenna Bush paid tribute to the family patriarch in a moving Instagram post on Saturday. She captioned a photo of them, "He taught me and my family about service, family, decency, the power of gentle words and a beautiful heart. I will miss him desperately but so happy he and my Grandmother are back together."
In another post, she wrote about her discussion with her grandfather about death, a subject he had spoken about openly for many years. "I had the opportunity to talk with my grandpa about the afterlife," she wrote as the caption of a cartoon of her grandfather alongside Barbara and Robin. "This is what he said: He answered without any hesitation. 'Yes, I think about it. I used to be afraid. I used to be scared of dying. I used to worry about death. But now in some ways I look forward to it.' And I started crying."
When he was alive, the elder Bush also got to see his other granddaughter Barbara Bush marry Craig Coyne at the family home in Kennebunkport, Maine.
George Bush revealed in his eulogy that he heard his father's last words that he ever spoke. "Last Friday, when I was told he had minutes to live, I called him," Bush shared. "The guy who answered the phone said, 'I think he can hear you, but hasn't said anything most of the day.' I said, 'Dad, I love you, and you've been a wonderful father.' And the last words he would ever say on earth were, 'I love you, too.'"