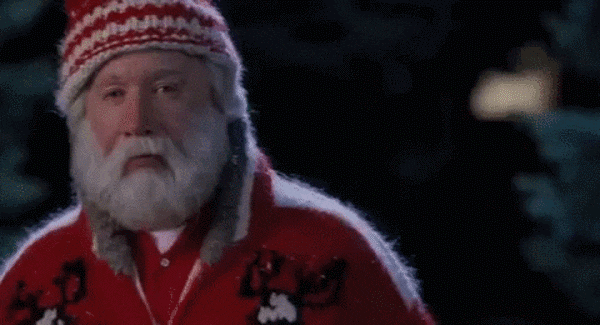 Walt Disney Pictures
In 1994, the world was blessed with The Santa Clause. We might not have known it then, but this movie would turn out to be one of the greatest holiday movies ever. OK, we totally knew it then and we continue to know and love it now.
After 20 plus years, fans still tune in to watch The Santa Clause during the Christmas season and we are right there with you. We are massive fans of this holiday flick and we will always watch it during December...like, always.
If we're being honest we would never miss watching this Tim Allen led Christmas movie during the holiday season. Seriously, you don't miss watching The Santa Clause no matter how old you get...you just don't!
When we say we are fans of this comedy and family film we mean we are mega fans. We love that Allen plays Scott Calvin whose initials are "SC" which are indicative of the fact that he will one day be Santa Claus.
We love that there have been two more follow-up films to this glorious movie and each one focused on another clause that then caused Scott some serious trouble. Remember the Mrs. Clause where he had to find a Mrs. Claus? It is so good.
The original movie however is far superior to its sequels and we stand firmly in that belief. This might be why we cannot, nor will we, miss a chance to watch this fantastic Christmas movie full of holiday cheer, terrible sweaters and Santa, Santa, Santa!
Over the years we've started to investigate why people who were born in the '90s or later, or were a '80s kid, or are currently a parent, or are human in any way, can't shake The Santa Clause.
Scott's, or should we say Santa's, rosy cheeks, cookies and milk eating during a business meeting and inability to keep his beard from growing too fast is definitely part of why we love it so.
Perhaps you love the happy feelings you get while watching Charlie (Eric Lloyd) talk about Christmas and the magic that's associated with. Maybe you enjoy the rest of the epic cast that rounds out this timeless tale as well.
No matter why you like it, you like it, and therefore we are fans of you. Clearly we can all agree that we will never stop watching this movie around the holidays because it's sheer genius and we can prove it.
We've narrowed it down to the top 10 reasons why The Santa Clause will remain on our Christmas movies to watch list forever below. We have a feeling you'll be able to relate to just about all of them.
So, without further ado, this is why we will never pass on a viewing of The Santa Clause:
Bonus: We will forever quote the jail scene where Scott is asked his name but won't say that he is Scott Calvin, instead he says a long list of names that are synonymous for Santa Claus.
What are those infamous answers? Kris Kringle, Sinterklaas, Pere Noel, Babbo Natale, Pelz-Nickel, and Topo Gigio!
Merry Christmas everyone, now go watch The Santa Clause and drink some hot cocoa...shaken, not stirred.