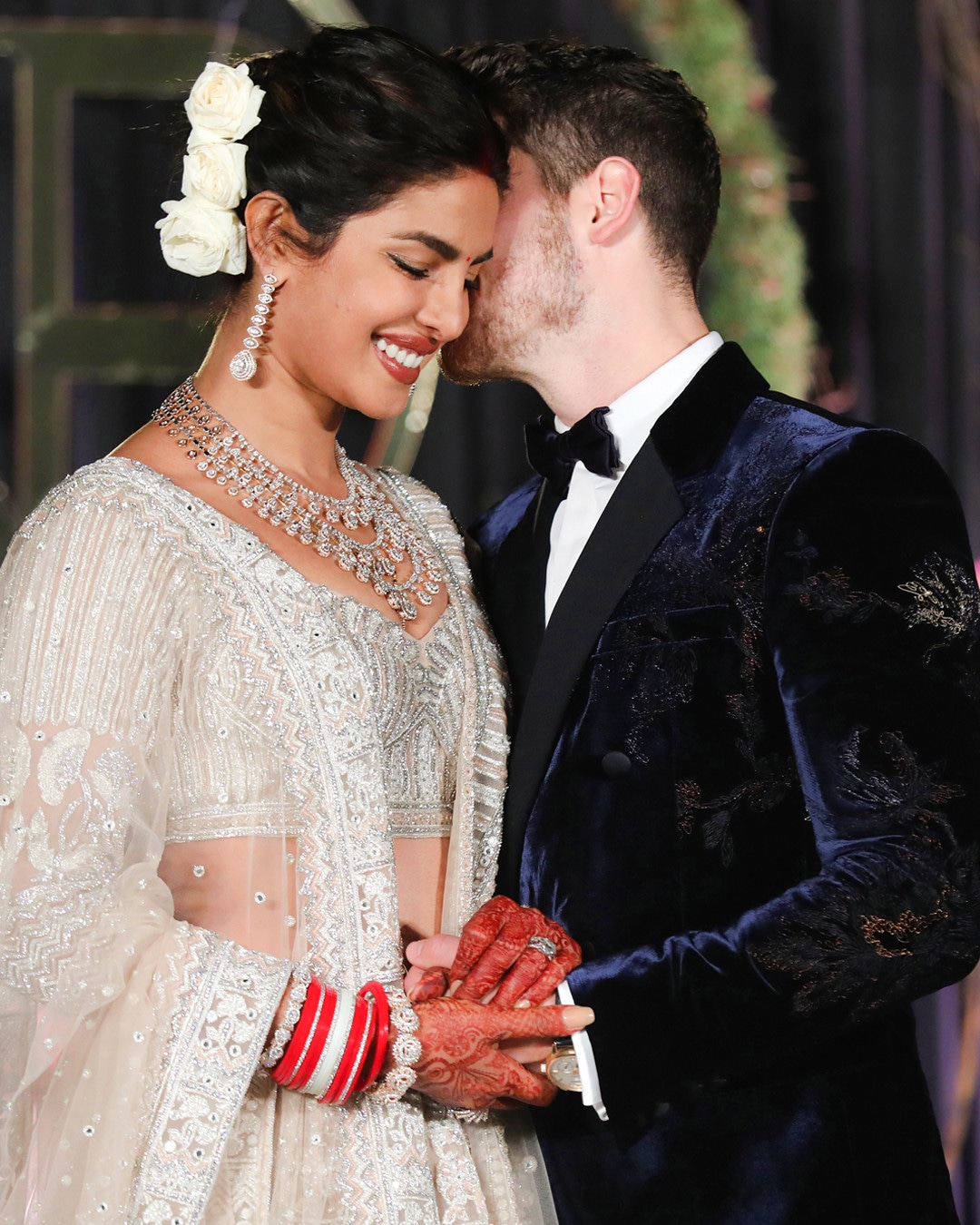 RAJAT GUPTA/EPA-EFE/Shutterstock
What the bride wants, the bride gets.
Just when you thought the Priyanka Chopra-Nick Jonas wedding stories were coming to an end, we received intel into what occurred in the dressing room hours before the actress walked down the aisle. 
"We took about forty five minutes to complete the style," her longtime hairstylist Priyanka Borkar told E! News regarding her Mehendi. "For the Christian wedding, it took me an hour and half to complete the whole look."
The beauty pro, who has been the star's Indian-based hairstylist for over eight years, was responsible for all her looks over the course of the week, including her weddings and reception looks. The duo opted for up-dos—a go-to hairstyle for brides—that varied by hair accessories and how the hair was swept up. 
"Priyanka is a very instinctive person," the hairstylist continued. "We see the outfit for the day and then decide how we want to go about it."
The actress, who was "excited and nervous," leaves the details of the look to the pro, including how to use her hair to support her larger-than-life veil.
"For the Christian wedding, we needed to keep in mind the 75 foot long train," she explained. "The Ralph Lauren team, along with me, decided that we need to keep the hair up in order to support the length and weight of the train. We needed to make sure to do it up in a way that would make Priyanka comfortable while walking down the steps of Umaid Bhavan."
To complete the challenge of supporting the garment and keeping Priyanka comfortable, the beautician used a braid technique that would keep the hair comb attached to the veil in place throughout the ceremony.
"In my head, I had planned that I would have to make a base for the veil so I decided to braid the hair underneath so the comb of the veil could sit and I could stitch the comb onto the braid and secure it," she revealed. "She trusted me to do this."
The result: a soft updo featuring wisps around her face. It appears effortless and ethereal, although it had to be strong enough to keep the veil in place.
Beyond the ask, Priyanka only had one request for her wedding beauty: the roses that she wore in her hair to the reception.
"The only request she had was to add the flowers to give softness to her look," she shared. 
For any bride that has extra flowers from the wedding, Priyanka's style is a beautiful look to end the special occasion.
Additional reporting by Alli Rosenbloom