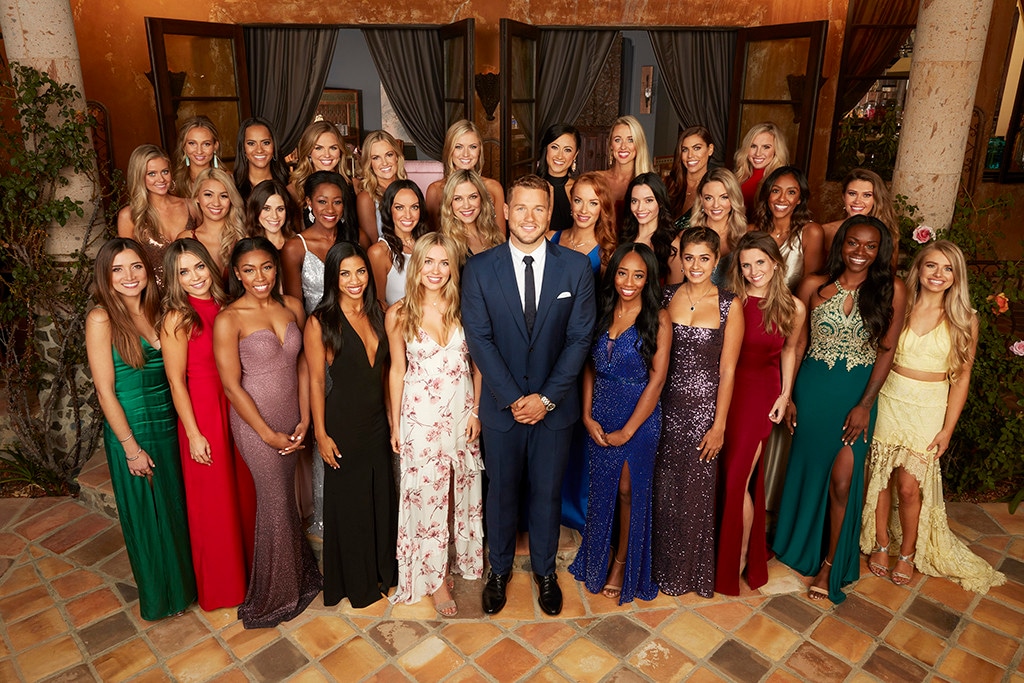 ABC
Let the dating commence!
The Bachelor begins in just about a month, which means it's time to get to know the 30 women participating in the quest to find a wife (and more) for leading man Colton Underwood. Per ABC's official description of the season, we'll be getting to know a pageant star and self-titled "hot mess express," a confident Nigerian beauty with a loud-and-proud personality, a deceptively bubbly spitfire who is hiding a dark family secret, a California bleach blonde with her own secret that may make her Colton's perfect match, and a "lovable phlebotomist." 
You can get a first glimpse at all the women in the group photo above!
In the front row: Nicole, Caitlin, Angelique, Katie, Cassie, Colton, Courtney, Kirpa, Alex D, Tahzjuan, and Demi. 
In the middle row: Hannah G, Revian, Jane, Onyeka, Tracy, Nina, Elyse, Laura, Erin, Tayshia, and Caelynn. 
In the back row: Brianna, Devin, Hannah B, Annie, Erika, Sydney, Heather, Alex B, and Catherine. 
So far, we're utterly shocked that not a single Lauren is in attendance, and there are definitely some names that have never been heard on this show before. Hannah and Alex appear to be the two most popular names, as there are two of each. We can also only spot three red arrival night dresses in the photo above, so it's nice to see some variety in the color choices!  
For the tea on all the ladies competing, scroll on down. Try to also guess whose "jobs" made our eyes roll so far back into our heads that we can no longer see! (We've got a lot of questions, Cinderella.) 
The Bachelor premieres Monday, January 7 at 8 p.m. with a three-hour live special on ABC.