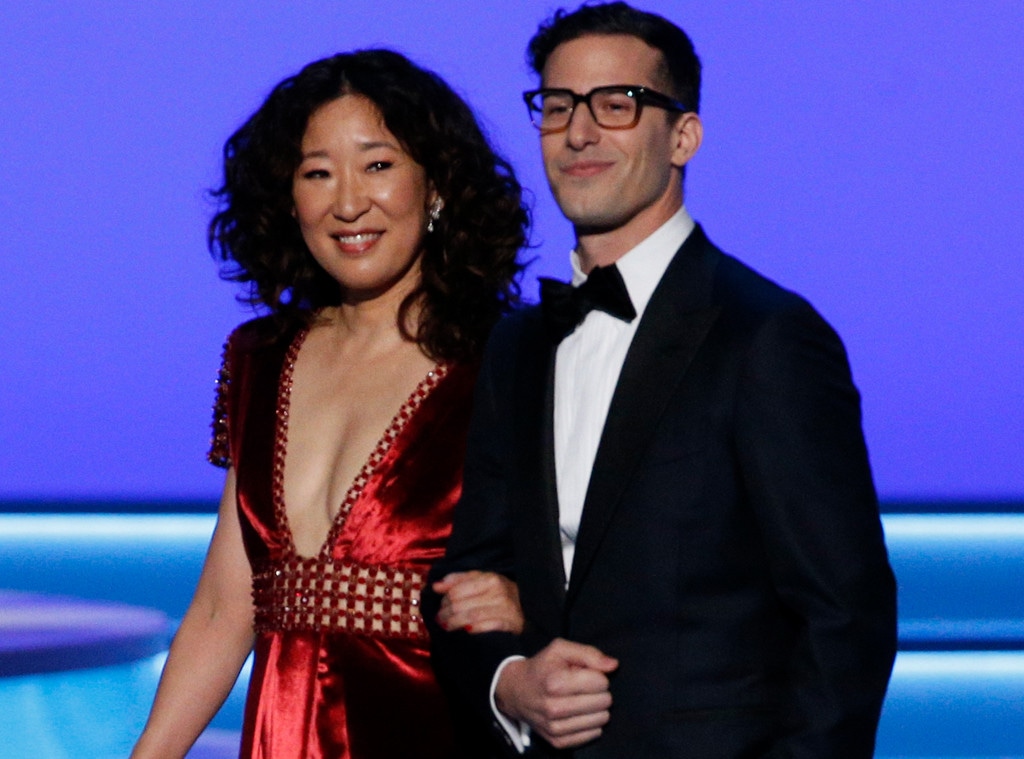 Paul Drinkwater/NBC
Never have we been more excited for the Golden Globes. 
Yes, we nearly died when Tina Fey and Amy Poehler hosted three years in a row (2013 through 2015), and it's always fun to watch Ricky Gervais skewer Hollywood in that giggly way only he can, and Seth Meyers and Jimmy Fallon are masters at their hosting craft, but this year honestly and unexpectedly takes the cake. 
Sandra Oh and Andy Samberg are taking the reins this year as the hosts for the 2019 ceremony, airing this Sunday on NBC. They're a duo best known for their brief but memorable presentation of Best TV Comedy Director at the 2018 Emmys. You might recall Oh tearing up the envelope with the winner inside and nervously shouting that the winner was both La La Land and Jeremy Park, a guy she dated once who could totally be a director of TV comedies now. 
Oh currently stars as Eve in Killing Eve, a relatively new and critically acclaimed BBC America drama, and Samberg has just rejoined the NBC family as Brooklyn Nine-Nine moves over to the network when it returns on January 10 (after being canceled by Fox). 
The pair, while seemingly random, is a fantastic choice for the award show, and you'd better be ready for us to tell you why.
Their Emmys Bit Was Perfect
We've seen Andy Samberg and Sandra Oh live on TV together exactly once before, when they presented at the Emmys, and from the moment they walked out on stage together, it felt strangely right. Sandra panicked and ripped the envelope, calling out an ex-boyfriend and deciding to "speak from the heart." Andy gently calmed her down, playing the straight man to her wacky ball of stress. And when so many of those quick 30 second bits flop hard, theirs worked flawlessly, leading many (including yours truly) to demand they get a hosting gig right then and there. 
They're Unpredictable 
As much as Tina, Amy, Jimmy, Seth, and Ricky are all beloved comedians, you typically know what you're going to get when they're in charge. Both Jimmy and Seth host shows every night where they poke fun at pop culture and politics and mingle with other celebs, so when they host an award show, it's just their shows on a slightly larger scale. Ricky is an occasionally controversial comedian who makes it a point to tell the jokes that probably shouldn't be told, and while it's always fun, it always results in the same kind of uncomfortable laughter and endless takes on whether Ricky went too far. 
Tina and Amy are, of course, perfect, but their dynamic is well-documented throughout SNL and beyond. 
Andy and Sandra don't have a history of working together, and their Emmys bit felt totally out of the blue. It's a complete mystery as to what we might get from them, especially as they play off of each other and each other's work. 
Andy Knows How to Make Himself the Joke 
While SNL and The Lonely Island provide a years-long history of how funny Samberg can be, there's one piece of his comedy that might be the best example of how Andy can twist what's expected of him into something completely unexpected. At the 2013 Comedy Central roast of James Franco, Samberg took the stage and proceeded to roast himself, much to Bill Hader's absolute delight. 
"Jonah Hill is here. Jonah is so dumb that when he had me over for a dinner party, I overstayed my welcome and he pretended to be tired so I would leave without getting my feelings hurt," Samberg said. "You a passive aggressive sweetheart, Jonah!" 
"Expect letters, Comedy Central. If you don't want controversy, you shouldn't have invited the king." 
It also helps that Brooklyn Nine-Nine is five whole seasons of Jake (Samberg) often either being the joke or allowing other costars to make the jokes and be the star—a great quality for a comedian hosting an award show with a non-comedian. 
Samberg's Got Experience 
Andy's hosted several award shows before, including the 2009 MTV Movie Awards (during which he and Will Ferrell debuted "Cool Guys Don't Look At Explosions," which we still sing regularly) and the 2015 Emmys. Both featured some excellent and memorable musical performances and pre-taped videos, though some reviews of his Emmys hosting did say that "he plays better in bite-sized bits," and that his joke rhythm waned as the night went on. 
That's exactly why adding a cohost, especially one with such a completely different background and comedy style, is the right call, and the fact that it's queen Sandra Oh only makes it better. (Oh also has a bit of experience, having hosted the Canadian Genie Awards in 2008.) 
Oh Is a Secret Comedy Genius
Maybe not "secret" so much as "under the radar." Before she was the intensely driven and emotionally traumatized (and also occasionally very funny) Cristina Yang on Grey's Anatomy, she played roles like Mrs. Gupta, the principal in The Princess Diaries who could steal a scene just by answering the phone with "Gupta!" She has a way of delivering even basic lines in such a unique way that you remember them years later. Killing Eve may be a show about a contract killer and an investigator and their obsession with each other, but it's extremely, darkly funny in a way few people saw coming (aside from the people who already knew and loved creator Phoebe Waller Bridge's previous work). 
Oh kills it in every scene, and it's likely she'll be a dark horse alongside Samberg. Just look at how she got to make the jokes at the Emmys instead of Andy and it's not hard to imagine her emerging as the star of this night. 
The Promos Have Been Perfect 
The more we see, the more we love. They may not yet have perfected their best friend handshakes (since they just met) and there's still the elephant in the room to address, but they've already got the words down. Celebrities. Accolades. Style. Gold. Dogs. Gambling. Flightless Birds. Dribblin'. Drabblin'. Slap Fights. You know, words. 
That's all you need, really, to host the Golden Globes. 
They Look So Good Together 
Just look! Look at them! Have you ever seen two people looking so good about to host the Golden Globes? You definitely haven't. 
They're Prepared For Anything
Samberg even has a contention plan if Oh loses the award she's nominated for. 
"I like playing off someone else and having there be a looseness to it and the ability to try things that are not necessarily just straight jokes to prompter. That's why I'm excited to do it with you 'cause you're such an incredible performer," he told Oh in a THR interview. "I'm obsessed with Killing Eve. I hope you win. I'm going to make you a crappy little tinfoil fake Globe, just in case you don't win, and I'm going to bring it out and give it to you and be like, 'You're always a winner to me.'" 
It's About Time for an Asian Woman to Host
Just plain and simple, all jokes aside. Especially after the past couple years of change and revolution in Hollywood and beyond, we need an outspoken woman of color at the front of one of the industry's most high-profile and least buttoned-up live events. Samberg's live comedy and hosting experience will be good to have up on that stage with her, and as much as we love him, it's Oh whose hosting skills we're most excited to see. Hopefully it leads to even more gigs for her, because we personally can't get enough. 
Now let's all dance it out in celebration of this duo, and prepare ourselves for one hell of a night. 
The Golden Globes will air live at 8 p.m. ET on Jan. 6, 2019 on NBC. 
E! and NBC are both part of the NBC Universal family.