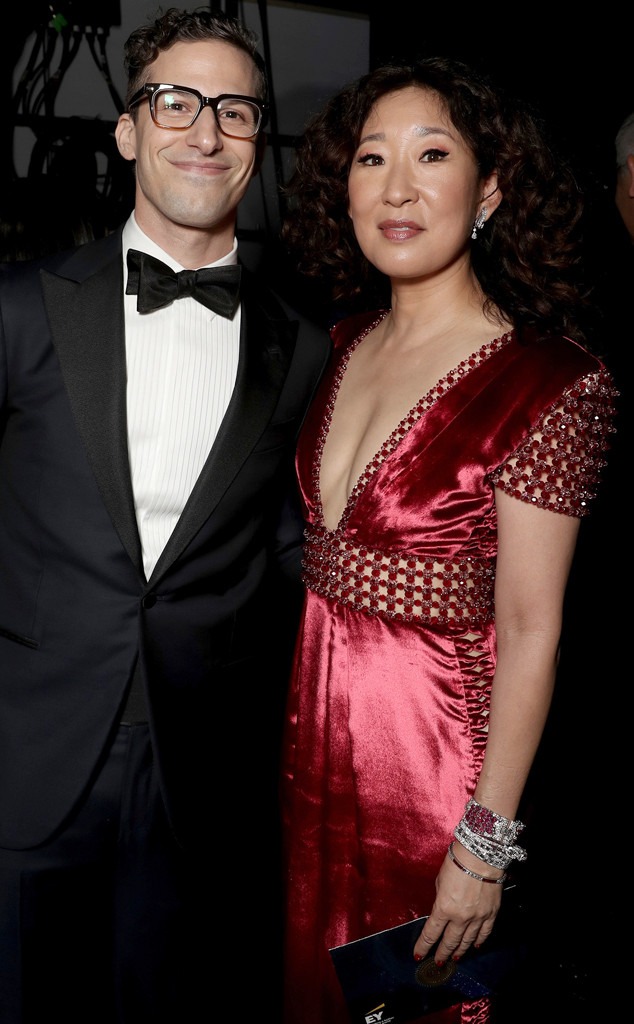 Todd Williamson/NBC
It's official: Andy Samberg and Sandra Oh have been tapped to host the 2019 Golden Globes!
"Sandra and Andy are the perfect choices to host this world-class event," said Paul Telegdy and George Cheeks, the co-chairmen of NBC Entertainment, in a statement. "They bring wit, charm, and style to a room filled with the very best of film and television. It's sure to be another unforgettable, fun-filled night."
The duo follows previous hosts Seth Meyers (2018), Jimmy Fallon (2017) and Ricky Gervais (2016, 2012, 2011, 2010), as well as co-hosts Tina Fey and Amy Poehler (2015, 2014, 2013).
Samberg is a two-time Golden Globe Award winner for Brooklyn Nine-Nine and Oh won a Golden Globe in 2006 for her performance on Grey's Anatomy. 
Nominations across all film and television categories will be announced Dec. 6.
On Nov. 14, Isan Elba, daughter of actor Idris Elba and businesswoman/makeup artist Kim Elba, was named the 2019 Golden Globe Ambassador. "My dad just sent me a text telling me I was the Golden Globe Ambassador. I was like, 'Are you sure?' Because I didn't even know how that process works. Is there a process?" the 16-year-old scion told E! News moments after the news was shared. "I'm really honored that they picked me, to say the least. It was literally awesome!"
Next year's ceremony will also include a new trophy, measuring 11.5 inches tall, 3.75 inches wide and 3.75 inches deep. The statuette weighs 7.8 lbs. and is made of brass, bronze and zinc.
NBC will broadcast the 76th Annual Golden Globe Awards live at 8 p.m. ET on Jan. 6, 2019.
"We look forward to airing the Golden Globe Awards on NBC for the next eight years at least," Robert Greenblatt, Chairman of NBC Entertainment, previously said. "We've been the proud home of the Globes since 1996, and over those decades we're honored to have been part of its transformation into Hollywood's most joyous awards ceremony...This year will be no different."
(E! and NBC are both members of the NBCUniversal family.)