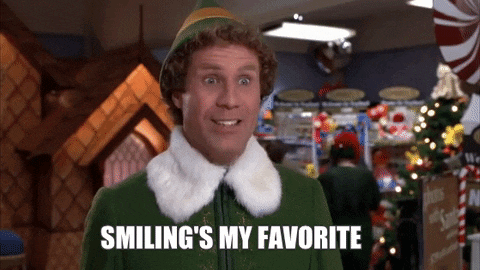 New Line Cinema
Is it really Christmas time if you haven't watched Elf at least 10 times? Ya, we didn't think so!
15 years after the holiday film hit theaters we are still laughing and loving Will Ferrell's portrayal of Buddy the Elf, and we really wish we knew what his favorite color was. Maybe it's purple, because you know, it's so purpley?
Don't mind us, we're just getting sidetracked courtesy of one of the greatest holiday movies ever made, duh.
Do you share our affinity for elf culture? Or, are you just a lover off all-things Christmas? Either way, Elf should be at the top of your must-watch holiday films list because it's full of Christmas cheer and magic.
Since we truly cannot get enough of Buddy and his love of Christmas, we've rounded up the best quotes from this comedy/holiday movie for you to laugh and reminisce about as you celebrate this December.
As you scroll through our top 14 quotes from the film, try to pick your all-time favorite line from Elf...and the one that has become your holiday mantra over the years.
It will definitely be rough, but if Buddy can help Santa fix his sleigh and he's just a normal human, then you can choose the quote that you live by every Christmas from the movie. 
1. "The best way to spread Christmas cheer, is singing loud for all to hear." Really, what could be more full of Christmas spirit than this quote?
2. "Buddy the Elf, what's your favorite color?" Are you peppy like Buddy, then this should be your jam.
3. "Son of a nutcracker!" The holidays can be hard, so perhaps this is the way you express your frustration at weather, cold cocoa and broken toys! 
4. "You have such a pretty face. You should be on a Christmas card." Swoon.
5. "He's an angry elf!" Come on, this is exactly what we all want to say when someone is being a little Grinch at Christmas.
6. "I'm in a store and I'm singing!" If you can't contain your excitement at Christmas then you should probably just sing about it.
7. "You sit on a throne of lies." Sometimes the truth hurts.
8. "We elves try to stick to the four main food groups: candy, candy canes, candy corns and syrup." Preach!
9. "I am a cotton-headed ninny-muggins!" No, you're not a cotton-headed ninny-muggins, even if you do feel a little lost this season.
10. "Smiling's my favorite." Holiday mantra or life motto?
11. "So, good news...I saw a dog today." This might be describing our eternal happy place.
12. "Watch out! The yellow ones don't stop." Perhaps you're the type of person who looks out for others during the shopping craziness in December, if so, this is so your quote.
13. "Not now, Arctic Puffin!" Ugh, when you just can't deal with all the drama while decorating your tree you should totally be saying this Elf line. PS: Try to get your friends not to laugh when you say this one.
14. "Santaaaa! Oh my god. Santa, here? I know him." This one goes out to all you Santa lovers out there...even if you don't know him.
It's a little over a week until Christmas, so that means you have numerous days to watch Elf on repeat and quote the film to your friends and family. As you watch the hilarious film, make sure to vote for your holiday mantra from it below, and then start spreading that Christmas cheer!