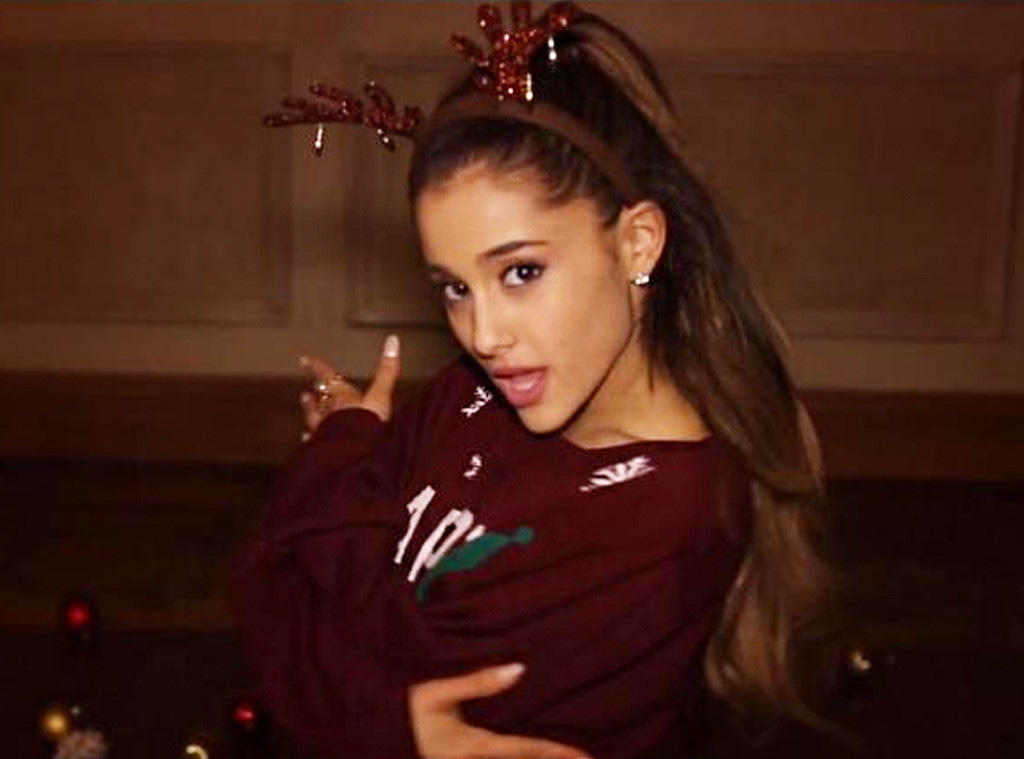 Republic Records
We're dreaming of a white Christmas...or at least singing about one.
As Christmas gets closer and closer, and our holiday cheer is in full supply, we can't help but get into the holiday mood by drinking hot cocoa, watching Christmas movies and of course, listening to the best holiday songs on repeat.
Over the years there has been much debate about which classic tune, or newer holiday jam reigns supreme, so we decided to open it up to you. Are you more of a classic holiday listener blasting Bing Crosby's "White Christmas" or Paul McCartney's "Wonderful Christmastime" on your radio each year?
Or, are you into the more recent hits like Ariana Grande's "Santa Tell Me" or Kelly Clarkson's "Underneath the Tree?"
There isn't a wrong answer to this question, unless you are a '90s baby who doesn't listen to NSYNC's "Merry Christmas, Happy Holidays" as soon as December hits every year. That is something we can't overlook!
What about movies that have spurned a love of Christmas like Love Actually which gave us the amazing—and way too catchy—track of "Christmas Is All Around" by Billy Mack AKA Bill Nighy?
You can't tell us that you don't know every word to this jam and not-so-secretly watch Love Actually every December just to listen to it.
When it comes down to it, there are almost too many wonderful and cheery songs to choose from during the holidays which is why we've narrowed it down for you.
You're welcome!
Some of our other favorites include oldies like, "Last Christmas" by Wham, "Santa Clause Is Coming to Town," the Bruce Springsteen version, and obviously "Have Yourself a Merry Little Christmas" by Frank Sinatra. It transports us back in time as soon as we hear Sinatra's soothing voice and we're not mad about it.
We are also major fans of Justin Bieber's "Drummer Boy" featuring Busta Rhymes and Darren Criss and Chris Colfer's rendition of "Baby, It's Cold Outside" from Glee. 
If we're being honest we love all of the versions of this holiday hit including Dean Martin's classic version, Zooey Deschanel's little ditty and Jessica Simpson's duet with Nick Lacey.
The most iconic jam by Mariah Carey, who has many, many hits to her name, is "All I Want for Christmas Is You." Yes, we said it and we are not taking it back.
Plus, we may or may not be rocking out to "I Want a Hippopotamus for Christmas" by Kacey Musgraves as we write this. Oh, and who could forget the '80s hit "Christmas Wrapping" by The Waitresses? It's so upbeat and so '80s.
Last, but not least, there's "Christmas (Baby Please Come Home)" by Michael Bublé, who is the Christmas crooner of our dreams. Think about it, whenever a Bublé holiday hit comes on you can't stop singing along, right? That's why his whole holiday record is on our iPod all season long, duh.
Now that we've told you our favorite tunes to blast when the weather gets cold and the Christmas lights come out, we want to hear from you. Let us know your favorite Christmas song to listen to on repeat every year below.
Happy holidays!