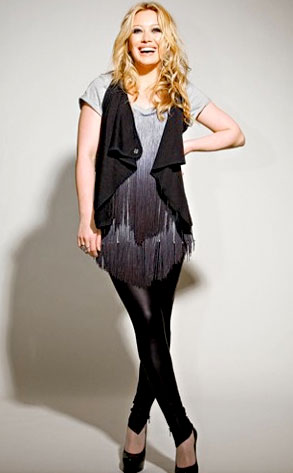 DKNY
Ran into Hilary Duff over Grammys weekend at brunch. Remember that battle of words Duff dove right into with legendary loony Faye Dunaway? And as vital as two bitches slapping each other in public can be in the life of a Hollywood gossip columnist, the Rihanna tragedy took precedence first.
But today, babes, I'm happy to report the gloves are so still off between these two bleached blondes, it simply couldn't get any more delicious!
In case you've been hiding under a rock the size of Dunaway's hair-extension bill, the long-ago Oscar winner and notorious crank-a-thon reportedly criticized Duff, who she deemed an unknown no-talent, for taking on one of her best-known roles, that of the blondie moll in Bonnie and Clyde.
Duff fired back that it's Dunaway who nobody knows, not her, and, besides, Hilary'd be cranky, too, "if she looked like that." A not-so-veiled insult at Dunaway's obvious tinkering to her face. Holy merde, mamas, what a friggin' standoff!
I asked Duff straightaway if she'd heard from La Dunaway: