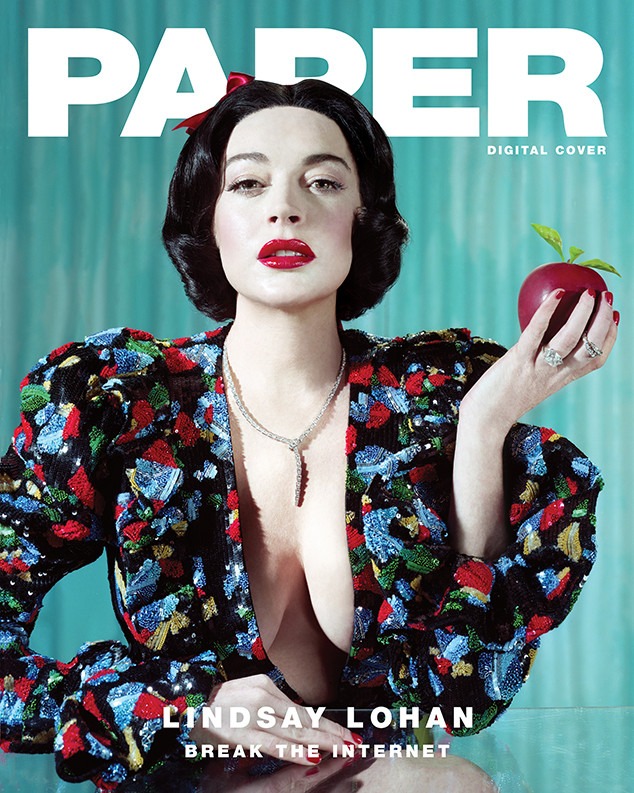 Courtesy of PAPER
Lindsay Lohan is bringing a modern twist to Disney's fairy tale princesses.
The entrepreneur covers PAPER magazine's Break the Internet issue in fabulous style. Dressed in an array of fanciful — and revealing — ensembles, the former Disney star shows she is no longer the young girl people remember from hit movies like The Parent Trap and Freaky Friday. Her fashionable interpretation of a busty-looking Snow White is surely why her candid interview is featured in the Break the Internet issue. 
It could also be because she finally addresses that controversial video of her attempting to help a "refugee family" in Russia. In a brief statement, Lindsay says, through her rep, "I read the situation wrong. I've learned from it. And that's all I have to say."
While the 32-year-old doesn't exactly explain what happened in detail, she defends her choice to share the encounter with the world on social media. In her opinion, using sites like Twitter and Instagram give her a "way of controlling the narrative." 
"I recently made the mistake of having my phone recording live video, and that I learned from," she explains. "But I think it's also important because if you're doing something and you want to give direct access to your fans, you can contact them and see their thoughts and get an opinion. Whereas in the past, you didn't have any control over it."
This desire to have more control over the public narrative is essentially what inspired her to move to Dubai, where paparazzi have been criminalized. 
And this need for security has also become a focal point of her managing style at the Lohan Beach House in Mykonos, which she says isn't just a place for people looking to party. "I really wanted to make it a family-style beach. A place where people can go with their kids and feel safe," she says. "They can have fun and there's not cameras every second. It's not just a party thing; you can have a nice lunch."
Surprisingly enough, this calm, laid-back lifestyle is well-suited for the Mean Girls star, who says she prefers cooking with friends over a night out on the town. "I like to have fun, but that doesn't mean I need to go out and drink and be crazy. I have a good relationship with that. It's funnier to watch other people party."
Fans of the actress will get a look into her daily life when her MTV show Lindsay Lohan's Beach Club premieres in 2019. In a newly-released promo of the reality show, Lindsay shows what it takes to work for a boss like her. She also shows off her dance moves that inspired the #DotheLilo video challenge.