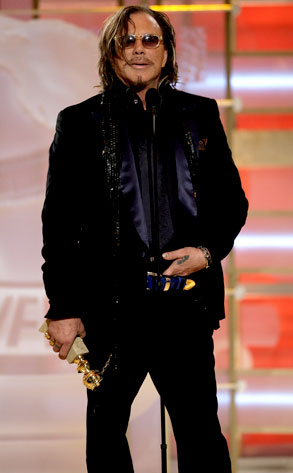 NBC Photo: Paul Drinkwater
Do you all check in with that bitch on Internet wheels, Nikki Finke? Love her. She's got a fab poll going on over at her rebel Industry site, Nikki Finke's Deadline Hollywood, essentially saying Mickey Rourke vs. Sean Penn is the only Oscar question worth fretting about.
Not whether or not Hugh Jackman will host shirtless? Hmmm.
Regardless, just thought you all might like to know that if you sensed a certain eager and entirely reformed Rourke accepting all these awards recently, you are correct in smelling a publicity campaign fish. Rourke, who's got a hideously fistfighting rep prior to his terrific turn in The Wrestler, has indeed consulted an expert to help him navigate through awards season—with the express outcome being the big Oscar catch himself.
"Mea culpa is the message Rourke's been told to spread," revealed a source thisclose to the Rourke advisor. "You know all that stuff Mickey's crying about being given a second chance in life?" asked our Oscar campaign insider, "He's been told to say—to sell it!"
OK, so, maybe it's not the biggest crime in the world to beg for Oscar via someone else's design, but jeez, Sean Penn's altogether disdain for this whole political dance is looking more and more attractive, by comparison. Besides, Rourke's staples scene bugged me almost as much as Prop 8 passing in California, so let's hear it for a homophobe-bashing nod to Penn, everybody!