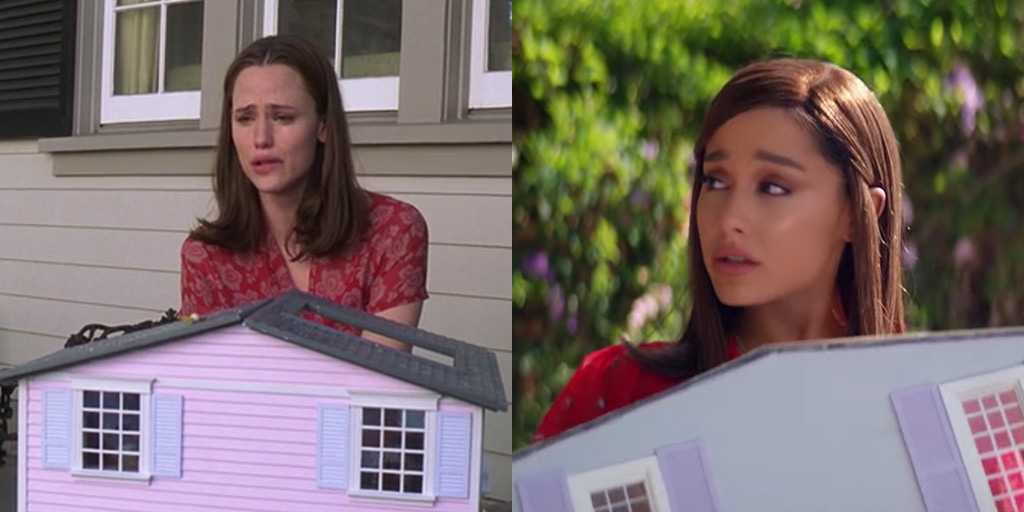 Republic Records / Sony Pictures Home Entertainment
Jennifer Garner was touched by Ariana Grande's tribute to her in her new music video, "Thank U, Next."
The YouTube record-breaking video, released on Friday, shows the singer portraying the actress' character Jenna Rink from the 2004 romantic comedy 13 Going on 30, and also features parodies of fellow early '00s cult films Mean Girls, Legally Blonde and Bring It On.
Garner shared on her Instagram a clip from the video showing Grande's Jenna holding up her famous doll house.
"Every now and then something comes along and just brightens your day," the actress wrote. "@arianagrande you're adorable. Thank you, pretty girl."
Grande was overjoyed.
"NooooooooOoOOoOo I'm crying. I watched this movie every night before bed growing up (and I still do sometimes, especially when I'm sad)," she commented. "[heart emoji] I adore you! Thank you for all the inspiration and joy you've brought to my life I'm screaming bye."
"And by sometimes I literally mean every night still," she added.
Republic Records / Instagram / Jennifer Garner
Garner also said Grande is "adorable" in the video and wrote on her Instagram Stories, "@arianagrande looks more like Jenna Rink than I ever did! #thankunext."
"Having some Razzles (it's a candy AND a gum) in your honor, @ArianaGrande! #thankunext," Ruffalo tweeted.
In the video, Grande portrays Reese Witherspoon's Legally Blonde character Elle Woods. The actress also shared her thoughts about the tribute.
"Thank u, next. [clapping emoji] [pink heart emoji] @arianagrande #EllWoodsForever #ThinkPink," she wrote on Instagram. 
"Can we please talk about @ArianaGrande's Bend and Snap?! 10/10 nailed it! #thankunext," Witherspoon tweeted on Friday.
"Omg we tried to put our own twist on it so legal wouldn't come for us but THANK U. this is the biggest honor. love u more than words [heart emoji]," Grande replied.
Lindsay Lohan also posted her thoughts about the Mean Girls tribute, which stars the singer's former Victorious co-star and Dynasty actress Elizabeth Gillies as Cady.
"@arianagrande I love #thankunext video!" Lohan wrote on Instagram. "All of the original Mean Girls are very flattered."
"Ain't nobody Lindsay Lohan like the real Lindsay Lohan," Lohan wrote in an earlier post. "But so flattered by @arianagrande loving #MeanGirls so much! Also, I love #dynasty."