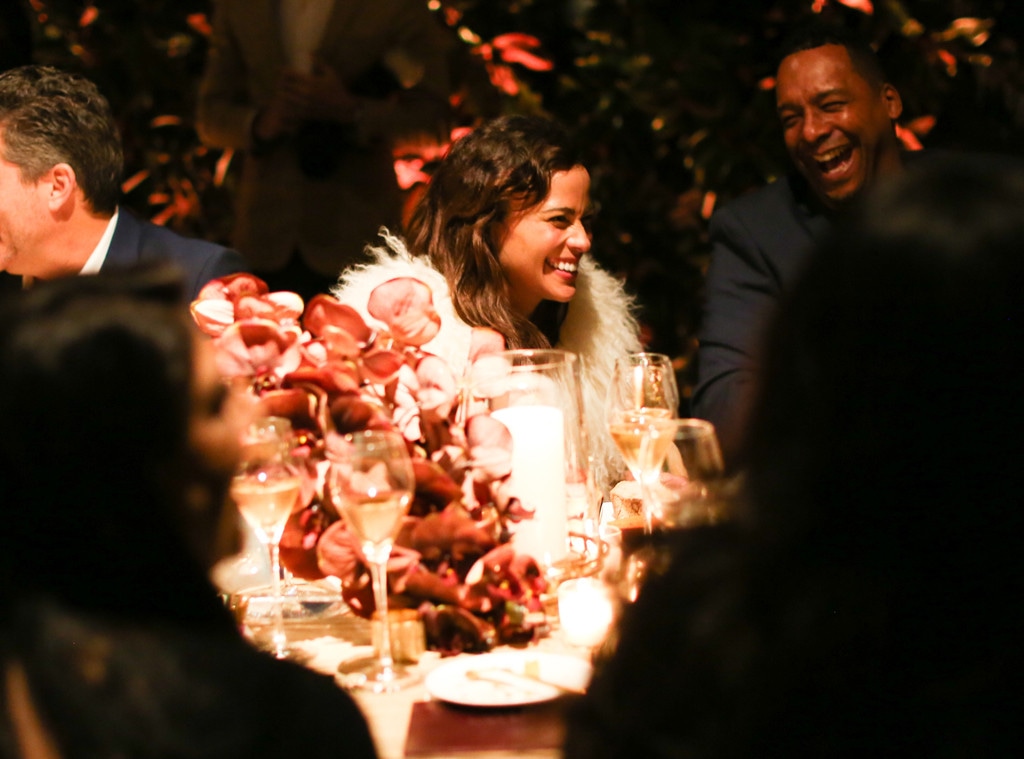 David X Prutting/BFA.com
After her world as she knew it imploded almost five years ago, Paula Patton had to chart a new course on her own for the first time in her adult life.
Luckily, she had a few guiding lights, particularly her son Julian.
And after some months where it wasn't immediately obvious which direction she was going to take, when her estranged husband Robin Thicke was dedicating songs to her and sounding all lovelorn and stuff, Patton filed for divorce. Then, slowly but surely, she set about rebuilding her life.
"I mean, the honest truth is it has been challenging, but it's been a year of growth, lots of healing, learning about all new things, but I've come out of it stronger," Patton said on Good Morning America in March 2015.
"My son's happy," she added. "And I'm very—you know, I feel like everything happens for a reason. And then you have to move on and grow from there."
A snapshot of Patton's life now reveals a happy single mom who just shot a movie with Michael Caine and Russell Brand—and who prefers to keep a low profile if she has no pressing promotional tour or other claim on her time.
This is a woman, after all, who took two and a half years off of Twitter in the wake of her separation, returning in December 2016 apologizing for her absence and thanking everyone who was still interested in what she was up to for their support.
But in the meantime, it's grocery shopping in the suburbs, taking 8-year-old Julian to school... your usual mom stuff. And she does not make her son part of the show, choosing to keep her private and professional lives entirely separate. Until she had a child, she didn't even like anyone from the outside world visiting her on a set, she would get so focused and wrapped up with whatever she was working on—so focused she didn't even like to read other scripts until she was finished with a role.
"That can be challenging for the people who are trying to get you another job," Patton said, laughing, during a November 2015 sit-down for The Call Back With Joseph Vecsey, Patton's first-ever podcast interview. "I just get very involved...In life, you realize there's a give and a take and you have to let room for other things, and it depends on the schedule."
As far as the business of movie-making in general, Patton said, "What I love most is the art, is making art, acting and being on set, and being a part of the process of making a movie. I've always loved movies and loved the idea of playing make-believe. That was my favorite game, growing up as a child, was make-believe, and to be able to do it as an adult is awesome.
"And I pretty much dislike every other part of it," she continued. "It's really challenging. I don't know, I don't enjoy the business bit of it at all. Anything that's not the acting. It's all sort of like pulling teeth. I don't feel the need to...I like becoming someone else, so it's hard to go and sell yourself when you want to be something else. That's the whole reason you become an actor, because you want to pretend to be other people and walk in their shoes. It's not that comfortable for me to go out and have to be, or promote...me."
Patton added, "Talking about yourself, and what you think about this or what you like about that, or what's happening—and that's not that comfortable for me. I just think I'm a little bit more private."
Running the interview gauntlet couldn't have gotten any easier after her marriage ended, either, after being part of a public duo who shared little tidbits about each other naturally for 20 years. 
Patton and Thicke started dating when she was 15 and he was 14, and he set about wooing her with his musical charms.
"He asked me to dance and the rest is history," Patton told E! News in 2013.
Some of that history does sound a little tortured in hindsight. It was easy to laugh years later about it, but at one point back when they were dating Patton was so convinced Thicke was cheating on her that she hid in the bushes outside his house to catch him in the act.
"He caught me outside, he goes, 'I can see you,' like it was hilarious. It was like, 'You're not a good spy, OK?' And he had guy friends over," Patton shared with L.A.'s ABC 7 News. "He was like, 'Come on over, see what's going on.' But the best part was, he said, 'You really do love me.' And I said, 'I do. Maybe a little crazy.' He's like, 'That's OK, I'm a little crazy too.'"
They got married in 2005 ("aspiring actress" and proficient calligrapher Meghan Markle addressed their invitation envelopes after Patton met her at the stationery store) and their son, Julian Fuego Thicke, was born in 2010.
"You think you're a man, or you think you're grown, until you have a child and you have to see what a woman goes through when she has a baby—and how it changes her body, changes her mindset," Thicke told The Root in 2011. "I had to kick into gear because I love nobody more than my wife in this world. It was actually wonderful for me. Julian has changed everything—every move I make, I know that it will affect him, his growth and his happiness."
He and Patton tended to speak very passionately about each other, the actress telling E! News in 2011 about her husband helping her get ready to go toe to toe with Tom Cruise in Mission: Impossible—Ghost Protocol: "He's my greatest acting coach, we did every scene together, he worked it with me. He is my ultimate inspiration, mentor, guide."
Talking to Essence at the time, Thicke called Patton "my muse, my best friend, and my creative partner."
Zelig Shaul/ACE/INFphoto.com
Patton, meanwhile, had made a name for herself in Hollywood with movies including Hitch, Déjà Vu, Swing Vote, Precious and Jumping the Broom, and she had three movies come out in 2013, Disconnect, 2 Guns and Baggage Claim. Thicke then had the biggest hit of his career in 2013 with his sixth studio album, Blurred Lines, and its mega-hit title track.
He had been a successful recording artist for almost the entirety of their life together, but that vaulted him into mainstream-pop, song-of-the-summer, he's-everywhere territory. And his relationship suffered for it.
Thicke would reveal later in a court deposition for a copyright lawsuit that he was rarely sober during that period, that he was high on Vicodin and alcohol when he and Pharrell Williams recorded "Blurred Lines" and "didn't do a sober interview" in 2013.
He had told Oprah Winfrey in the fall of 2013 that, in a partnership as enduring as his and Patton's, "you pretty much take it one day at a time. The one thing I've realized about loving somebody is, you have to love them every day...People are changing every day—their thoughts, their desires, their insecurities change every day."
That moment in his career was better even than he could have dreamed, Thicke said, "because I still have the girl. I would be lost without her, you know, I would. Because it is a lot and there are girls throwing themselves at you everywhere you go, and you can really lose touch with any sense of reality when you're a big rock-star kind of thing, you know."
They looked as close as usual at the Grammys in January 2014, but the following month Thicke and Patton revealed they had separated.
Patton remained mum about what, exactly, had caused the drastic move, only telling Vanity Fair that May, "We've known each other since we were teenagers. All I can tell you is there's a deep love there—always was, and always will be."
His heavy-handed album Paula didn't ultimately help matters, though he stood by his decision to grovel in public, figuring he may as well throw everything against the wall to see if it would stick. "It's important for the music to be honest to the artist," he told E! News that March. "I just try to be as honest as I can." He wouldn't say whether he was still fighting for the relationship, but did say, "We're both very happy." Julian had just been with him on tour for a week, Thicke said, and was back home with his mom.
In July 2014, Thicke said on New York's Hot 97 that he hadn't seen Patton in four months. "We're apart because we just couldn't be together anymore for a while," he said. "There's a hundred different reasons, there isn't just one. There's a long list… I changed, and I got a little too selfish, a little too greedy and little too full of myself."
Patton filed for divorce in October 2014 and they submitted the paperwork indicating they'd reached a settlement in March 2015, the process basically taking the shortest possible amount of time it takes to get divorced in California. They agreed to joint custody of Julian, who had made his mom realize that it wasn't so bad having visitors on set.
Warcraft: The Beginning, Duncan Jones' big-budget adaptation of the video game, was a top-notch set for a little boy to visit, Patton told E! News in 2016.
"I can't think of a better set that I've brought him to, because there are horses and all these amazing props," she shared. "It was like a bit of a fairy tale." Asked if Julian might follow his mom into the acting world, she smiled and said, "We'll see. He certainly likes to entertain."
Patton had found a close support system, including, for a change, a couple of neighbors near the new L.A.-area house she settled into after her separation. (She and Thick put the Bel Air home they used to share up for sale in July 2014, an early indicator that they weren't reconciling.)
While chatting with Vescey at her house, a couple of friends stopped by—the first for fashion advice, the other to help fix her voicemail—during the interview.
"This has been a weird sort of kismet moment in my life that I have two neighbors [I'm friends with]," Patton noted.
In the summer of 2016 she also shot the Adam Sandler comedy The Do-Over, which filmed in Puerto Rico and Savannah, Ga., and premiered on Netflix in May 2016, weeks before Warcraft hit theaters. 
Judging by the reviews, at least one of which called it "the worst movie Adam Sandler has ever made," there's a reason she chose to focus on Warcraft press. (Patton did tell Vecsey that she had a "great time" on set, loved the crew and "adored" Sandler.)
Nils Jorgensen/REX/Shutterstock
"I want more joy. I want more happiness," Patton explained her new road map for life to People. "I have a beautiful son. I've been lucky to do what I've done and to focus on anything else is such a waste. It's a discipline because trust me we all go there. What I'm striving for is to have more joy, play, have fun with this life. Growing older is a good thing in that way, right? Keep on trucking. You have to find the place where it gets comfortable and easier."
In June 2016, Patton told Essence she was "having a blast" dating again, but she wasn't overdoing it.
"It's been fun and interesting and I've learned a lot about myself and a lot about a lot of other people and what I like and don't like," she said. However, she added, "I haven't been doing too much of it, it's kind of strange. Listen, Robin and I, we… I met him when I was 15 years old, and I have no idea what I'm doing. But it's exciting; it's so fun."
Mainly for Patton, being single again had given her an unprecedented opportunity to get in touch with herself—and to take better care of herself, emotionally. (To take care of herself physically, she enjoys boxing and works out with a trainer.)
"It's really nice, honestly, getting used to being alone," she told Essence. "It's freeing. It's scary at the beginning. It's really scary. But it's something I'm coming to embrace, knowing that that's really what it is now—learning to love yourself, enjoying your time with your friends and family, and then it will sort itself out. But I gotta figure all that out I think first. I have to learn that."
2016 closed on a melancholy note, however, following the sudden death of her former father-in-law, Alan Thicke, on Dec. 13, 2016.
"I knew Alan since I was 15 years old and he had a tremendous effect on my life," Patton, who was not at the funeral, wrote on Instagram a week later. "I loved and respected him so much! So many great memories and laughs together. We will miss him so much! His grandson is quite sure he is still here with us in spirit."
Doing press earlier this year, she shared that Julian had passed on a joke he got from the Growing Pains star: "Why did the mushroom get invited to the party? Because he was a fungi."
"'My grandpa told me that joke, he was a really funny comedian!'" Patton remembered Julian saying. "I said, 'yes, he was, baby.' It was as if Alan was right there watching over. It was a beautiful moment—and it's a good joke, by the way."
The loss had served as a big reminder to make the most of every day and hug your loved ones a little tighter.
Felipe Ramales / Splash News
"Diving in the new year with a smile on my face. No looking back. No fear. Embrace every moment that comes. Manifest the reality you want," Patton captioned a video of herself on Instagram on Jan. 2, 2017.
But days later her previously uneventful divorce sprung a leak, and Patton went to court attempting to limit Thicke's time with Julian after learning the boy had been spanked by his father, which prompted an investigation from L.A. County's Department of Child and Family Services. A judge ordered the family into counseling, but toward the end of the month Patton further alleged that Thicke had a history of domestic violence, after which he temporarily lost custody and was relegated to court-monitored visits.
"Paula never reported any domestic violence until she was in a position of contempt by violating the custody orders," Thicke's lawyer told People at the time. "Infidelity has nothing to do with custody. She is attempting to throw anything at him to hurt him, but Robin's focus is their son." (Thicke had previously maintained in court documents that any light, open-hand spanking, used "only as a last resort," had been a form of previously agreed-upon discipline between him and Patton during their marriage.) 
The warring exes finally reached a mutually acceptable arrangement, and the judge signed off on new joint custody terms in August 2017.
Meanwhile, dating had already worked out pretty well for Thicke, and also that August he announced he was expecting a child with his girlfriend, April Love Geary. They welcomed a daughter, Mia Love, in February, and have another girl on the way. 
Patton—sporting a new, page-officially-turned, short platinum haircut—took a serious dating step earlier this spring, going public with Zach Quittman while she was making the promotional rounds for the thriller Traffik, which came out in April.
"He's an amazing human and he just makes so happy," she shared on Live With Kelly and Ryan, with Quittman in the audience. "I'm in love. He's the first boyfriend I've had since I got divorced." They had only been dating a month, but "when you know you know. I'm 42 years old and I know now...I've done a lot of soul searching, trust me."
David Livingston/Getty Images
Of course, in delving into her new beau's background, people had discovered he was separated but not yet divorced—but Patton didn't "give a f--k" about tawdry headlines.
"I don't really care," she said on Hot 97's Ebro in the Morning in New York. Meanwhile, they were last photographed together in May.
Patton did tons of press for Traffik, which she also served as a producer on, as she did with The Perfect Match—getting into producing being another goal she spoke of several years ago—and then she slipped back under the radar this summer, as she prefers. 
Her hair is back to its natural color, and she has also gone back to barely giving social media the time of day. She hasn't posted anything on Instagram since August, her most recent photo a TBT of her and Tom Cruise on the Mission: Impossible—Ghost Protocol set that she shared on Aug. 3. 
The holiday season got off to a more harrowing start than anyone would have liked when Thicke's Malibu home burned down last month. His house was one of more than 1,500 structures that burned in the Woolsey Fire, which tore through Malibu and reached nearby Agoura Hills and Calabasas, where Patton lives, and ended up being the most destructive fire in Los Angeles history.
Thicke performed at the One Love Malibu benefit on Sunday, along with Katy Perry, Gwen Stefani, Joe Walsh and many others.
So, the family has their health and safety to be extra thankful for as 2018 winds down.
But don't expect any inside scoop from Patton, who will continue on with her quietude until it's time to promote Four Kids and It, a family-friendly fantasy set on the English coast, co-starring Caine, Brand and Matthew Goode. And even then... you'll only get so much.
She didn't even watch Thicke's interviews back in the day, not wanting to see the potentially personal details he used to enjoy sharing, either. 
"It's hard to watch yourself, and/or anybody you love," she said in April on Hot 97's Ebro in the Morning, when asked if she had ever seen her ex-husband's many, many informative appearances on the show. "It's just like—no."