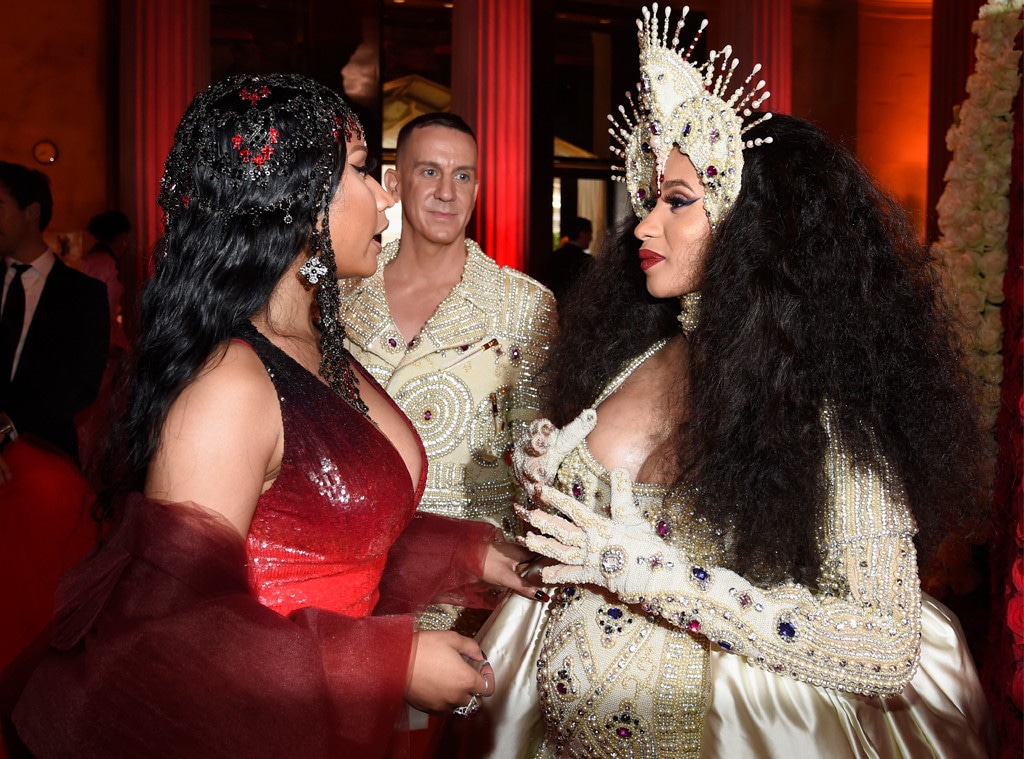 Kevin Mazur/MG18/Getty Images for The Met Museum/Vogue
It's been exactly one month since Nicki Minaj and Cardi B called a truce on social media, but is their feud about to heat up once again?
Back in September, the "Dip" rapper and the "I Like It" star got into a fight at the Harper's Bazaar Icon party during New York Fashion Week. After that incident, the drama and the tension between the two artists continued to build. But then in late October, Minaj went on Twitter to seemingly call a truce.
"Ok you guys, let's focus on positive things only from here on out," she tweeted. "We're all so blessed. I know this stuff is entertaining & funny to a lot of people but I won't be discussing this nonsense anymore. Thank you for the support & encouragement year after year. Love you."
After seeing the tweet, Cardi took to Instagram to share the post and agree to the truce, writing, "@Nickiminaj alright then! Let's keep it positive and keep it pushing!"
But then on Thursday, Minaj dropped the music video for her song "Good Form," featuring the two strip club bartenders who Cardi has been accused of ordering an attack on.
The women, Baddie Gi and Jade, appear around the 40-second mark in the music video. Minaj also posted an Instagram photo with the duo, who, according to TMZ, are preparing to sue Cardi.
Cardi surrendered to police on Oct. 1 in New York City over the alleged August fight at a Flushing strip club. TMZ reported at the time that Cardi allegedly believed one of the women was involved with her husband, Offset.
"You getting girls beat up because of what your man doing? Real bitches never do that—you never attack the woman...you take that up with your f--king man," Minaj said on an episode of her Queen radio show.
Cardi has denied involvement in the alleged fight.