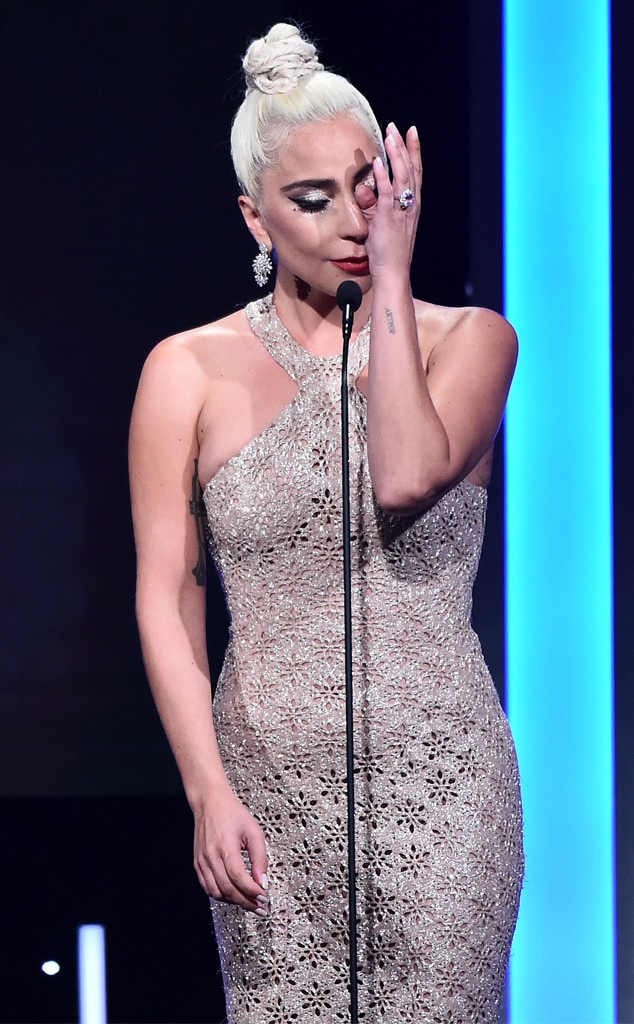 Michael Buckner/Variety/Shutterstock
Lady Gaga couldn't hold back the tears when she honored Bradley Cooper at the American Cinematheque Award Presentation in Beverly Hills, Calif. on Thursday.
Dressed in a stunning champagne-colored gown, the singer took the Beverly Hilton stage with her A Star Is Born co-star Sam Elliot and paid tribute to their director.
"I felt comfortable with Bradley—not just because he's a hunk like Sam—but because Bradley is such a kind and loving and real person," she said. "I'm so honored to have you as my friend."
During her speech, the six-time Grammy winner, born Stefani Joanne Angelina Germanotta, opened up about how Cooper helped her open up through her role.
"I ran from Stefani for a long time. I put on a superhero cape and called myself Lady Gaga," she said. "You challenged me to deep dive into a place where I had to see her again, be Stefani again."
She then expressed how thankful she was to have Cooper in her life. 
"I'm so grateful to you, not just for making me a better actress, but I've been able to call on you as a friend, and cry and be myself and have you never ever judge me and still respect me as a professional," she said. "I've never had an artistic experience like this before."
At one point during her speech, Gaga became a bit emotional and shed a few tears on the stage.
Cooper also took the stage after receiving his trophy from Sean Penn.
"The collaboration of art is what I strive to be a part of," he said at one point. "That's where I feel most alive."
Jerod Harris/Getty Images for American Cinematheque
The 2018 remake tells the story of a rock star named Jackson Maine (Cooper) who is struggling with addiction. His life changes when he meets an aspiring singer named Ally (Gaga). After seeing her perform, Jackson agrees to mentor her and the two end up forming a romantic connection. But as Ally's star rises and Jackson continues to battle his addiction, their relationship becomes more complicated. 
The movie marked Cooper's directorial debut and Gaga's first leading role in a major film.
"The thing that I was very aware of from the beginning and I cherish even to this day is how much we both had at stake, because it was a first for both of us," he previously told E! News. "We knew that going into it, we were really going to have to rely on each other, because it's scary putting yourself out there to this degree." 
Congratulations, Bradley!