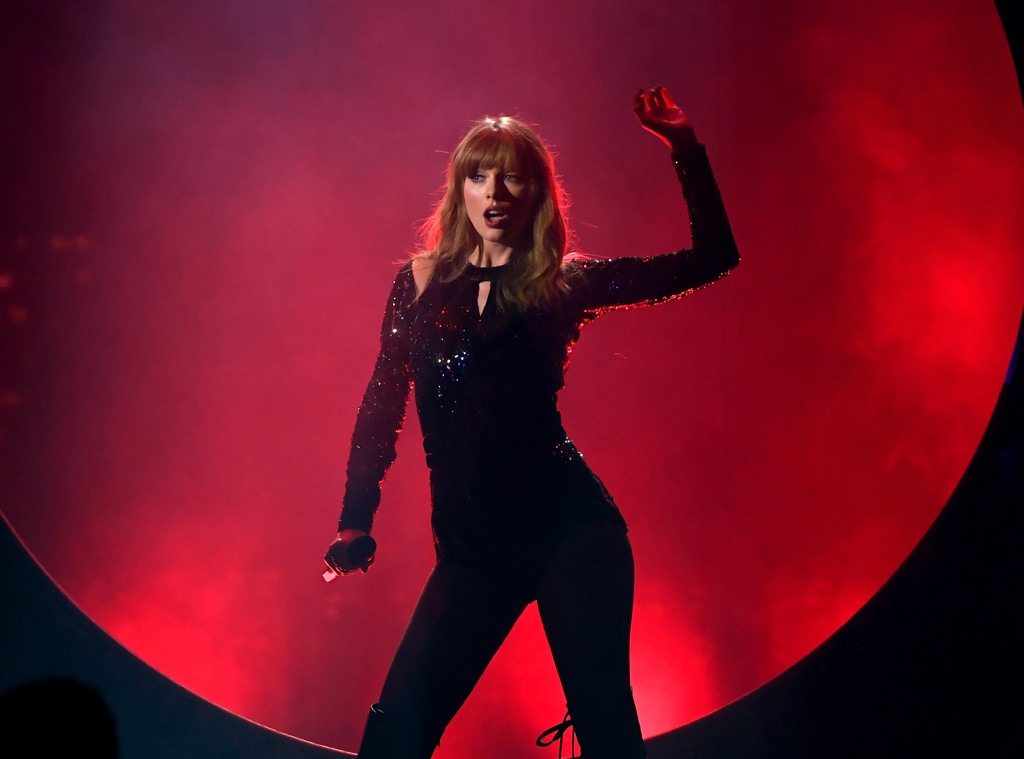 Kevin Winter/Getty Images For dcp
Happy birthday, Taylor Swift!
We couldn't be more excited that the popstar is turning 29 years old today.
Sure, we wish could be partying at one of the performer's amazing birthday bashes with all of her celeb pals, but we'll settle for voting for our favorite of her iconic music videos instead.
Swift has had a pretty incredible year traveling the globe on her Reputation World Tour, as well as being named the top influencer on Twitter and that's only the beginning.
We couldn't get enough of seeing all of her amazing social media posts from the road and we have our fingers crossed that the singer will share a look at her birthday celebrations today on Instagram as well.
In honor of the Pennsylvania native's big day, we are asking you to do the impossible...pick her best music video of all time.
That's right, we narrowed it down, but you have the most important task of all, which is picking the best of the best of her iconic videos.
Are you fan of her anything goes attitude in the "Delicate" video? Or, do you love her chemistry with Scott Eastwood in "Wildest Things?"
Perhaps you're more of a fan of OG Swift and can't stop watching the "Love Story" video. No matter what your preference, we can all agree that the sassy singer knows how to rock it out when it comes her videos for each of her amazing tunes.
The real question is, which one is your all-time favorite?
Let us know which of Swift's legendary videos below is the one you will never forget in our poll. Then, give Swift a birthday shout out on social media, because we don't know about you, but being 22 isn't the only time she deserves birthday love!
"Delicate"
In this video, Swift realizes that she is suddenly invisible and is able to be herself without the judgement of others. She then dances, marches and jumps in rain puddles to celebrate her new found freedom. We love seeing the Grammy winner let loose, don't you?
"End Game" ft. Ed Sheeran and Future
Nothing is going to stop the popstar from having fun in her "End Game" music video. Swift parties with Future in Miami, Ed Sheeran in Tokyo and with friends on a double-decker bus in London. How do we get invited to this international bash next time? We so want to go!
"Look What You Made Me Do"
Swift is a true music video vixen in the "Look What You Made Me Do" video. The clip was designed to show what would happen if everything that was written about the artist were actually true. From being a zombie to a woman draped in diamonds, it's clear that Swift loves getting into character for her music videos. When this video dropped, fans couldn't get enough of it and it broke the record for most-watched video within 24 hours by getting 43.2 million YouTube views.
"Wildest Dreams"
Swift stars opposite Eastwood in this cinematic music video. The pair plays movie stars who fall in love on the set of a film in Africa and let's just say things heat up quickly. To make us love this video even more, the Valentine's Day actress donated all of her proceeds from it to wild animal conservation efforts through the African Parks Foundation of America.
"Bad Blood" ft. Kendrick Lamar
Say hello to Catastrophe! The "Bad Blood" singer shows off her fierce side with the help of her squad including, Selena Gomez, Hailee Steinfeld, Karlie Kloss and more to make the ultimate girl power music video. It's a serious must-watch video for any T. Swift fan as the women seek revenge and slay every second of the video!
"Out of the Woods"
Talk about enchanting! Swift dons a blue gown as she's chased through the forest by wolves in the "Out of the Woods" video. Shot in New Zealand, Swift finds herself in snowy mountains, an ocean and a burning forest as she rediscovers herself without any past loves. 
"Blank Space"
The American Music Award winner pokes fun at her image as a woman who uses men to write breakup songs in "Blank Space." The video features her getting close to a lover before she turns into a crazy girlfriend. Swift definitely brings all the drama in this unforgettable music video that has over 2 billion views on YouTube.  
"Shake It Off"
"Shake It Off" kicked off the start of the 1989 era in Swift's career. The iconic video features the 29-year-old singer embracing her inner dancer as she performs among professional ballet, hip hop and jazz dancers. It's always great to see a megastar, like Swift, have fun and not take herself too seriously.
"We Are Never Ever Getting Back Together"
Welcome to the Red era! The "We Are Never Ever Getting Back Together" video was shot in a one continuous shot, which kicks off with Swift in a pair of colorful pajamas as she looks back at her on and off again relationship. All we want to do after watching this story unfold is get invited to one of Swift's epic dance parties. They look so fun!
"You Belong With Me"
Swift pines for her high school crush in the music video for "You Belong With Me." She communicates with him by holding up signs at her bedroom window that he can see from next door. Stick around until the end of the video to find out if Swift gets to her crush at the high school dance. It's young love at its finest and you wouldn't want to miss that, right?
"Love Story"
Swift knows how to make a fairy tale come to life! In the "Love Story" video, she looks magical as a princess who dreams of what her life would be with her own Prince Charming by her side. The music video won the CMT Music Awards for "Video of the Year" and "Female Video of the Year" in 2009 and based on how romantic it is, we're really not that surprised.
OK, now is the time for you to vote for your favorite Swift music video. Show the birthday girl some love by doing our poll and then give Swift a killer birthday shout out on social media.
Are you ready for it or not?!
Taylor Swift's Music Videos