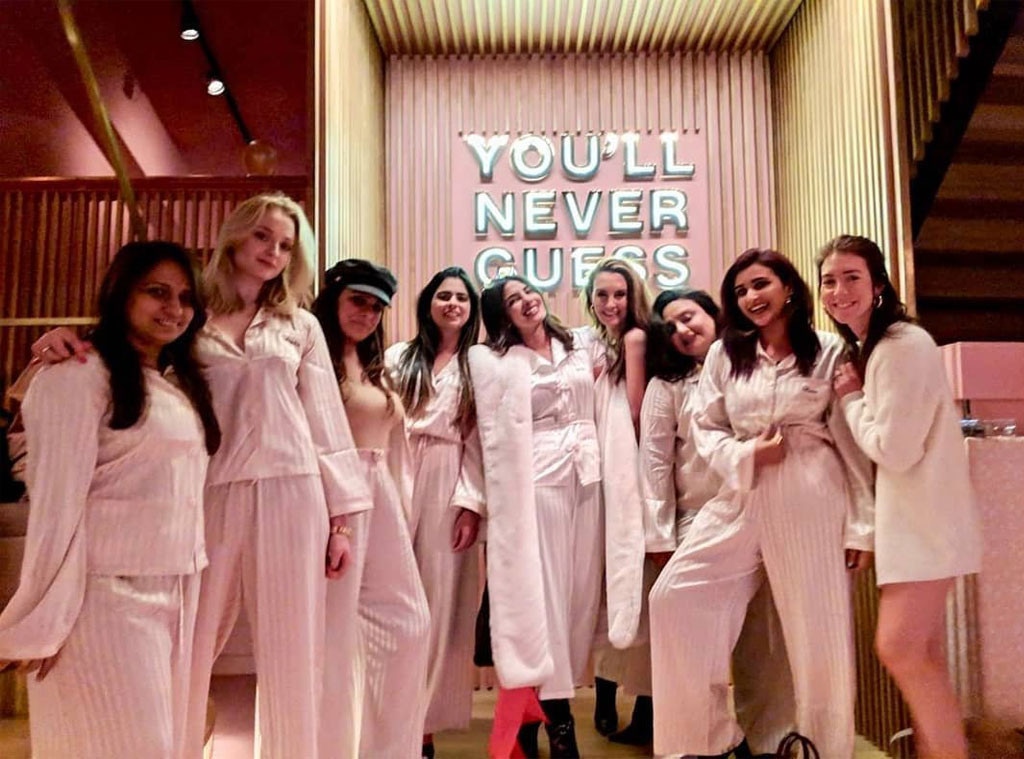 Instagram
Sometimes a girl just has a conflict, okay? 
While Priyanka Chopra has had no shortage of besties at her side as she cycled through her standard pre-wedding rituals and initial three days of festivities with groom Nick Jonas (Lupita Nyong'o, Kelly Ripa and sister-in-law-to-be Daniella Jonas were among the 100 or so guests dancing and sipping cocktails at Tiffany's New York City flagship location for her October bridal shower while her other future sister-in-law Sophie Turner made the trek to Amsterdam for Chopra's bachelorette bash a week later), to some the guest list boiled down to one VIP: Meghan Markle. 
The expectant duchess initially sent her RSVP as a firm maybe, with one source telling E! News she was "trying to see if she can come," but ultimately her tight schedule was too much to contend with. 
While a swing through India was a tough order for a woman so in demand, some saw it as a snub. And when Chopra was a no-show at Meghan's luxe Amal Clooney- and Serena Williams-hosted baby shower in New York City this February, those same fans assumed that was the actress' bitter response. 
Which, not so much. 
"Oh my God, no, it's not true," Chopra responded on Thursday's Watch What Happens Live With Andy Cohen when a caller asked if she skipped out because the pair were feuding.
Chalk that one up to people eager to assume the princess is at odds with just about anyone, cause an insider insists to E! News the pair have never had friction. "Priyanka and Meghan are still very close friends and they talk frequently," says the insider. "Meghan confides in Priyanka about the adjustments she has to make with being a royal."
Considering the wringer Meghan has been put through in her first year on the job, having a loyal pal and listening ear on hand means way more than putting in appearances at milestone events. "They're still very close friends," says the insider, "and Meghan considers Priyanka one of her closest confidants." 
Besides, Chopra and Markle—who first connected at one of the countless cocktail events actors tend to circulate at—have never been of the out of sight, out of mind attitude.
"I think friendships depend on people individually and how personal your relationship is," Chopra explained to People of her mindset. "You can have work friendships, those are different. But when you have real friendships, like ours, it doesn't matter what people look at you as or where your world goes, you sort of just, stay friends. And I think that's what we're like."
Plus, no matter the distance between them it's not as if it's hard to stay up on what's happening in each other's worlds. While most faraway pals have to rely on diligent social media browsing or the occasional text, Chopra and Markle need only take a quick scan of the Internet to stay informed on their friend's latest accomplishments.
When the 36-year-old Quantico alum and UNICEF Goodwill Ambassador accepted a ring from Jonas during her July birthday trip to London, Markle was among the first to offer her congratulations. And when Chopra learned the royal, 37, had penned the foreword for a charity cookbook, she rushed to Instagram to boast about her female empowering pal. 
Nearly a year into her gig as the royal family's newest recruit, "She's doing amazing," Chopra told People. "It's so nice to see." 
Holding a job that can actually count "changing the world" as one of its primary responsibilities is something Chopra always envisioned for her pal. Heck, it's one of the reasons they connected in the first place as they each worked the room at West Hollywood's iconic Sunset Tower Hotel on a random Wednesday night back in January 2016. February cover girl Chopra was among the headlining names at ELLE's 6th Annual Women In TV celebration, alongside Viola Davis, Olivia Wilde, Taraji P. Henson and Julia Louis-Dreyfus. But Suits third-billed star, a Los Angeles native named Meghan Markle, with credits in Fringe, The League and Without a Trace, had gained enough traction through her five seasons on the USA legal drama to score a spot among the 50 honorees. 
"Meghan and I sort of just got on really well," Chopra recalled to Jimmy Fallon of their introduction that night. "And we were both filming in Canada at the same time. And we just met, and chatted." 
Markle says she was charmed by the fact that the India native said she appreciated her work. "Priyanka is unbelievable," she told Press Trust of India (per India West). "She has become a really good friend. ELLE Magazine in the U.S. hosted a dinner celebrating Women in TV, and we met that night—turns out that she really likes Suits."
Their conversational topics expanded far beyond the industry, touching on their shared love of fashion ("I've always thought she was a super stylish girl," Chopra told People. "She's someone that I've always looked up to for her style,") and their desire to be recognized for more than their ability to nail a line or cry on cue. 
"She's always been someone who's so just aware and interested in the world," Chopra shared during a May interview on The Jenny McCarthy Show. "That's what we bonded on—was how much we feel like we contribute to that as public people." 
Jason Kempin/Getty Images
Not to mention a shared love of the Indian rice dish biryani, the French fry- and cheese curd-packed poutine one can find at pretty much any establishment in Montreal, where Chopra filmed Quantico just a few hours from Markle's Toronto home base, and the myriad of other traits that helps any one person spot a kindred spirit in another. "You know when you meet someone and you just 'click'...it was just an easy, natural progression," said Markle. "We've managed to keep in touch via email and text, and try to see each other whenever we're both in the same town." 
And, as Chopra raved to Rachael Ray, Markle has found a way to maintain their constant text chain despite all of the upheaval in her life. 
Because less than a year after the two connected at the type of red carpet event that's likely to take place in Hollywood on any given night, Markle vaulted from recognized TV actress to internationally known personality, her acting and charitable contributions nearly forgotten as the general public reduced her down to one entity: Prince Harry's girlfriend. 
Suddenly thrust into the spotlight, with each facet of her appearance, career experience and personal beliefs dissected as royal watchers clamored to know everything about the woman who had so thoroughly stolen the heart of Britain's beloved bachelor, Markle was hardly in a position to remind everyone that, hey, she was a fully formed and quite accomplished person before joining Harry for that fateful summer date. 
Which is why it's good to have pals like Chopra.
Dismissing those that took issue with Markle's American background, her marital status and, unfortunately even her race, with one fell swoop—"Some people always talk crap. Haters gonna hate, potatoes gonna potate, roaches gonna rotate. Who cares?" she told McCarthy—she also made it her mission to remind everyone of the Northwestern University grad's decades of achievements. 
Appearing on The Wendy Williams Show in May 2017 was quick to correct the host's characterization of the actress, humanitarian and activist as Prince Harry's girlfriend. "Also, Meghan Markle, actress, Suits, her achievements…just saying," she replied. 
It was a refrain she used again when Markle appeared on the cover of Vanity Fair under the "She's Just Wild About Harry" headline. "It would have been nice to write about her not just her boyfriend. I'm just saying. I mean, she's an actor, she's an activist, she's a philanthropist. I mean, she does so much more," she noted to ET. "It's just a little sexist. Look, I'm a feminist and I love boys, OK…The only thing I'm saying is that there needs to be a certain sense of equality where a woman is not just a plus-one, you know. It's nice to be your own identity, too."
And Markle she's repeated time and time again extended far beyond playing pretty princess. "I think she was born to be a global influencer and this has given her the opportunity to do that. She's always been someone who's so just aware and interested in the world," she explained in her chat on McCarthy's SiriusXM radio show. "I really feel like that's what she was born to do."
The way Chopra sees it, the UN Women's advocate rose to prominence at precisely the right time. Penning a letter honoring her appointment to Time's list of their Most Influential People in 2018, she raved about Markle's deep passion for making a real difference. "With her, what you see is real, and what you get is a relatable young woman with her heart and mind in the right place," she raved. "Her compassion, evident in the causes she supports, and her drive to break down stereotypes—obvious in her actions—will connect her to a generation in much need of kindness." 
And if nothing else, her endearing relationship with Harry served to remind an increasingly misanthropic world that sometimes it's okay to believe in love. "This ever-smiling, strong free spirit found her prince, fell in love and in turn made a cynical world believe in fairy tales again," she wrote. "But more than anything else, Meghan is an important influencer in a world that needs strong public figures to respect and look up to. People the world can be inspired by. Meghan, standing shoulder to shoulder with Harry, will be a princess for the people."
James Gourley/REX/Shutterstock
The world got their first glimpse at that influence at the couple's May nuptials. Though the Bollywood powerhouse attempt to deflect each time she was asked if she were England-bound, of course, she scored an invite to the wedding of the year, turning out at Windsor Castle in a custom Vivienne Westwood suit, requisite fascinator and a heart bursting with bride for her dear comrade. 
Getting, if not a front row, then still a solid seat to the royal duo's celebration of love and inclusivity left her teary, she shared in a post-ceremony Instagram caption. "Every once in a while there is a moment when time stands still...that happened today. You my friend were the epitome of grace, love, and beauty. Every choice made at this wedding by you both will go down in history, not just because it was your wedding, but because this incredible wedding stood for change and hope...both things that the world needs desperately," she wrote. "I wish you both love happiness and togetherness always."
And mere weeks later, Markle was in a position to do the same. Chopra's romance with Jonas was far too early days in mid-May for him to turn up as her plus-one at such a heavily photographed affair, but unbeknownst to their fans, they were already in deep. By the time Chopra made a return trip to London to acquaint her boyfriend with her good pal, he was already going by a new title: fiancé.
The group, including Harry, caught up at the royal couple's country rental in the Cotswolds and though details of their get together are sparse (we're imagining a night of non-stop conversation fueled by Markle's favorite tignanello wine and her infamous roast chicken), the duchess saw enough to offer her whole-hearted approval. A source told E! News she was "very excited" for the betrothed pair. "Everyone is very happy and they are definitely a great match." 
Now with her multi-day vows and numerous follow-up receptions finally in the rearview, Chopra is already eyeing a new milestone, one that would put her on a similar path as her dear friend. 
Watch:
Is Priyanka Chopra Ready to Have a Baby?
She was thrilled when she heard the World Vision global ambassador was expecting her first child with Harry this spring, telling People, "I would, as a friend, just say that I'm really excited for her. I think this is a new phase in every woman's life and I hope hers is as amazing as she wants it to be." 
And should she need a companion to join her on this adventure, well, the newly minted Mrs. Jonas just might be game. Having already established that children are in her future—She told Harper's Bazaar Arabia that kids are "a big goal for me," while her husband-to-be told Cosmopolitan this August, "It's definitely something that I hope will happen,"—she's not looking to waste any time. "I just have a few of my friends who are having babies right now," she told E! News at God's Love We Deliver Golden Heart Awards in October, "and I'm like, 'God I need to catch up!'" 
With any luck she and Markle will have the fortune of raising tiny world changing feminists together. "She's such a girl's girl, Chopra raved to Ray. "I'm so happy for everything that's happened to her, because I really feel like she's one of those female icons that...could be a strong idol for girls around the world."