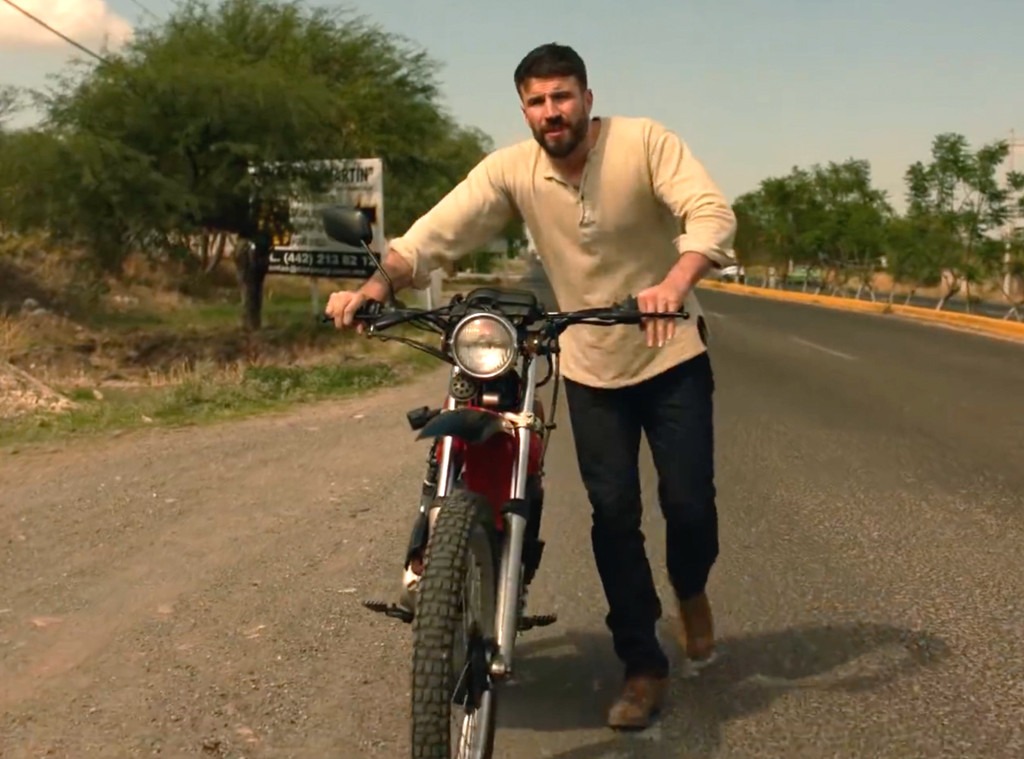 YouTube
Grab a drink, get ready to eat cake and let's have a house party in honor of Sam Hunt's birthday.
The Georgia native is 34 years old today, and what better way to celebrate the country crooner than by having your own house party and listening to Hunt's best tunes? OK, hanging out with the birthday boy would be better, but sadly that is not an option for us, so we are having our own celebration.
In honor of Hunt turning 34 we've rounded up his best and most iconic music videos below. Yes, we've been listening to the country singer's top hits on repeat all week leading up to his birthday and if we're being honest we're pretty darn happy about our decision.
The "House Party" singer knows how to create a country party anthem and pull at our heartstrings with some of his acoustic tracks, not to mention his ballads and emotional songs about his wife Hannah Lee Fowler continually make us swoon.
Over the past five or so years, Hunt has skyrocketed to the top of the country music charts with his unique rocker and hip hop twist on what we usually think of with this music genre and his music videos have been equally as fun to watch evolve.
Since it is Hunt's birthday and we have the day at home to relax, listen to music and maybe eat some sweets in his honor, we suggest you do the same. Once you take a look back at the artist's best music videos throughout his career make sure to cast your vote for the one you love most.
It's not an easy job, but we know you can do it!
PS: Don't forget to give Hunt a sweet birthday shout out today since it's his day, duh.
"Break Up in a Small Town"
As one of Hunt's most iconic songs, we aren't surprised at how intense and good the "Break Up in a Small Town" video is. Throughout the video you see the singer trying to run away from his past relationship—he is literally running through town—while his ex is moving on and finding happiness once again. There are also glimpses of his house, radio and car burning up as his life is unraveling. It's symbolic and heartbreaking. On a happy note, Hunt looks super sexy surrounded by flames. What, he does!
"House Party"
Clean cut Hunt is out to play in the "House Party" video, which takes place at one big house party. Would you expect anything less? Neon lights, red cups, dancing, darts, and good vibes are everywhere within this rocking video and we officially want in on the bash next time.
"Take Your Time"
"Take Your Time" is a much more intense track and therefore the video needed to match that and it did. From start to finish this video is dramatic and tells an emotional tale of a woman, the man she loves and their child. As she goes to work and Hunt starts to see her, he notices that her boyfriend is a drunk, starts fights and hits her. She eventually hits the breaking point and leaves him...with the help of Hunt who shows up at her house and gets into a fight with the man allowing her to drive off to safety.
"Single for the Summer"
The Georgia native headed to Venice, California for this video and it definitely transports you to summer from the moment it starts. You see a girl living it up in California, shopping for sunglasses, running into the ocean, playing in the pool and enjoying each and every sunset. It's the California dream and we totally approve.
"Leave the Night On"
The 34-year-old singer is a taxi driver in Nashville in this video and his cab is a full on party. Lights, pictures, dancing and lots of fun are had in the backseat and it's not exactly what we've experienced when taking a cab home. There are lots of characters jumping in and out of his cab in between Hunt singing and dancing in the back himself, eating pizza and then eventually heading into a party with some of his customers. Seriously, what cab company is this?
"Raised on It"
If you've ever wondered what it's like to hang out with Hunt back in Cedartown, Georgia then you should watch this video. It shows the artist back in his hometown with friends and family having a blast. He hangs out by the lake and rides four-wheelers in his snap-back hat as his friends ride on mattresses and then skeet shoot before having a crawfish boil. Sounds fun, right?
"Downtown's Dead"
In 2018, Hunt released the video for "Downtown's Dead" and it tells quite the story. The artist starts out on a motorcycle riding through a deserted area until his bike breaks down in a small town in what appears to be Mexico. As his bike is getting repaired he walks through the vacant streets, taking in the town and seeing it in all its beauty. He eventually gets his bike back and takes off on a dirt road, but not before soaking up the culture around him.
Now that you're all fired up and ready to party thanks to Hunt's epic music video catalog, it's time to vote for your favorite in our poll.
Oh, and make sure to wish the birthday boy well today since it is his birthday!