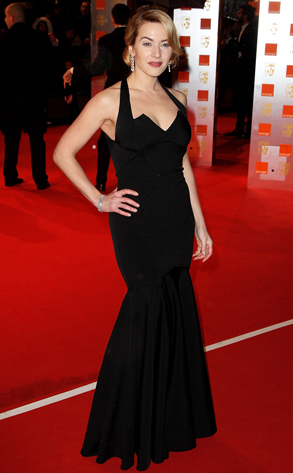 Dave Hogan/Getty Images
If there was ever anyone not in need of a home court advantage, it was Kate Winslet heading into tonight's Orange British Academy Film Awards.
Well, her and anyone who had anything to do with Slumdog Millionaire.
Like the SAGs and Golden Globes before them, the BAFTAs did their part to keep putting the "win" in Winslet, naming The Reader star the year's Leading Actress over, among other notable contenders, herself.
Winslet was nominated twice in the category, for both The Reader and Revolutionary Road, all but guaranteeing Angelina Jolie (who turned up with fellow ultimately snubbed nominee Brad Pitt), Kristin Scott Thomas and Meryl Streep yet another night in which to practice their "it's an honor just to be nominated" faces.
The cast of Slumdog Millionaire, meanwhile, practiced no such fixed smiles: The film continued its awards show dominance, racking up seven awards, including two one of the most coveted of the night, Best Film.
And the movie that actually managed to upset the juggernaut for the night's other main award...