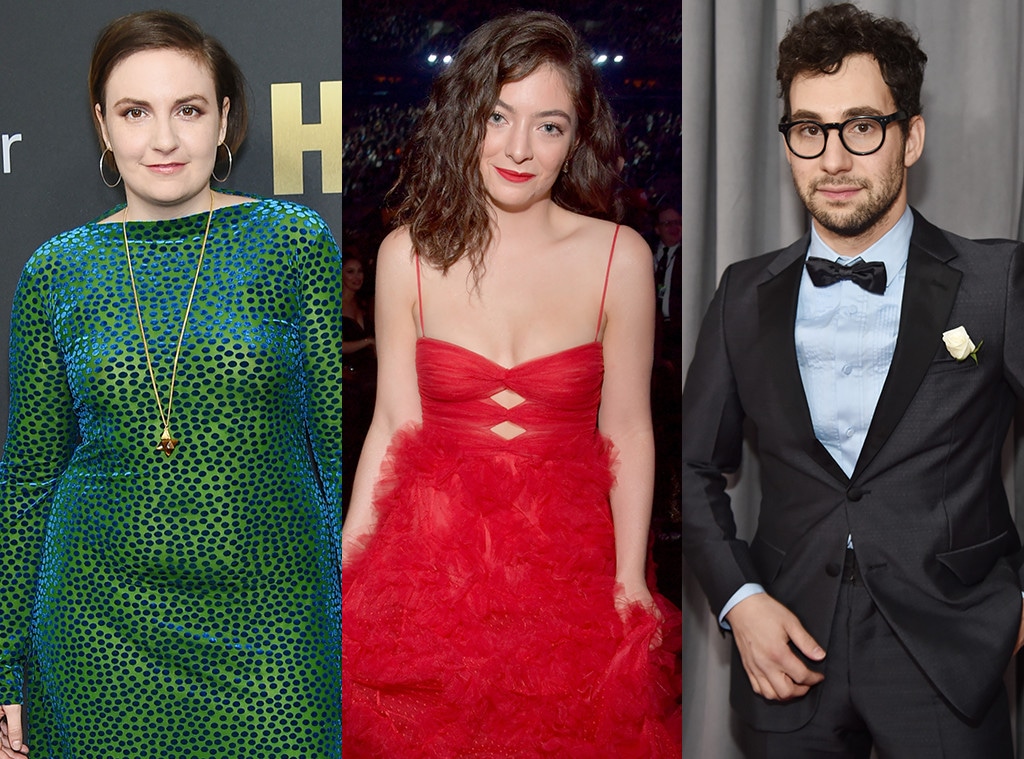 Mike Coppola/Getty Images for Lincoln Center, Lester Cohen/Getty Images for NARAS, Kevin Mazur/Getty Images for NARAS
Breakups are never easy, especially when an ex is rumored to have moved on with a close friend. 
In an interview with The Cut published Sunday, Lena Dunham opened up about her split from Jack Antonoff and whether he dated Lorde after their breakup.
As fans will recall, Dunham and Antonoff ended their five-year relationship in January. Just a few weeks later, rumors started spreading that the Bleachers singer and the "Royals" star were dating. While Antonoff reassured his Twitter followers he was "not seeing anyone" at the time, the two continued to raise eyebrows. According to The Cut, Lorde and Antonoff both discussed how he introduced her to American cereal and how they regularly FaceTimed during their guest appearances on late-night talk shows. In addition, Lorde was reportedly spotted sitting on his lap during her tour stop in Brooklyn, and a fan even made a viral PowerPoint presentation accusing Antonoff of cheating on Dunham. Fans also questioned their relationship status after Antonoff, who had produced her latest album, sat next to Lorde at the 2018 Grammys.
Looking back at this time, the Girls star said "I completely respect this girl" and said her friend "did a very good job" and was "very funny." Still, she admitted "it was so embarrassing."
"It was awful because I felt like a weird—" she said, pausing. "I don't think anything happened between them. I can never know someone else's life. I have never spoken to Ella [Lorde] about it. We haven't talked since Jack and I broke up. It was awful, and I couldn't do anything about it except trust that what he was saying to me was true."
Lorde has also denied dating Antonoff in the past. Now, it looks like Antonoff and Dunham are both in new relationships. According to The Cut, Dunham has been "very casually seeing an artist she met through mutual friends." Meanwhile, the publication claims Antonoff has been romantically linked to model Carlotta Kohl.
Reflecting on their romance, Dunham admitted she and Antonoff should have called it quits sooner but didn't due to her health. The actress had a hysterectomy a month before their split.
"Our relationship probably lasted longer than it should have," she said. "He's a very loyal person, so he was not going to bail when the going got tough. He literally held my hand while I got an enema on New Year's Eve while his family celebrated. But when you're sick, so much energy goes into making sure the other person is well that you're not even noticing maybe our schedules aren't compatible. Maybe we want different things out of our lives. Maybe we have different attitudes about what family means. Maybe these essential questions that people have to ask themselves all the time are not being asked, because we just want to make sure that I don't pass out at the grocery store."
To read more of Dunham's interview, check out The Cut.