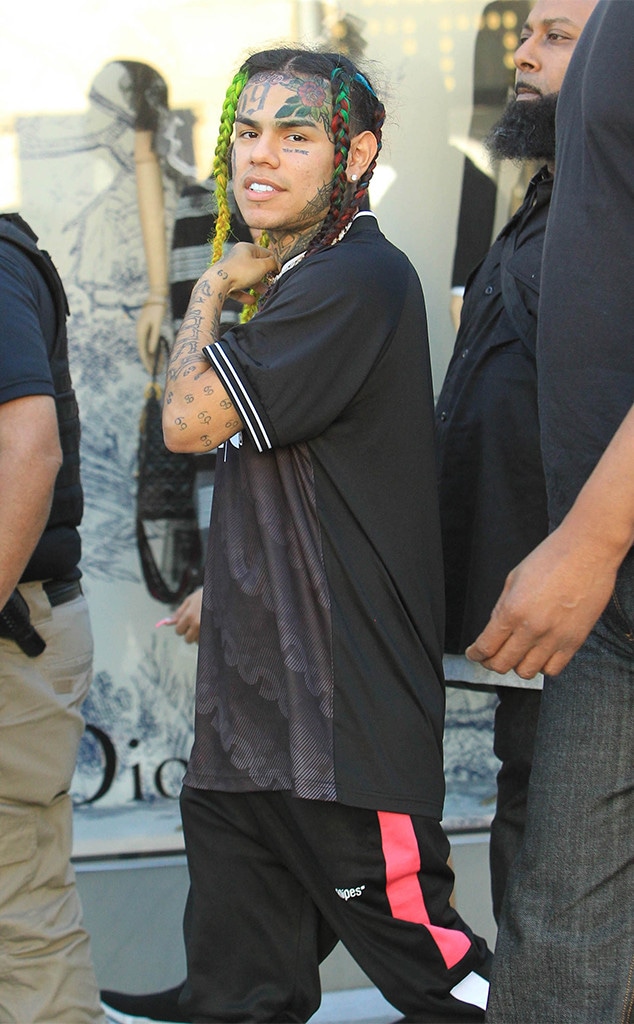 SMXRF/Star Max/GC Images
Tekashi 6ix9ine's attorney, Lance Lazzaro, confirmed to E! News Thursday that his client has been transferred to a new facility for "security reasons." Tekashi had been behind bars at the Brooklyn Metropolitan Detention Center following his arrest Sunday for alleged racketeering. According to Lazzaro, the 22-year-old rapper had been "receiving threats from other inmates."
TMZ, which first reported the news, claimed the "BEBE" rapper "specifically asked to be in a unit away from the Crips and the Bloods." Tekashi was moved late Wednesday night, Lazzaro told E! News, adding that the exact facility he was transferred to was not immediately known.
Now facing life in prison, Tekashi was denied bail Monday after a prosecutor said there was evidence he directed or participated in multiple acts of gang violence. Friend and mentor 50 Cent distanced seemingly himself from Tekashi (real name: Daniel Hernandez), writing on Instagram, "My son got picked up, I told him don't call me. S--t. The Fed's on ya fool, call ya momma. Don't put the FBI on my phone. Positive vibes only." 50 Cent later deleted the post.
Yesterday, Tekashi's team announced his debut album, Dummy Boy, is indefinitely delayed. Nicki Minaj, who was set to appear on at least one of the album's songs, took to Instagram to share her support for her "Fefe" collaborator. "For reasons beyond music, the record company will hold off on putting his project out for now," the 35-year-old rapper told her followers. "Danny, I love you and am praying for you, your mother, daughter & her mom during this time."
Minaj has long supported Tekashi through tough times, even when it upset her fans. For example, she teamed up with Tekashi on "Fefe" even after he was convicted of simulating sex and spanking a 13-year-old on camera. In August, she explained that he wasn't involved in her medley at the 2018 MTV VMAs because of his controversial persona. "Somewhere along the line he didn't get approved to perform by the powers that be," the rapper revealed on Apple Music's Queen Radio show. "I don't want anyone to think for a second that I wouldn't invite him to perform his hit record. I want everyone to know my character. I really fought. It is what it is."